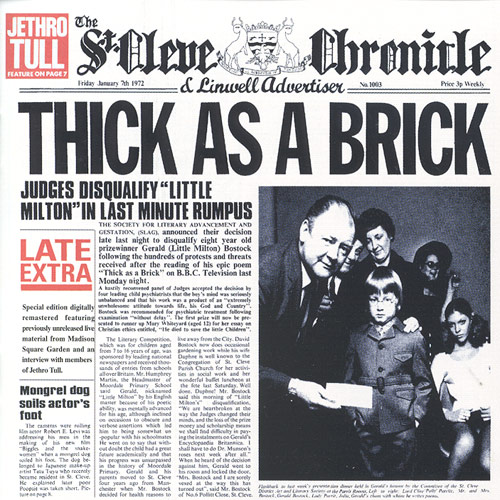 A milestone of both progressive rock music and conceptual albums, the nearly 44-minute long-player that consists of one song was intended as a parody of both, influenced by the absurdist humor of the Monty Python's Flying Circus sketch comedy show airing on BBC TV at the time. Yet Thick as a Brick also succeeded in being one of the most musically accomplished albums and cleverest concepts of the progressive era.
The flute-playing, codpiece-wearing Jethro Tull frontman Ian Anderson conceived the record as a response to critics tagging the group's previous LP, Aqualung, as a concept album – he insists it was not – and the complex and at times bombastic music of such bands as Yes and Emerson, Lake & Palmer. He credited the lyrics to an epic poem written by an eight-year-old genius schoolboy, Gerald Bostock, a character he created who took on a life of his own among Tull fans.
The cover lampoons small town English newspapers, folding out into a 12-page replica of the fictional St. Cleve Chronicle & Linwell Advertiser. Included was a review of the album pseudonymously written by Anderson that captures the ingenious duality of the whole affair and rates it as "at worst entertaining and at least aesthetically palatable."
Related: Our 2023 interview with Ian Anderson on Tull's past, present and future
Thick as a Brick was Tull's fifth album and the band demonstrated remarkable growth in popularity: their first four albums peaked at #62 (1968's This Was), #20 (1969's Stand Up), #11 (1970's Benefit) and #7 (1971's Aqualung) on the U.S. sales chart. Thick as a Brick reached the #1 spot On This Day. (Its 1973 follow-up, A Passion Play, did as well). Surprisingly, no music from the album was released as a single.
Related: Our Album Rewind of Thick as a Brick
Jethro Tull are on tour. tickets are available here and here.

Latest posts by Best Classic Bands Staff
(see all)