Oct 28, 2022: Jerry Lee Lewis, Colorful Rock 'n' Roll Pioneer Known as 'The Killer'—Obituary
by Best Classic Bands Staff
Jerry Lee Lewis, the Louisiana-born musician known for his wild piano playing, larger-than-life personality, seven marriages (including one to an underage cousin), and his early pop chart success with "Whole Lotta Shakin' Going On" and "Great Balls of Fire," died October 28, 2022). His death at age 87 at his home was announced by his representative, Zach Farnum, and confirmed by his sister, Linda Gail Lewis. It came just weeks after he was inducted into the Country Music Hall of Fame on Oct. 16. A charter inductee into the Rock and Roll Hall of Fame, Lewis joined other early rockers such as the Everly Brothers, Elvis Presley and Johnny Cash as a member of the country institution. Unfortunately, "The Killer" was too ill to attend the Country Hall's ceremony. Lewis's cause of death was not revealed but he had been suffering from a severe case of the flu.
[After the usually reliable TMZ had prematurely posted news of his death on Oct. 26, citing a source claiming to be Lewis' rep, they removed the story and replaced it with the headline, Jerry Lee Lewis Not Dead, Alive in Memphis. In a scene reminiscent of the premature news that actor Tony Dow had died one day before he actually passed in July 2022, scores of other outlets published news items that Lewis had died, using the erroneous TMZ report. Lewis' spokesman, Zach Farnum, called it "lackluster journalism at its worst."]
Farnum's statement read: "Judith, his seventh wife, was by his side when he passed away at his home in Desoto County, Mississippi, south of Memphis. He told her, in his final days, that he welcomed the hereafter, and that he was not afraid."
Without Jerry Lee Lewis, I wouldn't have become who I am today. He was groundbreaking and exciting, and he pulverized the piano. A brilliant singer too. Thank you for your trailblazing inspiration and all the rock 'n' roll memories. #RIP pic.twitter.com/HytKkIV5Qo

— Elton John (@eltonofficial) October 28, 2022
Related: Fellow music stars paid tribute to Lewis
Lewis was inducted into the Veterans Era category that the Country Music Hall of Fame has set up to honor early pioneers of the music. In 2021, that honor went to Ray Charles, another charter member of the Rock Hall.
"I was wondering if they were ever going to induct me," said Lewis at a press conference held at the Country Music Hall of Fame's Nashville facility when the news of his selection was announced. "But they've come around and I was really glad and grateful for it."
On Oct. 19, Lewis' Facebook page shared his acceptance note with a photo of fellow music legend, Kris Kristofferson.
"Dear friends and fans in Nashville,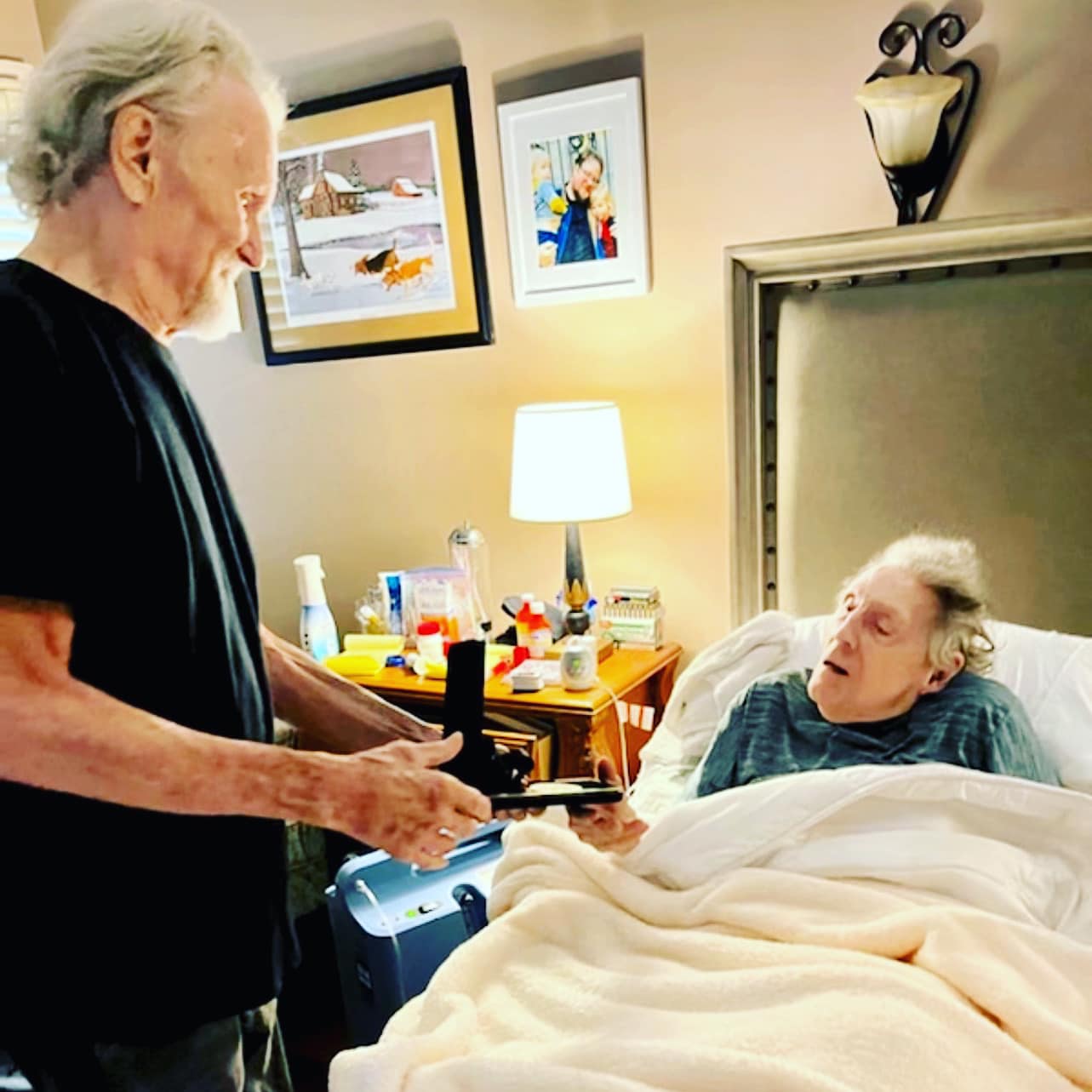 "It is with heartfelt sadness and disappointment that I write to you today from my sick bed, rather than be able to share my thoughts in person. I tried everything I could to build up the strength to come today – I've looked so forward to it since I found out about it earlier this year. My sincerest apologies to all of you for missing this fine event, but I hope to see you all soon.
"To be inducted into the Country Music Hall of Fame is the highest honor in Country music. Through over 60 years singing music professionally, country has always been the genre where I felt the most at home – between my fellow artists, the radio and the industry players — some of them anyway. I am honored to be going into that Hall of Fame rotunda with some of my heroes – Hank Williams Sr., Jimmie Rodgers and the like – not to mention so many amazing friends who have been so good to me through the years.
Thank you all for your support and love and for electing me into the Country Music Hall of Fame, and most of all, thanks to God for allowing me to experience this honor while I am still here. Since I could not be in-person with you today, I have asked one of my closest and dearest friends to accept this great honor for me – and he's no stranger to this process: the legendary, Kris Kristofferson."
Our obituary of Jerry Lee Lewis: While he is best known for his 1957 primal rock and roll hits like "Great Balls of Fire" and "Whole Lotta Shakin' Going On," he also recorded country songs since the start of his career—his rendition of Hank Williams' "You Win Again," recorded while Lewis was signed to Sun Records of Memphis, is considered a classic of the genre. During the period when Lewis was no longer having hits in the rock field, primarily in the late '60s and '70s, he began recording pure country, enjoying success with songs such as "Another Place, Another Time" and "What's Made Milwaukee Famous (Has Made A Loser Out of Me)." In all, Lewis placed 17 top 10 hits onto the Billboard country music singles chart.
Listen to the original Sun Records single of "Whole Lotta Shakin' Going On"
"He was the most talented man I ever worked with, Black or white," Sam Phillips, founder of Sun Records, once said. "One of the most talented human beings to walk on God's earth." Phillips discovered B. B. King, Howlin' Wolf, Johnny Cash, Carl Perkins, Roy Orbison, Charlie Rich, and Elvis Presley.
Lewis, Presley, Cash and Perkins were members of the Million Dollar Quartet, who made a now-legendary recording session on December 4, 1956, at Sun's Memphis, Tenn. studios. All of them predecease Lewis. Lewis was also the last survivor of the initial Rock Hall class, inducted in 1986.
Related: Who's still alive among the first generation of rockers?
Never shy, Lewis said of his live performance prowess, "I'm the Greatest Live Show on Earth. I've seen them all, and I've never seen no cat, nowhere, no way, that could follow me."
Watch him perform a hits medley on The Ed Sullivan Show on Nov. 16, 1969
His acceptance in the country music world was not easy, however. As Lewis was effectively shunned from the music business after marrying his 13-year-old cousin, Myra Gale Brown, in 1957, he had a difficult time re-establishing himself in the conservative Nashville community. He only played the legendary Grand Ole Opry once, in 1973, and many fans have theorized that it has taken Lewis this long to be inducted into the Country Hall due to the lingering resentment by those in charge of the nominations.
Lewis was born on Sept. 29, 1935, in the small Louisiana town of Ferriday. He began playing the piano during childhood, as did two of his cousins, Mickey Gilley (later a popular country music singer in his own right) and Jimmy Swaggart (who became a famous televangelist). Lewis began playing gospel music but took a liking to boogie-woogie piano. He made his first demo record in 1952, and moved to Nashville three years later, but his path to success began in November 1956, when he was signed to Memphis' Sun Records by Sam Phillips. (In addition to making his own recordings, Lewis played piano on sessions by Carl Perkins, Billy Lee Riley and others.)
Lewis was still a newcomer to the label when three more prominent Sun artists dropped by. The four, also including Elvis Presley, Johnny Cash and Perkins, later dubbed the Million Dollar quartet, sat around the piano singing gospel and pop songs, which Phillips recorded. Lewis' first big hit for Sun, "Whole Lotta Shakin' Going On," reached #3 in 1957, and the followup, "Great Balls of Fire," notched at #2 later that year. Lewis' final top 10 single in the Billboard pop chart was "Breathless," in 1958. His recording "High School Confidential," the theme song from a teen film in which he appeared during the opening, reached #21 that year.
Lewis' raucous "pumping piano" style was considered, by many of his disciples, to be the epitome of rock 'n' roll.
After the controversial marriage dominated the news, Lewis' career virtually vanished for some time, but in 1963 he signed with Smash Records, where he gradually shifted to country. By that time, however, his influence on younger rockers had become enormous, and he inspired many who would outpace him in fame during the following decade, particularly in England. He remained popular in Europe even while he was being shunned in his home country, and an album recorded in 1964, Live at the Star Club, Hamburg, is considered by some to be one of the most potent live rock albums ever made.
Listen to "High School Confidential" from the live Hamburg LP
Lewis' final appearance on the Hot 100 was "Rockin' My Life Away," in 1979, recorded during Lewis' stint with Elektra Records. A few years before that, Lewis made the news when, In the early morning hours of Nov. 22, 1976, he was arrested at Presley's Graceland home, while brandishing a gun.
Related: Musicians we lost in 2022

Latest posts by Best Classic Bands Staff
(see all)