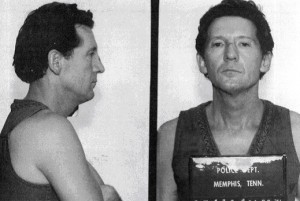 In the early morning hours on November 22, 1976, Jerry Lee Lewis pulls up to the entrance to Elvis Presley's Memphis home in a new Rolls Royce Silver Shadow, his latest wife by his side, and asks to see Elvis. Told by the security guard that Presley is sleeping, he says thanks and drives off. At 9:30 a.m. in the Memphis suburb of Collierville, Lewis flips the Rolls while turning a corner. A breathalyzer test barely registers. But Lewis, obviously impaired, is given tickets for driving while intoxicated, reckless driving and driving without a license.
The next day at 2:30 a.m., Lewis again pulls up to the gates of Graceland. This time in a new Lincoln Continental that rams into the gates before it stops.
Lewis says of both times that Presley called him wanting to get together. On this day, November 23, 1976, Lewis says he got a call from Elvis at a nearby bar, The Vapors, telling him to come over and hang out. Unrelated to the Presley call, the bar's owner gave Lewis a pistol but advised him to keep it on the dashboard so he wouldn't get charged with carrying a concealed weapon.
Accounts tend to vary from the moment a rowdy Lewis arrives at Graceland. He admits to being quite drunk, and he supposedly tells the guard to let Elvis know that The Killer is here to see Elvis. The guard notices the gun and calls the police. It was also reported that Presley watched the incident go down via closed-circuit. No one in Presley's camp ever confirmed or denied that Elvis – who was at this point in his life was rather strung out on his own combination of substances – called Lewis.
He was arrested. But most of the charges were later reduced or dropped. Especially as the bar owner who gave Lewis the gun was also a sheriff. Presley died less than a year later.
Lewis died on Oct. 28, 2022.
Best probably apocryphal story told of the incident: Lewis waving the gun while at the gates of Graceland, yelling, "Tell Elvis to get his ass out here so I can show him who the real King of rock 'n' roll is!"
Related: First Generation Rockers: Who's Still With Us?
Lewis and Presley, with Johnny Cash and Carl Perkins, were members of the Million Dollar Quartet, who made a now-legendary recording session twenty years' earlier on December 4, 1956, at Sun Studios in Memphis, Tenn.
Related: Links to 100s of current classic rock tours

Latest posts by Best Classic Bands Staff
(see all)