Jefferson Airplane's LP, Volunteers – their fifth studio album in just over three years – landed in November 1969. The band had recorded it that spring and famously previewed three of its songs during their set at the '69 Woodstock festival that August.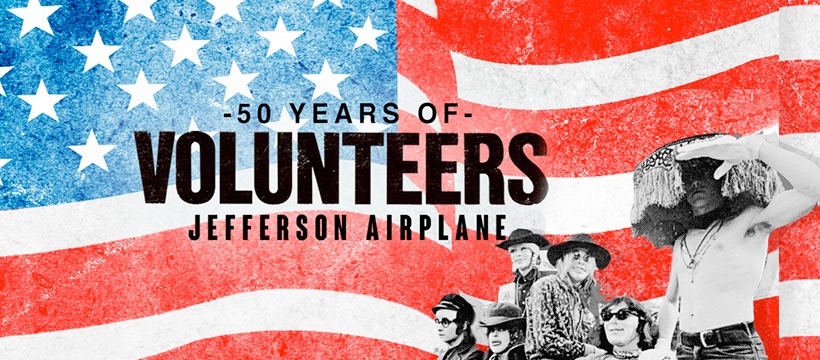 On its 50th anniversary, two of the bands' members, Jorma Kaukonen and Jack Casady, reflect on the album's call for "revolution, climate change, and the power of youth," noting that "in 2019 it's more relevant than ever."
On the album, the pair were joined by their bandmates Grace Slick, Paul Kantner, Marty Balin and Spencer Dryden, as well as many musician friends on various cuts: Nicky Hopkins, Jerry Garcia, Joey Covington, Stephen Stills and David Crosby. (Stills, Crosby and Kantner co-wrote the album's "Wooden Ships" while on Croz's boat, the Mayan).
As Kaukonen and Casady wrote in a Nov. 11 post on the band's various social media platforms, including Facebook:
Jefferson Airplane released Volunteers in 1969, singing about revolution, climate change, and the power of the youth. In 2019 it's more relevant than ever.
"We could go back and relive that time but somewhere in us…in our core…we find that the idea we were courting at that time is just as relevant if not more today.
This is what we believed then, and we believe it today. Perhaps this should have been part of the notes on that jacket fifty years ago…
Volunteer to make your voice heard this year and every year.
Volunteer to try to make your world a little better place each day as best you can.
Volunteer to get out and vote no matter how inconvenient it might seem.
Volunteer to tell the truth regardless of whether your opinion is in fashion.
Volunteer to always be true to your soul."
Watch the new Volunteers 50th anniversary album trailer
Watch the Airplane perform "Volunteers" at Woodstock in 1969
Related: Grace Slick – Amazing photo at Woodstock

The BCB team brings you the latest Breaking News, Contests, On This Day rock history stories, Classic Videos, retro-Charts and more.

Latest posts by Best Classic Bands Staff (see all)