Jeff Lynne's ELO Lights Up NYC Stage: 2015 Review
by Greg Brodsky
Hit after hit. They were all there on November 20, 2015, as Jeff Lynne's ELO – as they're now billed – performed a triumphant concert before a packed house at New York's Irving Plaza.
"Evil Woman," "Telephone Line," "Strange Magic"… but we're getting ahead of ourselves.
Lynne and his orchestra – and with 12 members onstage, it truly is one – were in the city for a media blitz that included The Tonight Show to promote the new Electric Light Orchestra album, Alone In The Universe, released earlier last week on Columbia.
The official capacity for the general admission venue is 1,025 but the estimated crowd was easily twice that. This show and a second one next week at L.A.'s Fonda Theatre sold-out in minutes when Lynne announced the dates recently on social media.
When the band, er, orchestra, finished their opener, "All Over The World," they were greeted with sustained applause. For most of the crowd, it was likely their first time seeing ELO, as they haven't performed live in the U.S. in nearly 30 years.
Lynne was joined onstage by longtime ELO bandmate Richard Tandy, whose distinctive keyboards are so crucial to their sound. His occasional talk box vocals on "Sweet Talkin' Woman" and "Mr. Blue Sky" drew cheers.
Lynne rarely spoke; after the evening's third song – "Showdown" – he said, "It's so great to be playing in America again." And other than Tandy, he didn't introduce those onstage. (Drummer Donavan Hepburn deserved to be singled out.) But Lynne's joy at reviving ELO was evident and he offered "Fantastic!" countless times to acknowledge the crowd's enthusiasm. And his singing voice sounded great and even at 67 was able to hit most of the high notes of songs that he originally recorded while in his twenties.
Related: ELO's 2017 Rock Hall induction
Purely from a crowd reaction, the evening's highlights were "Don't Bring Me Down," "Telephone Line" and "Mr. Blue Sky."
The band also knocked the lesser known "Rock 'N' Roll Is King" and their early cover (and the evening's closer) of "Roll Over Beethoven" out of the park.
Lynne and company performed four songs from Alone In The Universe, including the semi-autobiographical first single, "When I Was A Boy," and the Wilbury-like "Ain't It A Drag." But it was a night to celebrate ELO's catalog of hit singles.
After such a long dormancy, the maestro should have no doubt that audiences are eager to hear these songs performed live.
Thanks to Maggie Clarke for the great clips.
When Jeff Lynne's ELO tour again, tickets will be available here and here.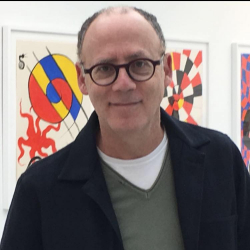 Latest posts by Greg Brodsky
(see all)