Update (August 22): August 23 marks the 22nd anniversary of the release of Jeff Buckley's beloved album Grace, the only complete studio album released during the singer-songwriter's lifetime. At first the album didn't find much of an audience, but in time, especially after Buckley's untimely death in 1997, it continued to grow in influence. Grace has now sold more than two million copies.
On the anniversary of this landmark date in the life and career of the late Jeff Buckley, check out this news we posted a while back about his record collection, now available online thanks to Sony Music.
Legacy Recordings, the catalog division of Sony Music Entertainment, has launched Jeff Buckley: The Record Collection, a new online music destination site offering fans access to the music Buckley loved most. This project has been overseen by the artist's mother, Mary Guibert.
The intimate online experience, provides a comprehensive overview of the influences and inspirations that the singer-songwriter incorporated into his own music, including You and I, the recently released collection of his first studio recordings from 1993, now available for streaming and purchase on the site.
The site allows fans to play and share any song from any album in Jeff's personal collection via 30 second previews or access to Spotify for full song playback. On the site, fans can navigate through Buckley's record collection – yes, it's real – by using arrows and the alphabet. Hovering over album spines reveal album information and the ability to stream music.
We're not surprised that he owned a lot of Joni Mitchell and Van Morrison albums. But would you have known that Buckley was a big Genesis and Queen fan? Neither would we. Click on the image below to start exploring.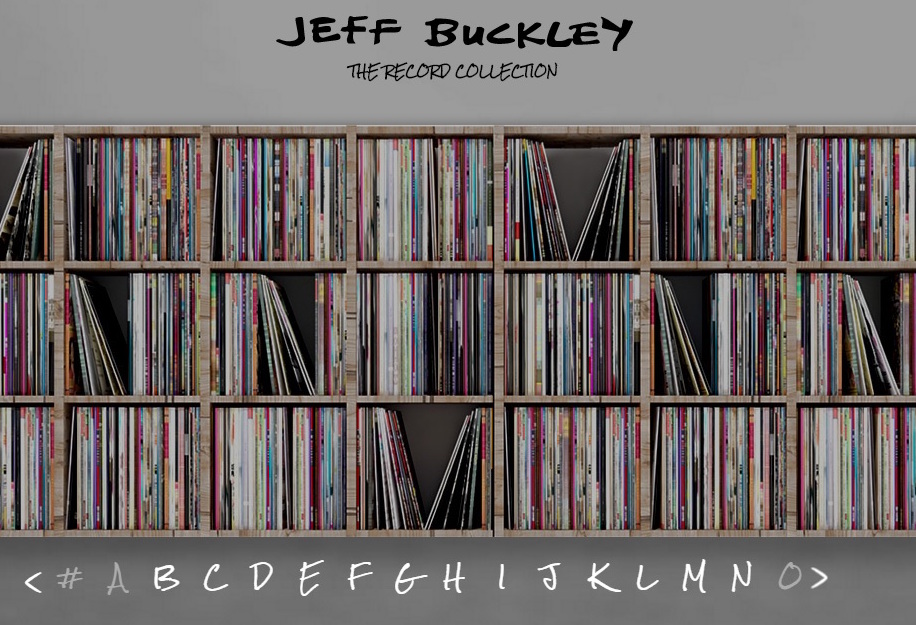 Bringing the vinyl and CD experience into the online digital realm, The Record Collection offers insight into the creative process that fueled Buckley's work while introducing fans to the wide range of artists (from Bob Dylan and Miles Davis to Nina Simone and Robert Johnson) and genres (blues, jazz, heavy metal, world music and much more) that informed his work.
Never miss a post! Sign up for Best Classic Bands' Newsletter; form is on every page.
Buckley only released one album – Grace – prior to his tragic death in 1997, but his fans can get their hands on a wealth of never-before-heard material – demos he recorded to share with producers prior to making the album. Legacy Recordings released You and I on March 11, 2016.
The record features Buckley performing eight covers and two originals – a previously unreleased song called "Dream of You and I," and the song that would become the title track of Grace. Cover choices showcase the troubadour's broad musical tastes, including selections from Dylan, Sly & the Family Stone, Led Zeppelin, The Smiths and more, all recorded in 1993 at Shelter Island Sound Studio in New York. Though they've never been released before – or even bootlegged, according to Sony Legacy – Buckley did perform many of these songs live.
Producers discovered the recordings unexpectedly while preparing for a 20th anniversary reissue of Grace, which is widely considered to be one of the greatest debuts of all time. It features what is perhaps his best known song, a haunting cover of Leonard Cohen's "Hallelujah."

Latest posts by Best Classic Bands Staff
(see all)