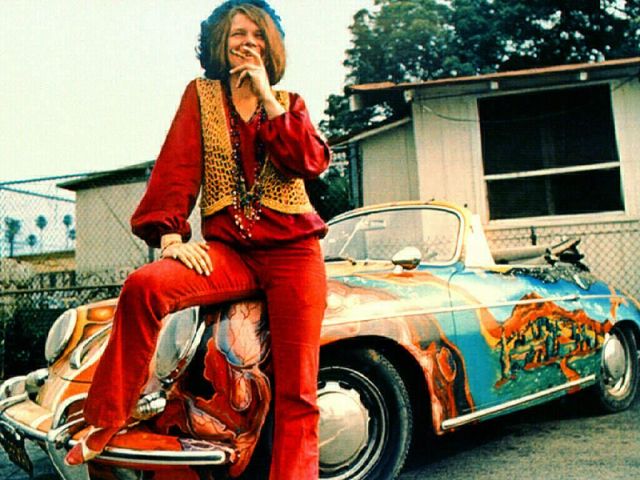 What does any self-respecting lead singer of the late '6os San Francisco scene do when she signs a major label record deal? Buy herself a sports car. That's exactly what Janis Joplin did in 1968 when her band Big Brother and the Holding Company inked a deal with Columbia Records: she bought a three-year-old Porsche 356C convertible, and then had her band's roadie Dave Richards give the originally oyster-white car a custom psychedelic paint job.
This bit of rock music history and valuable vintage auto could have been yours when it went on the auction block at Sotheby's on December 10, 2015. As the auction house wrote on the listing: "To say that this car is no mere Porsche is stating the obvious."
It wasn't just some rock star's plaything but Janis's daily drive, albeit with a brightly colored mural called "The History of the Universe" with a smiling moon, butterflies and a depiction of Joplin and her band. After her death it spent some years in Bearsville, NY where her manager Albert Grossman tooled around in it and the ragtop Cabriolet was used as a commuter car for clients recording at his Bearsville Studio. It eventually was reclaimed by Joplin's heirs – her sister Laura and brother Michael – who had the paint job restored and put it on display at the Rock and Roll Hall of Fame in Cleveland, Ohio.
Car & Driver magazine notes that it's not simply a nifty bit of music memorabilia, and that the estimated $400,000 value "seems low to us, given its status as perhaps the best-known example of the 356, in an era when 356 prices have gone absolutely bananas."
No surprise, then, that when the auctioneer's gavel struck, it had sold for a cool $1.76 million. Porsche brags about the singing great's previous ownership on their website.
No doubt Joplin had an eye for fine automobiles.
Related: Our review of the 2019 biography, Janis: Her Life and Music

Latest posts by Best Classic Bands Staff
(see all)