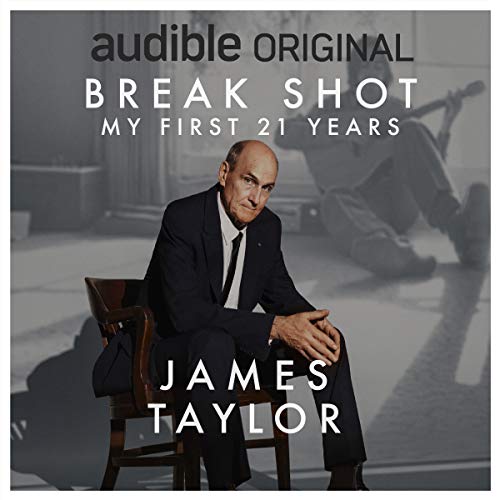 James Taylor is releasing the CD edition of the autobiography of his early years. The title, Break Shot: My First 21 Years, arrives October 13 via Audible Studios. The celebrated singer-songwriter of such classic songs as "Fire and Rain," "Sweet Baby James and "Carolina in My Mind" says his early life is, "the source of many of my songs." Break Shot, notes the announcement, "combines storytelling, music and performance."
The CD audiobook includes an unreleased recording of the beloved hymn "Jerusalem," selections from his 2020 studio album, American Standard, new original scoring by Taylor specially recorded for Break Shot, and more from the Grammy Award-winning artist. The original version of the title was first made available on Jan. 31 via a non-physical audiobook.
More from the announcement: Recorded in his home studio, The Barn in western Massachusetts, Taylor tells the deeply personal story of his youth, which is entwined with the story of his family. What started as an idyllic tight unit soon became a family sent to different emotional corners – like a break shot in the game of pool, he says, when you slam the cue ball into the fifteen other balls and they all go flying off. By the time Taylor released his breakout second album in 1970, Sweet Baby James, he had seen the disintegration of his parents' marriage and his family crumble in the aftermath. He had committed himself twice to a psychiatric hospital, battled depression, a heroin addiction, suffered a relapse, and traveled far away from the wood smoke and moonshine of the North Carolina landscapes in which he came of age. Despite it all, he was also on the cusp of super-stardom and on his way to bringing light and joy to millions. He was 21.
Watch Taylor discuss the book on The Late Show With Stephen Colbert
Taylor's tours with Jackson Browne (U.S.) and Bonnie Raitt (Canada) have been moved to 2021, due to the pandemic. Tickets are available here and here.
Related: Listings for 100s of classic rock tours
Taylor, who turned 72 on March 12, is a recipient of the Kennedy Center Honors and both the Presidential Medal of Freedom and the National Medal of Arts, as well as a Rock and Roll Hall of Fame and Songwriters Hall of Fame inductee.

Latest posts by Best Classic Bands Staff
(see all)