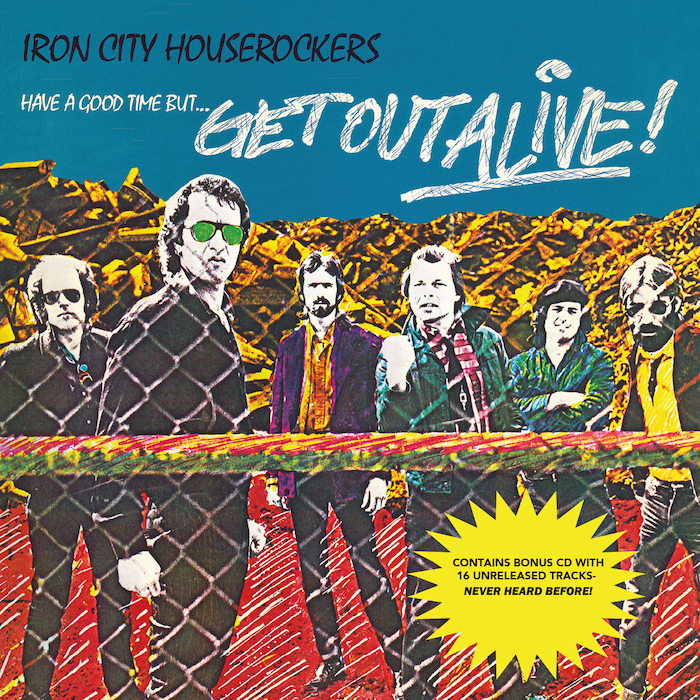 Forty years after its initial appearance, Cleveland International Records is releasing a greatly expanded 40th anniversary deluxe reissue this spring of Have a Good Time (But Get Out Alive), the sophomore album from the Iron City Houserockers, the led by Pittsburgh rocker Joe Grushecky.
Mick Ronson (David Bowie), Ian Hunter (Mott The Hoople) and Steven Van Zandt (Bruce Springsteen, Southside Johnny) combined with co-producers the Slimmer Twins (Steve Popovich Sr. and Marty Mooney) and the Iron City Houserockers to create the album. On May 22 Have a Good Time (But Get Out Alive) is available digitally. A remastered two-CD set that includes a bonus disc with 16 previously unreleased tracks of demos and other rarities arrives June 19. A new vinyl edition, also arriving on June 19, will include a download card of those same 16 tracks to go with a vinyl replica of the original album.
Listen to the title track
Related: Joe Grushecky appeared in a documentary film about Asbury Park, NJ
Says a press release, "The Iron City Houserockers' 1979 major label debut, Love's So Tough, had thrust the band into the national spotlight, with incredible praise from some of the most revered rock critics of all time. The Houserockers were sharing stages with the J. Geils Band, Patti Smith, Meat Loaf and Iggy Pop, to name a few. Everyone from Neil Young to the members of Pink Floyd was coming to see the Iron City Houserockers in concert."
It continues: "The heat was on to surpass the first album's success and Have a Good Time (But Get Out Alive) handily delivered. The Iron City Houserockers' willingness to let Ronson, Hunter and Van Zandt reshape their initial ideas in the studio proved prophetic, and the songs they recorded for the 1980 release put down roots that stretched far outside of Pittsburgh."
Listen to a demo of "Don't Let Them Push You Around"
Credit for bringing Ronson, Hunter and Van Zandt to the project lands squarely with Popovich, the famed late record industry exec who founded Cleveland International Records in the mid-'70s after an historic run in promotion for Simon and Garfunkel, Bob Dylan, the Byrds, Santana, Janis Joplin, Chicago, Tony Bennett, Earth Wind & Fire, Taj Mahal, Miles Davis, Mott the Hoople, Boston, Tom Jones and dozens more giants too numerous to list. Cleveland International first rocketed into our collective consciousness with Meat Loaf's smash Bat Out of Hell. Popvich's son, Steve Jr., relaunched Cleveland International last year.
Listen to a demo of a cover of the classic "Do Wah Diddy Diddy"
Popovich Sr. signed the Iron City Houserockers to Cleveland International (after changing their name from the Brick Alley Band) and secured their MCA deal. At Cleveland International, the band created a blend of blue-collar rock informed by a deep love of Chicago blues, early rock and roll and old school soul, all mixed together with dollops of punk and new wave. The core group was Grushecky on vocals and guitar, Gil Snyder on piano and vocals, Ned E. Rankin on drums, Art Nardini on bass, Marc Reisman on harmonica and background vocals, and new recruit Eddie Britt on guitar, replacing founding member Gary Scalese following a serious hand injury.
Listen to a demo of "Rock Ola"
In the liner notes, Grushecky offers concise analysis of the record: "We had great songs and the band was smoking," he writes. "We all knew something special was happening. The results were a mixture of Pittsburgh rock and roll, Jersey Shore savvy and soul, and English mystic and muscle. Add a dash of Cleveland moxie and an anything goes attitude and a legendary album was born."
Listen to "Don't Let Them Push You Around" performed live

Latest posts by Best Classic Bands Staff
(see all)