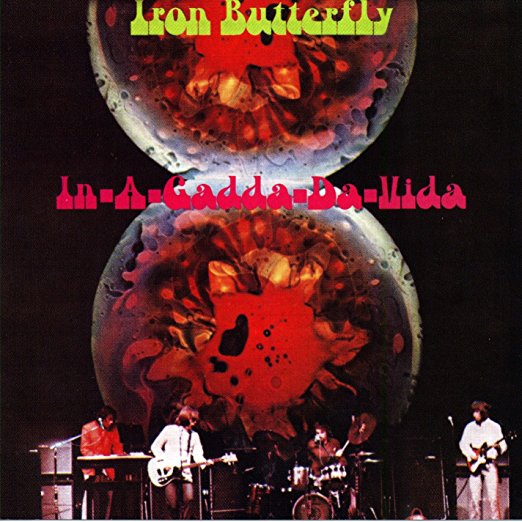 That wasn't supposed to be the title, of course. In one of the most oft-told tales of happy mistakes in rock, Iron Butterfly member Doug Ingle was so drunk on cheap wine that when he played his new song, "In the Garden of Eden," for a band mate it came out as "In-a-Gadda-Da Vida." The band decided to keep it that way, and a classic hard-rock song was born. The track, more than 17 minutes on the album of the same name, slashed down for the single, is often considered one of the seminal tunes of heavy metal.
The band formed in San Diego in 1966, with Ingle on vocals and organ, along with Jack Pinney (drums), Greg Willis (bass) and Danny Weis (guitar). Another singer, Darryl DeLoach, who also played tambourine, soon joined them, and Jerry Penrod replaced Willis on bass before they were signed to a recording contract. Ingle has said that the band's name was supposed to indicate a contrast between weighty and light, but no one will ever accuse Iron Butterfly of being too soft. From the start, they were going for something louder and more primal and aggressive than other bands of the day, and they titled their debut album Heavy, released on Atco Records in 1968, just to get the point across.
That album reached #78 early in the year and by the summer of '68 the group was already set to release its sophomore LP. In-a-Gadda-Da-Vida—released on June 14, 1968, and featuring the quartet of Ingle, guitarist Erik Brann, drummer Ron Bushy and bassist Lee Dorman—took its name from its title track, which occupied all of Side B on the original vinyl LP. Most of that time was given over to a post-psychedelic jam that dovetailed with the improvisational music that was being played at ballrooms in the U.S. and abroad and would soon be taken to new extremes by groups that would fall into the just-emerging heavy metal category.
Related: 10 seminal hard rock albums
Lyrically, other than the misheard title phrase, there really wasn't much to "In-a-Gadda-Da-Vida." It could have been a  '50s love song. They sang:
"In a gadda da vida, honey
Don't you know that I'm lovin' you
In a gadda da vida, baby
Don't you know that I'll always be true"
The chorus, too, was hardly profound:
"Oh, won't you come with me
And take my hand
Oh, won't you come with me
And walk this land
Please take my hand"
But it was all in the presentation, and Iron Butterfly found their audience with their second album and its centerpiece. The album, recorded on Long Island, rose to #4 on the Billboard LP chart, while the single, edited down to a more radio-friendly 2:52, found its way to #30 on that chart.
Listen to the single version of "In-a-Gadda-Da-Vida"
Not all rock fans were swayed: "In-a-Gadda-Da-Vida," and Iron Butterfly itself, were divisive: you either loved the song or despised it. The single and album signaled a shift in rock away from the more flowery, psychedelic sound that flourished at the Monterey Pop Festival and San Francisco's rock palaces toward something more head-battering.
Related: What else was happening in rock in 1968?
Nonetheless, "In-a-Gadda-Da-Vida" quickly established itself as a rock classic and when the band performed the song live, they often extended it even beyond the 17-minute mark, reportedly reaching a half-hour at times.
The In-a-Gadda-Da-Vida album has been certified multi-platinum, reportedly selling more than 30 million copies total. (Iron Butterfly was, in fact, the first-ever group to receive an RIAA platinum album award.)
Iron Butterfly continued to find success for some years after 1968. Their next album, 1969's Ball, reached #3, and the group was scheduled to play Woodstock but missed the gig when the helicopter meant to transport them to the site failed to show up. The 1970 Live album included a 19-minute version of "In-a…" and reached # 20, followed just a few months later by the #16 Metamorphosis.
But as the '70s unfurled, and other trends and bands came into the picture, audiences moved on. Iron Butterfly disbanded in 1971 but by '74 a new lineup had revived the name, and they've never gone away. To this day there is an Iron Butterfly band, featuring one early member, Ron Bushy—although there has been no new Iron Butterfly album release in more than four decades.
Watch the 1968 lineup play the full 17-minute version of "In-a-Gadda-Da-Vida"

Latest posts by Jeff Tamarkin
(see all)