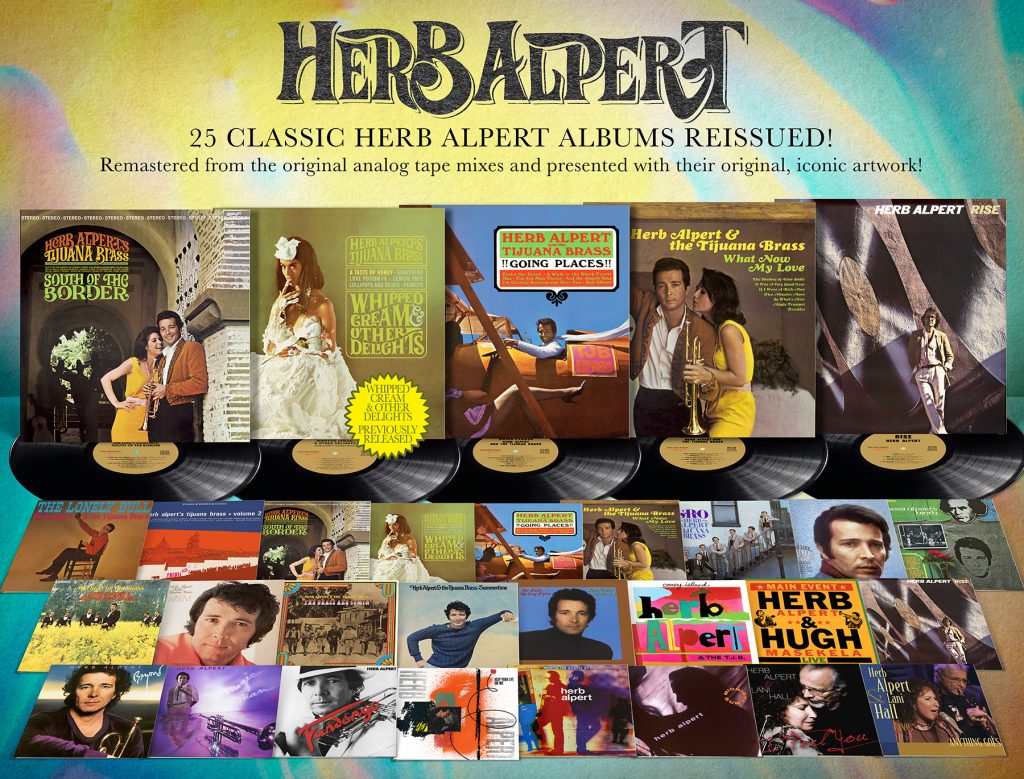 Following the strong reception to the re-release of Whipped Cream & Other Delights and Christmas Album at the end of 2015, legendary musician Herb Alpert will re-release 24 albums on CD with a four titles also being released on vinyl, on September 9, 2016.
Each title has been remastered from the original analog tape mixes by Grammy-winner Bernie Grundman, the original mastering engineer on many of the original Tijuana Brass and Alpert albums.
All releases – many of which have been out of print for a number of years – will be presented with their original artwork.
To generations of music fans, Alpert is the dark-haired, trumpet-playing songmaker whose name instantly brings to mind memorable songs like "The Lonely Bull," "A Taste of Honey" and the #1 hits "This Guy's in Love with You" and "Rise" which Alpert recorded either as leader of the Tijuana Brass or as a solo artist, yielding five #1 albums, nine Grammys, 14 Platinum and 15 gold albums – with well over 70 million albums sold worldwide.
Related: Where does Alpert rank in our list of 10 Great Instrumental Hits from the '60s?
Alpert was a hugely successful record label owner, the "A" (to partner Jerry Moss' "M") in A&M Records, one of the most successful independent record labels of the last half century, and the longtime home to such artists as The Police, the Carpenters, Bryan Adams, Supertramp and Cat Stevens, among many other platinum classic rock recording artists. He and Moss were elected to the Rock and Roll Hall of Fame, ironically in the non-performer category.
The 81-year-old Alpert still performs, he's an acclaimed painter and sculptor, and his philanthropic work which has seen his foundation donate millions to worthy causes.
Don't miss a post! Sign up for Best Classic Bands' Newsletter; form is on every page.
Vinyl Reissues
South Of The Border
What Now My Love
Going Places
Rise
CD Reissues
The Lonely Bull
Volume 2
South Of The Border
Going Places!!
What Now My Love
S.r.o.
Sounds Like
Herb Alpert's Ninth
The Beat Of The Brass
Warm
The Brass Are Comin'
Summertime
You Smile–the Song Begins
Coney Island
Main Event Live (With Hugh Masekela)
Rise
Beyond
Magic Man
Fandango
Keep Your Eye On Me
North On South St.
Midnight Sun
Anything Goes
I Feel You

Latest posts by Best Classic Bands Staff
(see all)