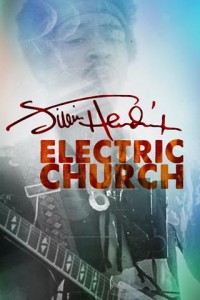 A new documentary, Jimi Hendrix: Electric Church, about the classic rock icon's blistering performance at the 1970 Atlanta International Pop Festival, will debut on Showtime on September 4th.
For a variety of reasons, the concert footage sat in a barn for over 30 years. The multi-camera angles are a visual treat with the always-fashionable Hendrix resplendent in a multi-colored cape. His performance includes his cover of Bob Dylan's "All Along the Watchtower" as well as "Purple Haze," "Hey Joe," "Foxy Lady" and "The Star-Spangled Banner," played against a backdrop of fireworks and the sweltering Georgia heat.
The documentary features interviews with festival producer Alex Cooley, Hendrix bandmate Billy Cox, fellow musicians Susan Tedeschi, Kirk Hammett, Paul McCartney and more, as well as key witnesses to the event and archival footage with Georgia Governor Lester Maddox, all of which sets the tone for a hippie invasion of  the rural village of Byron, Georgia amidst the cultural divide in the Deep South.
Best Classic Bands will have a full review of Electric Church as the premiere date approaches.
Experience Hendrix and Sony's Legacy Recordings label will release a two CD/LP set, Freedom: Jimi Hendrix Experience Atlanta Pop Festival, on August 28th, including six performances not seen in the Showtime documentary. Electric Church will be released October 30th on DVD.
Hendrix-Related Update: Dee Mitchell, widow of Jimi Hendrix Experience drummer Mitch Mitchell, issued a notice warning memorabilia collectors that she has become aware of increasing numbers of items for sale that have been falsely attributed as having come "From The Estate of Mitch Mitchell" or from herself. These items have included musical equipment, clothing, boots, drumsticks, stick bags and even guitars and scraps of fabric.  She characterizes most of the goods that have been offered as "tacky, cheap rubbish."
She cautions,  "Please, don't get ripped off."

Latest posts by Best Classic Bands Staff
(see all)