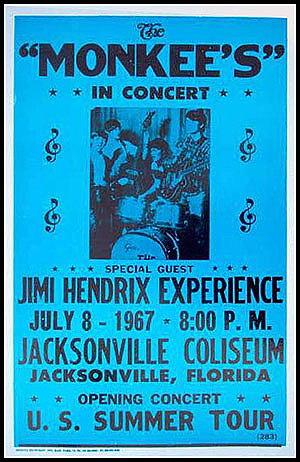 In the "what the heck were they thinking?" department, no rock tour pairing beats Jimi Hendrix opening for The Monkees for eight shows starting on this day in 1967 in Jacksonville, FL. "It was just bizarre," recalls Monkee Mike Nesmith. But aims and ambitions can create strange bedfellows, and in the more naive days of the first decade of classic rock the notion had its initial appeal to all involved.
The Monkees were Hendrix fans. Mickey Dolenz had been wowed by Jimi when he caught the guitarist, singer and songwriter at a club in New York's Greenwich Village before Hendrix moved to London, got a record deal with the record label run by the Who's managers, and had scored three Top 10 U.K. chart hits prior to returning to America: "Hey Joe" (#6), "Purple Haze" (#3) and "The Wind Cries Mary" (#6).
Related: Remembering Hendrix's days in Greenwich Village
Nesmith had been turned on to Hendrix by John Lennon. For the group that had been put together for a TV series who were desperate for some credibility, it seemed a perfect way to gain some hip cachet. Peter Tork later noted: "Besides, it would give us the chance to watch Jimi Hendrix perform night after night!"
Jimi had just won over rock music's hoi polloi at the Monterey Pop Festival but was having a hard time breaking through in the States. His manager Chas Chandler had seen how his former band The Animals, in essence a rather hard-core blues band, had enhanced their profile in America by playing on pop band tours for teenage audiences. It was an opportunity to get Hendrix exposure to many thousands by riding the coattails of one of the hottest acts in pop music.
It was a disaster from the start. The audience dominated by young teen girls in the throes of first lust for the members of the Monkees screamed for the headliners throughout the Jimi Hendrix Experience's opening sets. Parents who had accompanied their kids to the shows were horrified by Hendrix's wild and lascivious stage antics and songs like "Foxy Lady." It all came to a head on July 16 at Forest Hills Tennis Stadium in Queens, NY when Jimi flipped off the crowd, threw off his guitar and stalked offstage without finishing his set.
Related: Here we come – The Monkees' incredible first year

Latest posts by Best Classic Bands Staff
(see all)