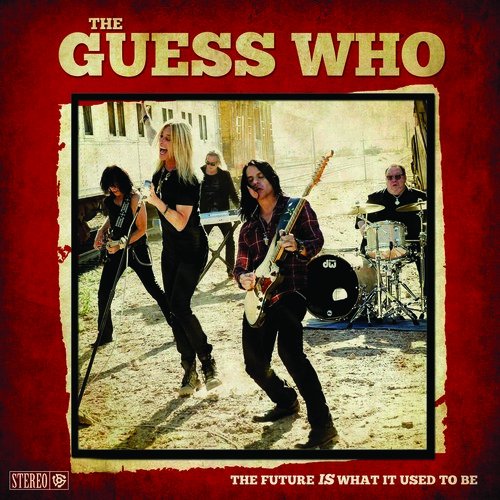 The current lineup of the Guess Who, including original member Garry Peterson, have announced a new album, The Future IS What It Used To Be, and tour. The band, originally led by Burton Cummings and Randy Bachman, are well known for such classic rock hits as "American Woman," "No Time," "These Eyes," and others. The new album arrives on September 14, 2018, via Cleopatra Records.
Joining Peterson (drums, vocals) are 10-year band veteran Derek Sharp (aka D#) (lead vocals, guitar, piano), Will E. (guitar, harp, vocals), longtime member Leonard Shaw (keyboards, flute, sax, vocals), and the newest addition, rock veteran Rudy Sarzo (bass, vocals).
[Bachman and Cummings are reuniting for a 2021-2022 tour. Tickets are available here and here.]
The album's first single, "Playin' on the Radio," was released on July 17.
Guests on the album include original member Jim Kale, Styx's Tommy Shaw, Brent Fitz (Slash, Gene Simmons) and Michael Devin (Whitesnake).
Watch "Playin' on the Radio"
In the announcement, Peterson said: "I never dreamed that I would get a chance to record an album, after 40 years, in the same way, and with the same recording gear that we used in the 60s and 70s. This was truly a blessing for me and a humbling, cathartic experience for my musical soul. Thank you to all my bandmates, and everyone who helped make it a reality. I hope our fans enjoy it as much as I do."
Related: Our interview with new member, and veteran rock bassist, Rudy Sarzo
D# said: "Lyrically and musically, these songs are the soundtrack to my journey with The Guess Who over the last 10 years. As version 3.0 of this iconic band, we had our work cut out for us. The challenge in this type of situation is always to be true to the heartroots of the original blueprint, as well as being able to journey onwards into an inspired future, incorporating the new energies that we bring to the experience, as you do in any family, generation after generation."
The Future IS What It Used To Be Track Listing
1. When We Were Young
2. Runnin' Blind
3. Talks All The Time
4. Baby Come Around
5. Haunted
6. In America
7. Playin' On The Radio
8. Give It A Try
9. Good Girl
10. Long Day
Related: Album Rewind of the Guess Who's American Woman
The Guess Who Tour Dates
Fri, Aug 24 – Foellinger Theatre – Ft. Wayne, IN
Sat, Aug 25 – Lincoln Amphitheatre – Lincoln City, IN
Fri, Aug 31 – Oregon State Fair – Salem, OR
Sat, Sep 01 – Fort Randall Casino – Lake Andes, SD
Sat, Sep 15 – Twin River Casino – Lincoln, RI
Sun, Sep 16 – Music Hall of Williamsburg – New York, NY
Sat, Sep 29 – Helwig Winery – Plymouth, CA
Sun, Sep 30 – Yoshi's – Oakland, CA
Fri, Oct 05 – The Golden Nugget – Las Vegas, NV
Sat, Oct 20 – Robinson Grand Perf. Arts Center – Clarksburg, WV
Sun, Nov 11 – Magic City Casino Amphitheater – Miami, FL
Fri, Nov 23 – Boomtown Casino Hotel – Reno, NV
Fri, Nov 30 – One World Theatre – Austin, TX
Sat, Dec 01 – Arlington Music Hall – Arlington, TX
Tue, Dec 11 – Savannah Center – The Villages, FL
Mar 9, 2019 – Palace Theatre – Waterbury, CT

Latest posts by Best Classic Bands Staff
(see all)