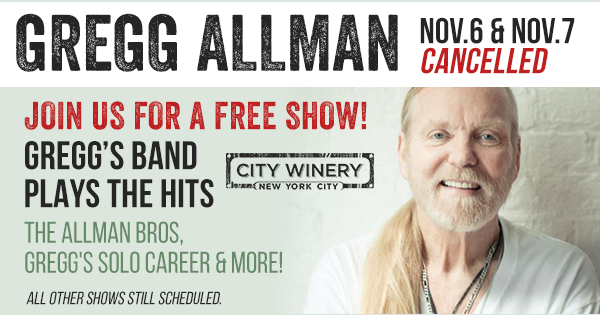 On November 1, we shared the news that Gregg Allman had sufficiently recovered from his recent health issues – later identified as pneumonia – to schedule a winter tour, including a 10-night residency at NYC's intimate CityWinery. Late Saturday night (November 5), though, it was announced that the classic rock legend won't be performing at the first two dates – scheduled for Sunday, November 6 and Monday, November 7. Instead, the concerts have been changed to free general admission events featuring his band "celebrating the Allman Brothers and Gregg's solo career."
The full announcement, via Allman's website:
While Gregg lets a vocal cord bruise heal for the next few days, his band will play two free shows at the City Winery in NYC November 6th and 7th. Gregg will be back Wednesday November 9th for the remainder of the residency at City Winery. City Winery sent the following email to ticket holders and patrons to make sure they knew what was going on.
It is with great disappointment that we reach out to inform you that Gregg Allman will not be performing with his band for the Sunday, November 6th and Monday, November 7th shows.
Please know that we will be issuing full refunds to all ticket holders for Sunday and Monday night's shows.
We hope you'll consider joining us on Sunday and Monday evening for a FREE concert. Please come in to enjoy dinner and a great glass of wine with some great music as Musical Director and guitarist Scott Sharrard leads the Gregg Allman Band through the greatest hits of various historic catalogs. This will be a free, general admission event celebrating the Allman Brothers and Gregg's solo career as well as Sharrard's original work! It looks to be a great couple of nights as we anticipate special guests in advance of Gregg's return to the stage later this week!
We thank you in advance for your patience as we accommodate your refunds and your inquiries about the later dates of this run. We will respond to emails and phone calls in the order they are received.
If you do have questions, additional concerns or if you have inquiries about availabilities in ticketing for the remainder of the Gregg Allman run at City Winery, please do not hesitate to reach out to us at concierge@citywinery.com.
We apologize for the inconvenience that this late breaking change in programming poses.
"I know all about guitar players —I've seen the very best — and Scott Sharrard is the perfect guitarist for my band. He understands that you don't need to play just for the sake of playing; Scott isn't one of those guys who thinks they're getting paid by the note. He never steps on the vocals, and leaves plenty of room for everyone else to do their thing, but when it's time to solo, Scott delivers, boy."
-Gregg Allman
Watch Allman and his band perform "Whipping Post" earlier this year…
Related: Allman's winter tour details
Allman's band includes Scott Sharrard (guitar), Peter Levin (keyboards), Steve Potts (drums), Brett Bass (bass), Jay Collins and Art Edmaiston (saxophone), Marc Franklin (trumpet), and longtime Allman Brothers Band member Marc Quinones (percussion).

Latest posts by Best Classic Bands Staff
(see all)