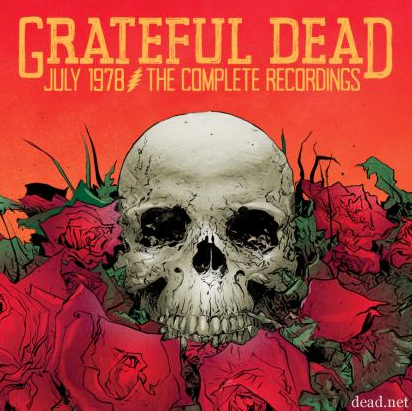 The band with the seemingly unending library of unreleased live recordings is about to make that trove a little lighter. We're talking, of course, about the Grateful Dead and specifically about five concerts from 1978.
Grateful Dead July 1978: The Complete Recordings is a 12-CD box set, available May 13, which marks the first official release of master recordings from the long lost "Betty Boards" (Betty Cantor-Jackson's always pristine soundboard recordings). From the official announcement via Rhino: "Among the sonic treasures are three soundboard recordings from July 1, 3, and 5 that have never been in circulation, even between the most diligent tape collectors. The set also marks the official debut of the Dead's first-ever performances at the legendary Red Rocks Amphitheatre, two shows that are also highly sought-after by Dead Heads." (See complete track listing below.)
The Grateful Dead lineup for these dates was Jerry Garcia, Donna Jean Godchaux, Keith Godchaux, Mickey Hart, Bill Kreutzmann, Phil Lesh and Bob Weir. The performances include many that define this era of the band: "Friend of the Devil," Playing in the Band" and "Eyes of the World," as well as songs from the studio album Terrapin Station, which was released earlier that year. Here's the performance of "Wharf Rat" from the Red Rocks performance on July 8th…
Warren Zevon's "Werewolves Of London" was the tour's occasional encore…
The 12-CD set is an individually numbered, limited edition of 15,000. The set also features original artwork by esteemed cartoonist Paul Pope (D.C. and Marvel comics) and in-depth liner notes written by Nick Meriwether (Grateful Dead Archives at the University of California, Santa Cruz), as well as a producer's note from producer David Lemieux.
A 3-CD version of the legendary complete Red Rocks performance is also available. Preorders are available exclusively at dead.net. The collection will also be available for HD digital download in FLAC and ALAC on release day.
July 1978: The Complete Recordings Track Listing:
Arrowhead Stadium: Kansas City, MO (7/1/78)
Disc 1
1. "Bertha"
2. "Good Lovin'"
3. "Tennessee Jed"
4. "Jack Straw"
5. "Friend Of The Devil"
6. "Me And My Uncle"
7. "Big River"
Disc 2
1. "Terrapin Station"
2. "Playing In The Band"
3. "Rhythm Devils"
4. "Space"
5. "Estimated Prophet"
6. "The Other One"
7. "Wharf Rat"
8. "Around And Around"
9. "Johnny B. Goode"
St. Paul Civic Center Arena: St. Paul, MN (7/3/78)
Disc 3
1. "New Minglewood Blues"
2. "Loser"
3. "Looks Like Rain"
4. "Ramble On Rose"
5. "Mexicali Blues"
6. "Mama Tried"
7. "Peggy-O"
8. "Cassidy"
9. "Deal"
10. "The Music Never Stopped"
Disc 4
1. "Scarlet Begonias"
2. "Fire On The Mountain"
3. "Dancing In The Street"
4. "Rhythm Devils"
5. "Not Fade Away"
6. "Stella Blue"
7. "Sugar Magnolia"
8. "Werewolves Of London"
Omaha Civic Auditorium: Omaha, NE, (7/5/78)
Disc 5
1. "Sugaree"
2. "Beat It On Down The Line"
3. "They Love Each Other"
4. "Looks Like Rain"
5. "Dire Wolf"
6. "It's All Over Now"
7. "Candyman"
8. "Lazy Lightning"
9. "Supplication"
10. "Deal"
11. "Samson and Delilah"
12. "Ship Of Fools"
Disc 6
1. "Estimated Prophet"
2. "Eyes Of The World"
3. "Jam"
4. "Rhythm Devils"
5. "Space"
6. "Wharf Rat"
7. "Truckin'"
8. "Iko Iko"
9. "Around And Around"
10. "Promised Land"
Red Rocks Amphitheatre: Morrison, CO (7/7/78)
Disc 7
1. "Jack Straw"
2. "Candyman"
3. "Me And My Uncle">
4. "Big River"
5. "Friend Of The Devil"
6. "Cassidy"
7. "Tennessee Jed"
8. "Passenger"
9. "Peggy-O"
10. "The Music Never Stopped"
Disc 8
1. "Cold Rain And Snow"
2. "Beat It On Down The Line"
3. "Scarlet Begonias">
4. "Fire On The Mountain"
Disc 9
1. "Dancing In The Street"
2. "Rhythm Devils"
3. "Space"
4. "Not Fade Away"
5. "Black Peter"
6. "Around And Around"
7. "U.S. Blues"
8. "Johnny B. Goode"
Red Rocks Amphitheatre: Morrison, CO (7/8/78)
Disc 10
1. "Bertha"
2. "Good Lovin'"
3. "Dire Wolf"
4. "El Paso"
5. "It Must Have Been The Roses"
6. "New Minglewood Blues"
7. "Ramble On Rose"
8. "Promised Land"
9. "Deal"
10. "Samson and Delilah"
11. "Ship Of Fools"
Disc 11
1. "Estimated Prophet">
2. "The Other One">
3. "Eyes Of The World">
4. "Rhythm Devils">
5. Space>
6. "Wharf Rat">
7. "Franklin's Tower">
8. "Sugar Magnolia"
Disc 12
1. "Terrapin Station">
2. "One More Saturday Night"
3. "Werewolves Of London"

Latest posts by Best Classic Bands Staff
(see all)