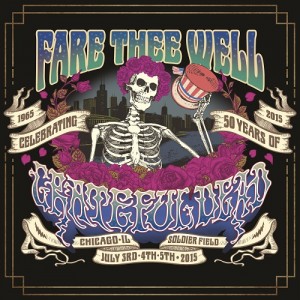 Here's a little something to be grateful for come Thanksgiving. The core four members of the Grateful Dead may have played what they swore were their last shows this past July, but the Dead's music lives on in the form of brand spanking new box sets out November 20th. Fare Thee Well: Celebrating 50 Years of Grateful Dead will showcase music from the band's three shows at Soldier's Field in Chicago on July 3rd, 4th and 5th.
Options will be available for completists and casual listeners alike. The retail version contains full audio and video from the July 5th concert, a "best of" version features select performances from all three nights, and an exclusive complete box set of all audio and video from all of the shows will be available through the band's website. Limited to 20,000 copies, this last set will also include backstage footage and featurettes focusing on the scene surrounding the Dead's farewell shows, from the parking lot to the ticketing office, which was overrun with upwards of 350,000 requests.
For those of you wondering about the mysterious psychedelic jams during intermissions at the concerts – rest assured, those will be available in the complete box set, too. Guitarist Neal Casal – known for his work with Ryan Adams & The Cardinals, Chris Robinson Brotherhood and Hard Working Americans as well as his own career – curated a special quartet called Circles Around the Sun to work up new tunes in a two-day jam session, and the response was so positive that those songs will also be released separately from the full set in a two-disc package, Interludes for the Dead, available November 27th.
It's been an action-packed year for the surviving Dead members so far. In September, they released a whopping 80-disc box set culled from their live performances over the past 30 years. On October 29th, three of the surviving core Dead members (Bob Weir, Mickey Hart and Bill Kreutzmann) plus guitarist John Mayer will embark on a ten-show tour (surprise, surprise) under the moniker Dead & Company.
Track List for Fare Thee Well: Celebrating 50 Years of Grateful Dead (Dead.net Exclusive Complete Version):
July 3rd, 2015
Disc One
1. "Box of Rain"
2. "Jack Straw"
3. "Bertha"
4. "Passenger"
5. "The Wheel"
6. "Crazy Fingers"
7. "The Music Never Stopped"
Disc Two
1. "Mason's Children"
2. "Scarlet Begonias"
3. "Fire On The Mountain"
4. "Drums"
5. "Space"
Disc Three
1. "New Potato Caboose"
2. "Playing In The Band"
3. "Jam"
4. "Let It Grow"
5. "Help On The Way"
6. "Slipknot!"
7. "Franklin's Tower"
8. "Ripple"
Disc Four
Intermission Music by Circles Around The Sun
1. "Space Wheel"
2. "Mountains Of The Moon"
3. "Praying For The Band"
4. "Tripple"
5. "Deal Breaker"
6. "Deadometer"
7. "Borrow From A Friend"
8. "Grimes Surf Story"
July 4th, 2015
Disc Five
1. "Shakedown Street"
2. "Liberty"
3. "Standing On The Moon"
4. "Me And My Uncle"
5. "Tennessee Jed"
6. "Cumberland Blues"
7. "Little Red Rooster"
8. "Friend Of The Devil"
9. "Deal"
Disc Six
1. "Bird Song"
2. "The Golden Road (To Unlimited Devotion)"
3. "Lost Sailor"
4. "Saint Of Circumstance"
5. "West Of L.A. Fadeaway"
Disc Seven
1. "Foolish Heart"
2. "Drums"
3. "Space"
4. "Stella Blue"
5. "One More Saturday Night"
6. "U.S. Blues"
Disc Eight
Intermission Music by Circle Around The Sun
1. "Hallucinate A Solution"
2. "Ginger Says"
3. "Saturday's Children"
4. "Eartha"
5. "Split Pea Shell"
July 5th, 2015
Disc Nine
1. "China Cat Sunflower"
2. "I Know You Rider"
3. "Estimated Prophet"
4. "Built To Last"
5. "Samson and Delilah"
6. "Mountains On The Moon"
7. "Throwing Stones"
Disc Ten
1. "Truckin'"
2. "Cassidy"
3. "Althea"
4. "Terrapin Station"
5. "Drums"
Disc Eleven
1. "Space"
2. "Unbroken Chain"
3. "Days Between"
4. "Not Fade Away"
5. "Touch Of Grey"
6. "Attics Of My Life"
Disc Twelve
Intermission Music by Circles Around The Sun
1. "Gilbert's Groove"
2. "Farewell Franklins"
3. "Hat And Cane"
4. "Never Too Late"
5. "Scarlotta's Magnolias"
Interludes for the Dead Track List
Disc One
1.    "Hallucinate A Solution"
2.    "Gilbert's Groove"
3.    "Kasey's Bones"
4.    "Space Wheel"
Disc Two
1.    "Ginger Says"
2.    "Farewell Franklins"
3.    "Saturday's Children"
4.    "Scarlotta's Magnolias"
5.    "Hat And Cane"
6.    "Mountains Of The Moon"

Latest posts by Best Classic Bands Staff
(see all)