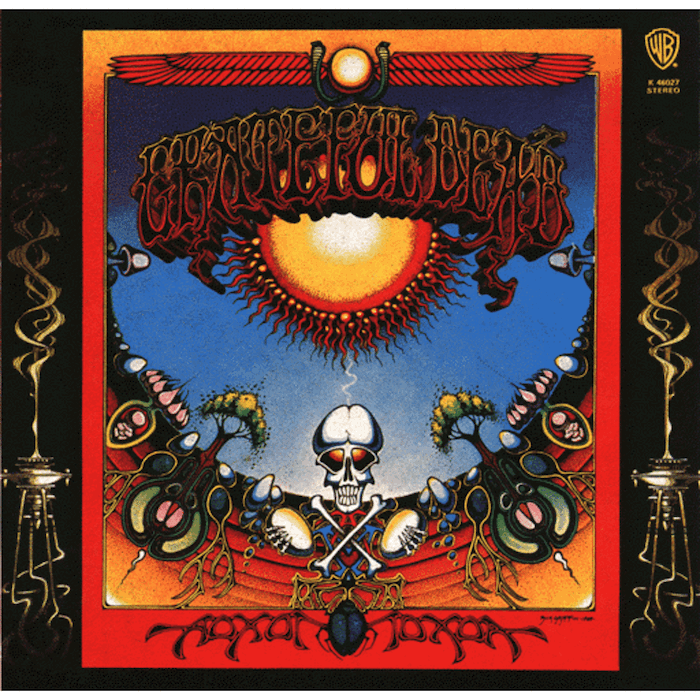 The Grateful Dead have never exactly wooed mainstream listeners: it took more than two decades for them to score their first—and last—bona fide hit single ("Touch of Grey"), and in their early years, when other West Coast groups like the Doors, Jefferson Airplane and the Byrds were regularly climbing the charts, the Dead thumbed their noses at commercialism, preferring to experiment with feedback, extended jams and surreal, acid-influenced lyrics.
Listen to the live "Alligator" bonus track from the 50th anniversary edition of Aoxomoxoa
Their third LP, Aoxomoxoa, was among their most adventurous of the era. Fueled by LSD and the addition of lyricist Robert Hunter, it was among the first albums to embrace 16-track technology. Like its predecessors, it didn't sell all that well—it took nearly two decades to go gold—but it has aged nicely and remains notable for such concert favorites as "St. Stephen" and "China Cat Sunflower."
Related: Our review of the Dead's Long Strange Trip documentary
This 50th anniversary edition (with a 3D rendering of artist Rick Griffin's psychedelic cover image) offers new reasons to pick up Aoxomoxoa, starting with its inclusion of remastered versions of both the album's original 1969 mix and the band's 1971 remix. This reviewer mostly prefers the latter but the radically different former—most of which has in recent years been available just on vinyl—is well worth a listen: it uses some different vocal takes and features all sorts of sonic touches that were wiped from version two.
Listen to the live "New Potato Caboose" bonus track
The other carrot here—and it's a pretty big one for fans of the early Dead—is an entire disc of performances from January 24-26, 1969, gigs at San Francisco's Avalon Ballroom. (They're billed here as "the first live concerts in music history to be recorded to 16-track tape.) Among the highlights on that program are rousing versions of Anthem of the Sun's "New Potato Caboose," "Alligator" and "Caution (Do Not Stop on Tracks)," which together clock in at 31 minutes.
Listen to the original 1969 LP mix of "St. Stephen"
Latest posts by Jeff Burger
(see all)