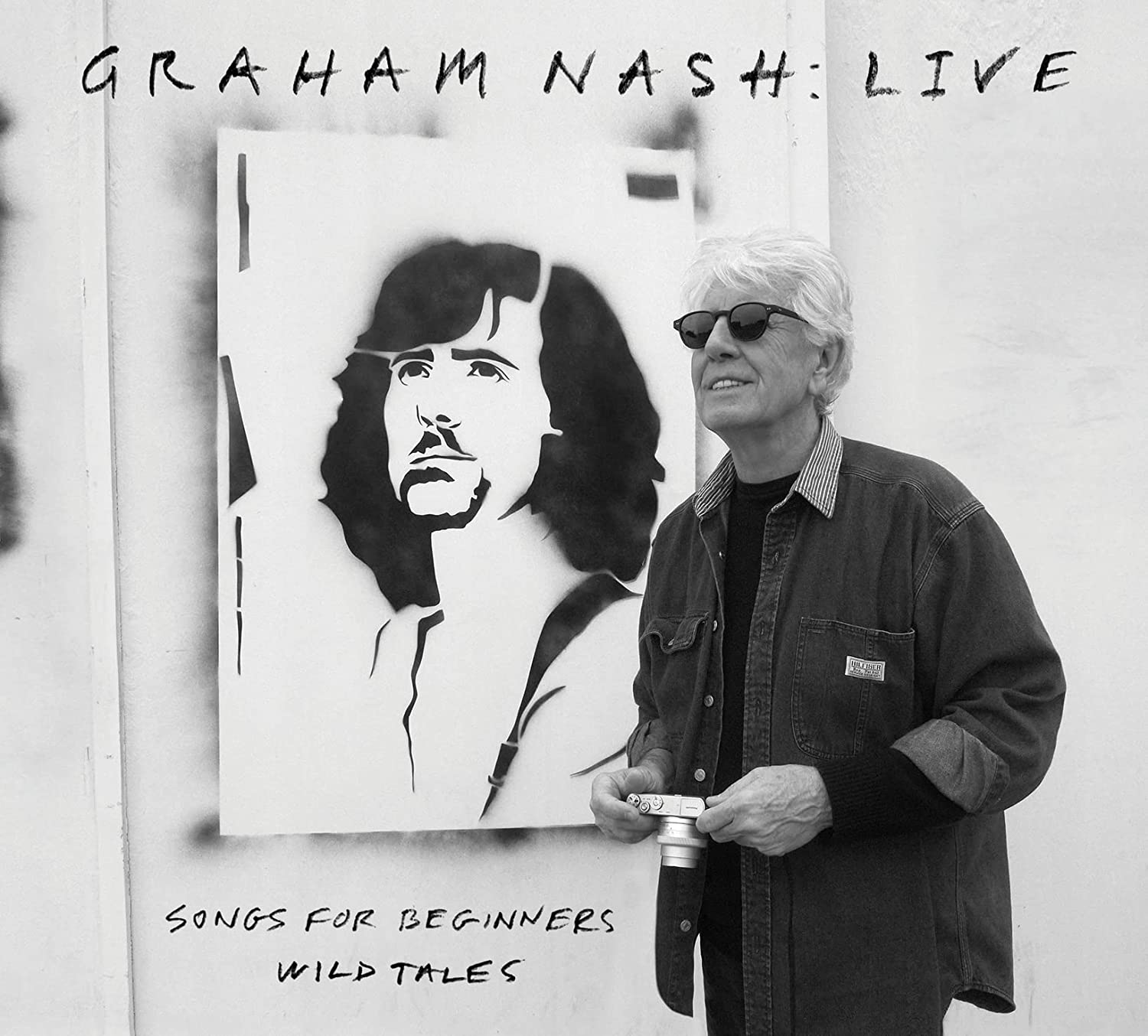 Graham Nash has announced the release of a live album, taken from his 2019 tour where he performed both his debut and sophomore solo records, 1971's Songs for Beginners and1974's Wild Tales, in their entirety. Graham Nash: Live arrives May 6, 2022. See the complete track listing and listen to "Military Madness" from the album below.
For the concerts, Nash was joined on stage by a seven-piece band led by his longtime collaborators, Shane Fontayne (guitar and vocals) and Todd Caldwell (keyboards and vocals), The album was mixed by Grammy Award® winner Kevin Killen and mastered by Grammy Award® winner Bob Ludwig. In the March 15 announcement, Nash said: "All the things we stood for, that love is better than hatred, that peace is better than war, that we have to take care of our fellow human beings, because that's all we have on this planet – those things are still true today. I need to know that I've brought something into the world that was positive and not negative."
Songs for Beginners, released in 1971, was Nash's solo debut apart from Crosby, Stills, Nash and Young and was recorded in the immediate aftermath of Nash's breakup with Joni Mitchell. It includes tracks such as "Chicago/We Can Change the World," "Military Madness," "I Used to Be a King" and "Simple Man."
Related: Our Album Rewind of Songs For Beginners
Nash's solo followup was 1974's Wild Tales, featuring songs like "Oh Camil," "Prison Song," "Another Sleep Song" and "I Miss You."
In a press release announcing the 2019 shows, Nash said, "The experience of revisiting the music I made almost 50 years ago, live in front of an audience, gives me the chance to actually play the songs as was envisioned those many years ago. Each 'side' of the album was programmed as a short 20-minute suite, a musical journey to be taken not really knowing or caring where that journey would take the listener. I look forward to rediscovering my music and sharing it with the audience."
Related: Graham Nash interviewed by radio great Dennis Elsas
Listen to Nash sing "Military Madness" from the new album
Graham Nash: Live Track Listing
1. Military Madness
2. Better Days
3. Wounded Bird
4. I Used To Be A King
5. Be Yourself
6. Simple Man
7. Man In The Mirror
8. There's Only One
9. Sleep Song
10. Chicago/We Can Change The World
11. Wild Tales
12. Hey You (Looking At The Moon)
13. Prison Song
14. You'll Never Be The Same
15. And So It Goes
16. Grave Concern
17. Oh Camil (The Winter Soldier)
18. I Miss You
19. On The Line
20. Another Sleep Song
Nash was inducted twice into the Songwriters Hall of Fame, for his work with CSN and his work as a solo artist.
Nash is touring in 2022. Tickets are available here and here.
In 2018, Nash released Over the Years…, a two-disc collection of his best-known songs from the past 50 years and more than a dozen unreleased demos and mixes.

Latest posts by Best Classic Bands Staff
(see all)