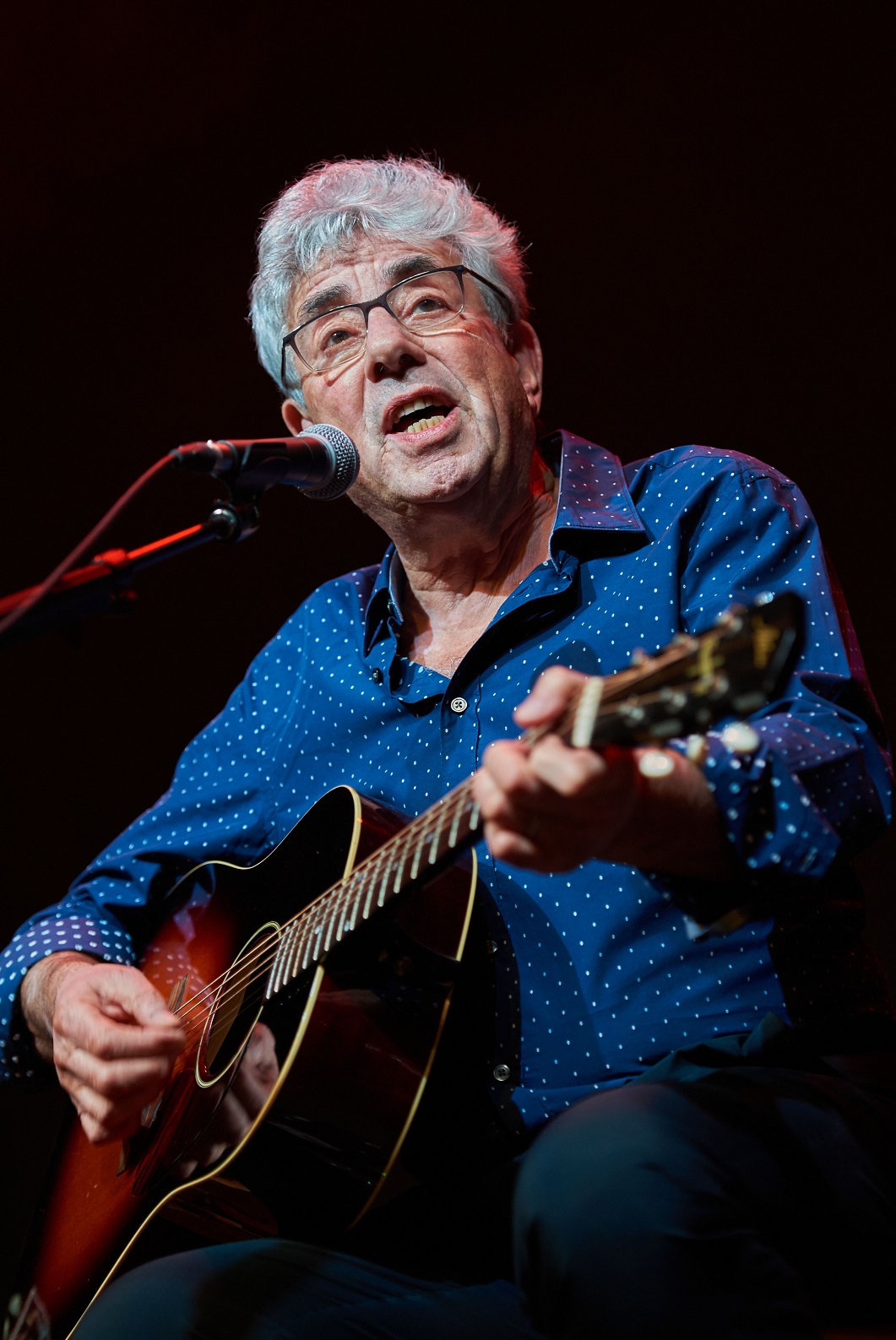 Graham Gouldman has expanded his 2023 concert calendar, touring as 10cc and with an edition of his "Heart Full of Songs" tour. For the latter, the acclaimed British Invasion songwriter, musician and 10cc founding member will be joined on stage by 10cc live band members Iain Hornal and Keith Hayman, and Dave Cobby, performing songs from Gouldman's celebrated catalog, including chart hits for 10cc, the Hollies, Herman's Hermits, The Yardbirds and his time in Wax with Andrew Gold. The tour is named for his composition, "Heart Full of Soul," a 1965 hit for the Yardbirds. See the dates below.
Gouldman formed what became "Heart Full of Songs" ten years ago purely for the pleasure of playing his songs in their simplest form: acoustically. The format's popularity is such that the presentation now tours the U.K. between 10cc's sell-out tours.
Gouldman said, "I hope you enjoy the gigs as much as we enjoy playing them."
As of mid-January, the 10cc dates are taking place in Sweden, Denmark, New Zealand and Australia. The "Heart Full of Songs" shows are in the U.K. Gouldman told Best Classic Bands they're working on a U.S. tour.
Gouldman's career took off in 1965 following what turned out to be a blessing in guise. Columbia rejected his first single composition for his band The Mockingbirds, which featured future 10cc co-founder Kevin Godley on drums. The song, "For Your Love," became a significant hit for the Yardbirds.
In a 2015 interview with Best Classic Bands, Gouldman said, "the Yardbirds were doing a Christmas show with the Beatles, supporting them at Hammersmith Odeon at the end of '64. And [my manager] sent the song to the publisher. He knew the Yardbirds were looking for material and he played them 'For Your Love' and that was it." The song reached #3 in the U.K. and #6 in the U.S.
Watch Gouldman perform the song acoustically
Working by day in a men's outfitters shop and playing by night with his semi-professional band, Graham went on to write a string of hits, such as "Pamela, Pamela" (Wayne Fontana), "Bus Stop" and "Look Through Any Window" (The Hollies), "No Milk Today" and "Listen People" (Herman's Hermits), among others.
In 1972, along with Godley, Eric Stewart, and Lol Creme, he formed 10cc. The band enjoyed a string of Top 10 hits, including three that reached #1 in the U.K. – "Rubber Bullets," "I'm Not In Love" and "Dreadlock Holiday."
Watch 10cc perform "Rubber Bullets" in 2022
"Heart Full of Songs" shows also include tracks from Gouldman's acclaimed solo albums, And Another Thing, Love and Work, Play Nicely and Share and 2020's Modesty Forbids.
Gouldman's latest project was his new song, "Floating In Heaven," that caught the attention of Queen's Brian May, at a crucial time in the history of space exploration.
May, who has a passion for astronomy and a PhD in astrophysics, worked with Gouldman to release the song as a single to mark the unveiling to the world of the first astonishing images from NASA's James Webb Space Telescope on July 12, 2022. The pair performed the song with a full orchestra at the sixth Starmus convention, held in September in Yerevan, Armenia.
Graham Gouldman 2023 U.K. Tour (Tickets are available here)
10cc Dates
Feb 06 – Gavle, Sweden – Konserthus
Feb 07 – Gothenburg, Sweden – Lorensbergsteatern
Feb 08 – Gothenburg, Sweden – Lorensbergsteatern
Feb 09 – Jonkoping, Sweden – Konserthus Jonkoping
Feb 11 – Gavle, Sweden – Konserthus
Feb 12 – Stockholm, Sweden – Konserthuiset
Feb 13 – Malmo, Sweden – Slagthuset
Feb 15 – Copenhagen, Denmark – DR Koncertsalen
Feb 16 – Fredericia, Denmark – Eksercerhuset
Feb 17 – Helsingor, Denmark – Det Musiske Hus
Feb 18 – Aalborg, Denmark – Musikkens Hus
"Heart Full of Songs" U.K. Dates
Mar 06 – Bury St Edmunds – The Apex
Mar 07 – Sunderland – Fire Station
Mar 08 – Glasgow – Saint Luke's
Mar 09 – Buxton – Floral Pavilion
Mar 10 – Holmfirth – The Civic
Mar 12 – Stamford – Corn Exchange
Mar 13 – Lytham St Annes – Lowther Pavilion
Mar 14 – Southport – The Atkinson
Mar 15 – Shoreham – Ropetackle
Mar 16 – London – Cadogan Hall
Mar 18 – Basingstoke – The Haymarket
Mar 19 – Oswaldtwistle – Civic Arts Centre & Theatre
Mar 20 – Lincoln – Drill Hall
Mar 21 – Wavendon – The Stables Theatre
Mar 22 – Shrewsbury – Theatre Severn
Mar 23 – Salford – Quays Theatre
10cc Dates
Jun 02 – Wellington, New Zealand – Opera House
Jun 03 – Auckland, New Zealand – Bruce Mason Centre
Jun 04 – Hastings, New Zealand – Opera House ToiToi
Jun 06 – Christchurch, New Zealand – Isaac Theatre Royal
Jun 07 – Cairns, Australia – CPAC
Jun 08 – Caloundra, Australia – Events Centre
Jun 09 – Brisbane, Australia – Fortitude Music Hall
Jun 10 – Tweed Heads, Australia – Twin Towns
Jun 11 – Tweed Heads, Australia – Twin Towns
Jun 13 – Newcastle, Australia – Civic Centre
Jun 14 – Toncurry, Australia – Forster Toncurry RSL
Jun 15 – Wyong, Australia – Arts Centre
Jun 16 – Penrith, Australia – Evan Theatre
Jun 17 – Sydney, Australia – Darling Harbour Theatre
Jun 18 – Springwood, Australia – Blue Mountains Theatre
Jun 21 – Canberra, Australia – Llewellyn Theatre
Jun 22 – Thirroul, Australia – Anita's
Jun 23 – Aspendale Gardens, Australia – Chelsea Heights Hotel
Jun 24 – Geelong, Australia – Costa Hall
Jun 25 – St. Kilda, Australia – Palais Theatre
Jun 28 – Bendigo, Australia – Ulumbarra Theatre
Jun 29 – Hobart, Australia – Wrest Point Ent. Center
Jun 30 – Adelaide, Australia – Thebarton Theatre
Jul 01 – Darwin, Australia – Entertainment Centre
Jul 02 – Perth, Australia – Astor Theatre
Related: Listings for 100s of classic rock tours

Latest posts by Best Classic Bands Staff
(see all)