Nov 11, 2021: Graeme Edge Mourned By the Moody Blues' John Lodge and Justin Hayward
by Greg Brodsky
Graeme Edge, the founding drummer for the Moody Blues, died November 11, 2021, at age 80, with news of his passing confirmed by his longtime bandmates, John Lodge and Justin Hayward. The cause of death was revealed to be metastatic cancer. Edge was an occasional songwriter for the band, contributing  the poetic "Late Lament" and "Morning Glory" to their 1967 masterpiece, Days of Future Passed, among others. He had retired following the group's 50th anniversary tour in 2017 that celebrated that album.
In his tribute, Lodge, the band's bassist, as well as one of their prominent singers and songwriters, wrote, "To me he was the White Eagle of the North with his beautiful poetry, his friendship, his love of life and his 'unique' style of drumming that was the engine room of the Moody Blues… I will miss you Graeme…"
Hayward wrote, "It's a very sad day. Graeme's sound and personality is present in everything we did together and thankfully that will live on.
"When Graeme told me he was retiring I knew that without him it couldn't be the Moody Blues anymore. And that's what happened. It's true to say that he kept the group together throughout all the years, because he loved it.
"In the late 1960's we became the group that Graeme always wanted it to be, and he was called upon to be a poet as well as a drummer. He delivered that beautifully and brilliantly, while creating an atmosphere and setting that the music would never have achieved without his words. I asked Jeremy Irons to recreate them for our last tours together and it was absolutely magical.
"Graeme, and his parents, were very kind to me when I first joined the group, and for the first two years, he and I either lived together, or next door to each other – and despite us having almost nothing in common, we had fun and laughs all the way, as well as making what was probably the best music of our lives.
"Graeme was one of the great characters of the music business and there will never be his like again.
"My sincerest condolences to his family."
Graeme Charles Edge was born on March 30, 1941, in Rochester, Staffordshire, U.K., and at the age of six months his family returned to Birmingham.
Edge trained as a draughtsman but soon went into music full time. He never started out to be a drummer, he was, in fact the manager of a group called the Blue Rhythm Band – in those days a manager of a group was somebody who could move the equipment about and had a house big enough for the band to practice in. Edge watched the drummer in the group and fooled around on the drums, but never drummed professionally until that drummer quit and he had to fill in. He played with the group for three weeks until a replacement was found and then bought his own kit and went to work in earnest.
The first band that Graeme formed was the Silhouettes and The Blue Rhythm Band. He then helped to form Gerry Levene and the Avengers, who recorded one single for Decca, "Dr. Feelgood/It's Driving Me Wild," and appeared on TV in Thank Your Lucky Stars.
Roy Wood (later to join The Move, Wizzard and the Electric Light Orchestra) played with the band for a short time. When this group collapsed in 1964 Graeme formed The R & B Preachers, which included Denny Laine and Clint Warwick, and when that group disbanded the three of them linked up with Ray Thomas and Mike Pinder to form The M & B 5, which later changed its name to the Moody Blues.
During the Moodys' break in recording and touring, Graeme released his first solo single recording in 1974 – "We Like To Do It/Shotgun" – and in 1975 released his first solo album Kick Off Your Muddy Boots. He lived on the Greek island of Corfu in his 70-foot yacht and during his ocean-going voyage around the world, he became particularly enamored with the salsa, calypso, samba and reggae beats when he visited the Caribbean. The voyage helped to inspire his second solo album, Paradise Ballroom.
He continued as the drummer for the Moody Blues since they got back together in 1978 to record the album Octave.
Listen to the "Late Lament" portion of Days of Future Passed
As Hayward noted in his tribute, Edge was known for his humor. After decades of being overlooked for induction into the Rock & Roll Hall of Fame, the band was finally selected in 2018.
In his induction speech, Edge joked: "I'm not gonna make a long speech. I'm 77 years old. I haven't got time. I want to thank Justin [Hayward] and John [Lodge] for putting up with me for 50 years. I want to thank me for putting up with Justin and John for 50 years," as the audience howled with laughter.
"It was so long that we were eligible and didn't make it," Edge continued, "that I got a real sour grapes feeling about it. And when it actually became something for all of us to appreciate, I did realize it means the world to me."
Watch him perform in 2009
The group's most recent tour was in 2017, to celebrate the 50th anniversary of Days of Future Passed, accompanied by an orchestra.
Related: Musicians we lost in 2021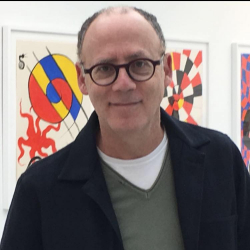 Latest posts by Greg Brodsky
(see all)