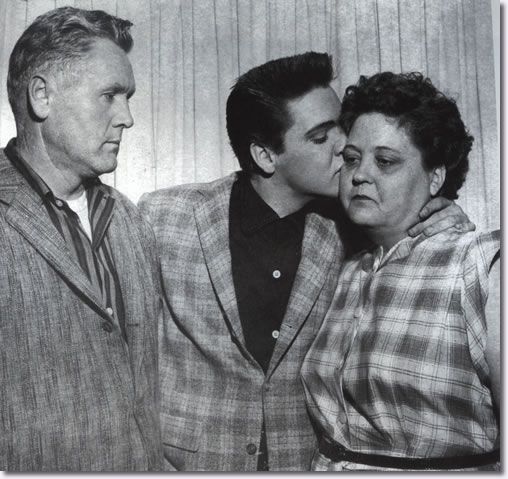 Gladys Love Presley and her son Elvis were as close as mother and son could be, certainly in part due to the fact that on January 8, 1935, she had given birth to twins. The first one, Jesse Garon Presley, was stillborn. The mother was fiercely protective of her second-born son, Elvis, for the rest of her days. In return, Elvis adored his mother, who he often addressed by the nickname "Satnin." She always believed that he was special and destined for greatness, and frequently told him so.
One of his reported motivations for going to the Memphis Recording Service (later Sun Studio) in August 1953 was to record a demonstration record to give to his mother as a gift.
After he had some success as a singer, Elvis bought Gladys a pink and white Cadillac… even though she didn't drive. He also named his music publishing company Gladys Music.
Their closeness even had, some feel, a psychic component. One time on tour, the car he and his band were traveling in caught fire. When he called his mother that night – as he did every night from the road, Gladys was relieved to hear from him because she had a dream the night before about a fire.
His absence from her led Gladys into depression and heavy drinking. When he was in Army basic training at Fort Hood in Central Texas, his parents came along and lived nearby. Gladys was ill throughout the summer of 1958, so she and husband Vernon Presley returned to Memphis in early August to see her personal physician. On August 8, gravely ill, she was taken by ambulance to Methodist Hospital. Deeply concerned, Elvis was finally granted emergency leave after threatening to go AWOL on August 12. On August 14 at 3:15 a.m., while Elvis was resting from his near constant bedside vigil at home at Graceland, Gladys Presley died of a heart attack at 46 years old.
Elvis was inconsolable. "She's all I ever lived for. She was always my best girl," he said. He had her gravestone inscribed: "Not Mine But Her Will Be Done." In the comprehensive book about their relationship, Elvis and Gladys, author Elaine Dundy posited that her death led to his dysfunctions later in life and the dependence on prescription drugs that eventually killed Elvis.
Related: Lisa Marie Presley, Elvis and Priscilla Presley's daughter, died at age 54 on Jan. 12, 2023

Latest posts by Best Classic Bands Staff
(see all)