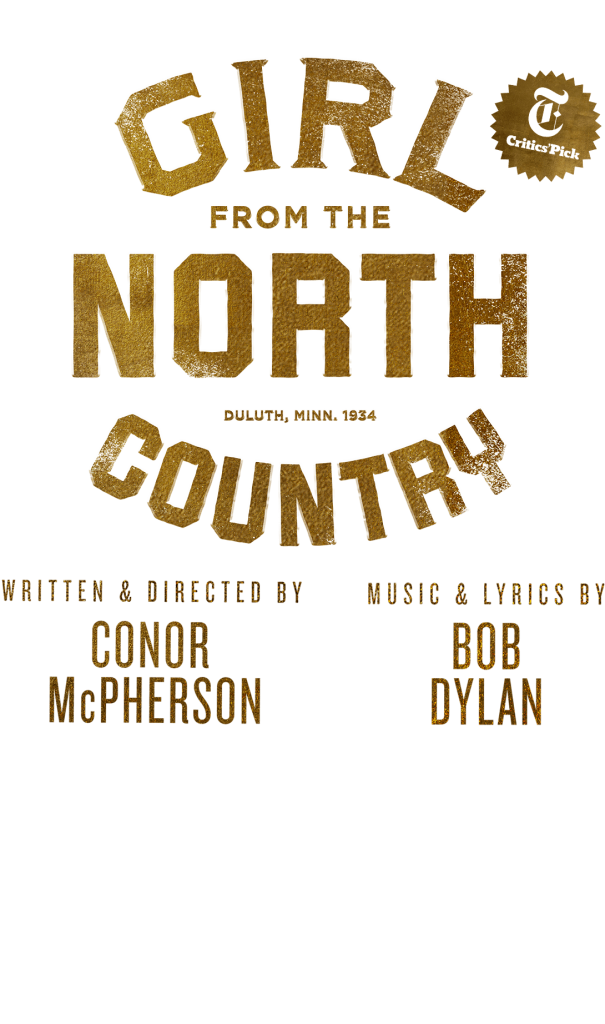 The musical production Girl From the North Country, set in a Minnesota boarding house during the Depression and using the songs of Bob Dylan, is coming to Broadway at an unspecified date. The show, named after an early Dylan composition on his 1963 album, The Freewheelin' Bob Dylan, opened in London in 2017 and then ran off-Broadway last year at New York's Public Theater. It is scheduled to open in Toronto this fall as well.
[The song also appears on Dylan's 1969 Nashville Skyline album in a duet with Johnny Cash.]
The show's website offers the following description:
"1934. A time-weathered guesthouse in the heartland of America. Only a song can shake off the dust for one group of wayward souls—and old dreams may hold the promise of new beginnings. As they pass in and out of each other's lives, their stories awaken with passion, fury and extraordinary beauty.
"Reimagining the music of Bob Dylan as roof-raising ensemble pieces and soul-stirring solos, celebrated playwright Conor McPherson (The Weir, The Seafarer) writes and directs this heartbreaking and universal story about family and love. Girl From The North Country is a breathtaking new show that Ben Brantley of The New York Times calls "a ravishing production. You may find yourself thinking that this is as close as mortals come to heaven on Earth."
According to an article about the musical in The New York Times, the production is constantly being tweaked. "This will be the fourth or fifth time I've had a go at it, and you always make changes," the newspaper quotes McPherson as saying. "And every time I've done it, I've managed to slip another song in."
Watch the trailer from the London production
Related: Our review of the Dylan Rolling Thunder Revue boxed set
As for whether Dylan has ever seen the show, McPherson told the Times, "I think he may have, but I wasn't there, and I can't really comment—that's not for me to answer. He's invited every single night. Any time."
Watch a clip of "I Want You" from the off-Broadway priduction
The off-Broadway production received uniformly excellent reviews, with the Times saying, "The songs exist in self-sufficient independence of their creator's gravelly, much imitated voice. You hear them ripening into new fullness. Those who scoffed when Mr. Dylan received the Nobel Prize in Literature in 2016 may find they have to think again."
Watch Dylan sing "Girl From the North Country" with Johnny Cash

Latest posts by Best Classic Bands Staff
(see all)