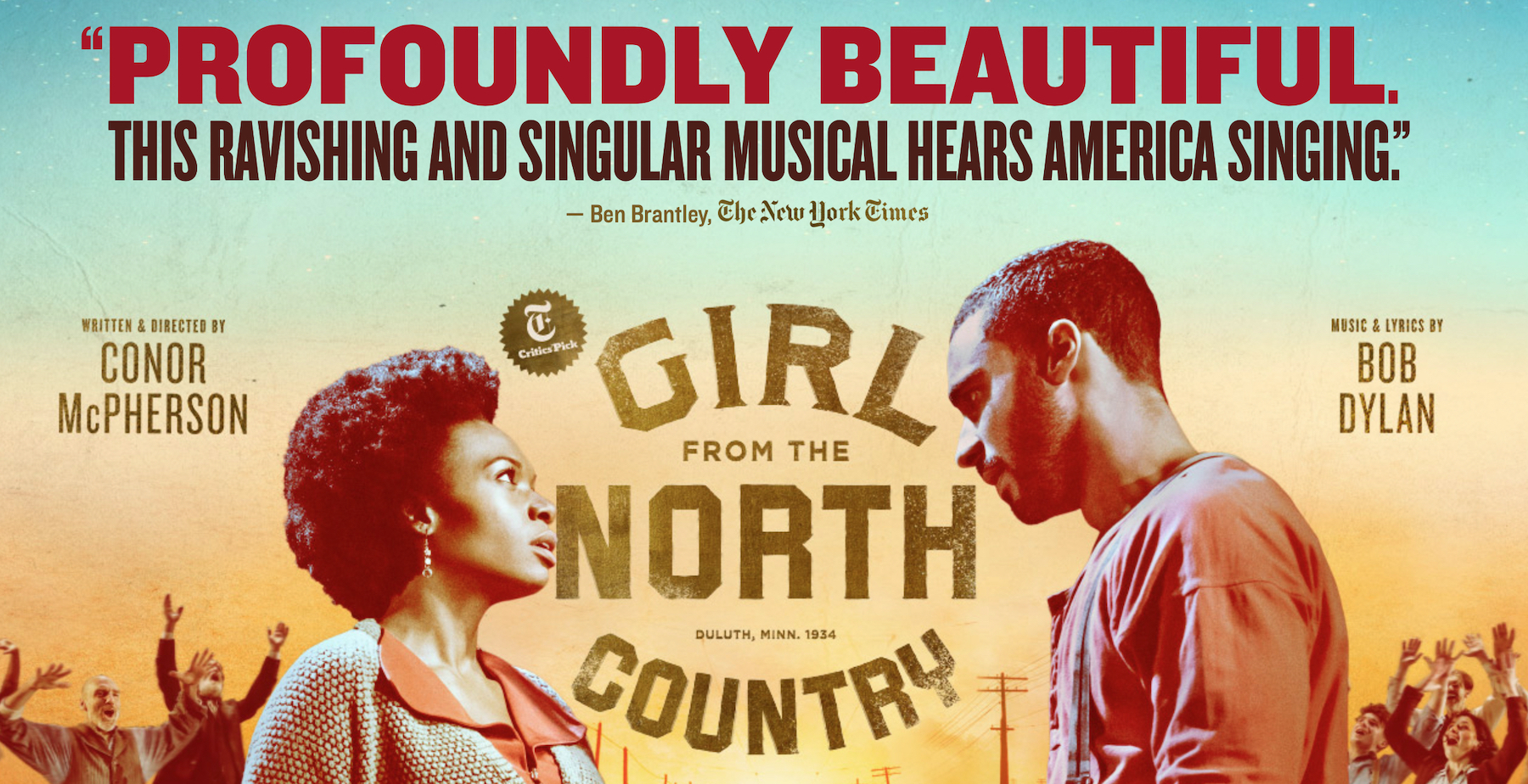 The musical production Girl From the North Country, set in a Minnesota boarding house during the Depression and using the songs of Bob Dylan, is returning to Broadway this fall. The show, named after an early Dylan composition on his 1963 album, The Freewheelin' Bob Dylan, originally opened on Broadway on March 5, 2020, just weeks before it was forced to close due to the pandemic. The New York Times had called it, "Profoundly beautiful… as close as mortals come to heaven on earth." The production, with most of its original cast, returns Oct. 13, 2021, to the Belasco Theatre. Tickets are available here.
The Original Broadway Cast Recording was released on August 20. It was recorded on March 9, 2020 at Reservoir Studios and Steel Cut Audio in New York City, three days before the city's stay-in-place order came into effect and all theaters had to shut down due to the COVID-19 pandemic. The album will contain 22 tracks including some of Dylan's biggest hits like "I Want You," "Forever Young," and the title track, among many others. See the complete track listing below.
Listen to "Like A Rolling Stone" from the Original Broadway Cast Recording
Before its brief 2020 run, the musical opened in London in 2017 and then ran off-Broadway in 2018 at New York's Public Theater.
[The title song also appears on Dylan's 1969 Nashville Skyline album in a duet with Johnny Cash.]
The show's website offers the following description:
"1934. A time-weathered guesthouse in the heartland of America. Only a song can shake off the dust for one group of wayward souls—and old dreams may hold the promise of new beginnings. As they pass in and out of each other's lives, their stories awaken with passion, fury and extraordinary beauty.
"Reimagining the music of Bob Dylan as roof-raising ensemble pieces and soul-stirring solos, celebrated playwright Conor McPherson (The Weir, The Seafarer) writes and directs this heartbreaking and universal story about family and love."
Watch the cast celebrate the reopening announcement with a performance of Dylan's "You Ain't Got Nowhere"
Related: Our review of the Dylan Rolling Thunder Revue boxed set
As for whether Dylan has ever seen the show, McPherson told the Times, "I think he may have, but I wasn't there, and I can't really comment—that's not for me to answer. He's invited every single night. Any time."
In a 2020 interview with The New York Times however, Dylan said, "Sure, I've seen it, and it affected me. I saw it as an anonymous spectator, not as someone who had anything to do with it. I just let it happen. The play had me crying at the end. I can't even say why. When the curtain came down, I was stunned. I really was. Too bad Broadway shut down because I wanted to see it again."
Watch a clip of "I Want You" from the off-Broadway production
The off-Broadway production received uniformly excellent reviews, with the Times saying, "The songs exist in self-sufficient independence of their creator's gravelly, much imitated voice. You hear them ripening into new fullness. Those who scoffed when Mr. Dylan received the Nobel Prize in Literature in 2016 may find they have to think again."
Watch members of the cast perform the medley of Hurricane/All Along The Watchtower/Idiot Wind during NYC's Harlem Week 2021
Girl From the North Country – Original Broadway Cast Recording Track List
1. Sign On The Window
2. Went To See The Gypsy
3. Tight Connection To My Heart (Has Anybody Seen My Love)
4. Slow Train/License To Kill
5. Ballad Of A Thin Man (Instrumental)
6. I Want You
7. Blind Willie McTell (Instrumental)
8. Like A Rolling Stone/Make You Feel My Love
9. Like A Rolling Stone (Reprise)/I Want You (Reprise)
10. What Can I Do For You?
11. You Ain't Goin' Nowhere/Jokerman
12. Sweetheart Like You/True Love Tends To Forget
13. Lay Down Your Weary Tune (Instrumental)
14. Girl From The North Country
15. Ballad of A Thin Man (Radio)
16. Hurricane/All Along The Watchtower/Idiot Wind
17. Tonight I'll Be Staying Here With You (Instrumental)
18. Duquesne Whistle/Señor (Tales Of Yankee Power)/Is Your Love In Vain?/License To Kill
19. Lay, Lady, Lay (Instrumental)/Jokerman (Reprise)
20. Clair De Lune (Instrumental)
21. Forever Young
22. Pressing On
Watch "Duquesne Whistle" from the Broadway production
Listen to Dylan sing "Girl From the North Country" with Johnny Cash

Latest posts by Best Classic Bands Staff
(see all)