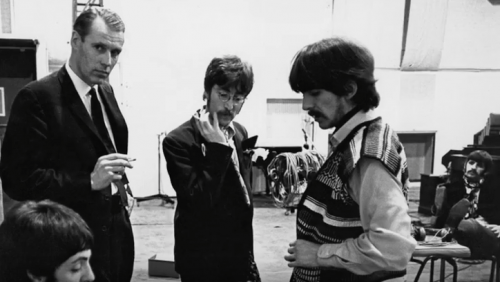 Friends, admirers and production clients gathered on May 11 at St. Martin-in-the-Fields church in Trafalgar Square, London to honor and remember the late George Martin. Among those attending were Sir Paul McCartney, his famed fashion designer daughter Stella, Sir Elton John, Yoko Ono and singer James Bay. Martin died on March 8th at the age of 90.
Martin was the record producer who signed The Beatles to EMI's Parlophone Records in 1962 and became an integral participant in the band's creative process in the recording studio, called "The Fifth Beatle" by some. He also worked with such acts as Cilla Black, Jeff Beck, America, Gerry and the Pacemakers, Shirley Bassey, Celine Dion and Kenny Rogers. In addition to the musical recordings he produced and his own prodigious musical skills, Martin was also a key figure in England's cutting edge comedy scene of the 1950s and early '60s.
Don't miss a post! Sign up for Best Classic Bands' Newsletter; form is on every page.
Martin produced 30 number one singles in the U.K. and 23 in the U.S., the last one being Sir Elton's re-recording of "Candle in the Wind" for the funeral of Princess Diana (the best-selling single in the history of recorded music). He set up his own very successful London recording studio AIR in 1964, and later started a second AIR recording facility and getaway on the Caribbean island of Montserrat. Martin was knighted by Queen Elizabeth in 1996. He was known for his gentlemanly manner, keen musical ear, and spirit of creative adventure.
Paul McCartney delivered a eulogy. He said back in March that Martin was "like a second father to me. He guided the career of The Beatles with such skill and good humour that he became a true friend to me and my family. From the day that he gave The Beatles our first recording contract, to the last time I saw him, he was the most generous, intelligent and musical person I've ever had the pleasure to know."

Latest posts by Best Classic Bands Staff
(see all)