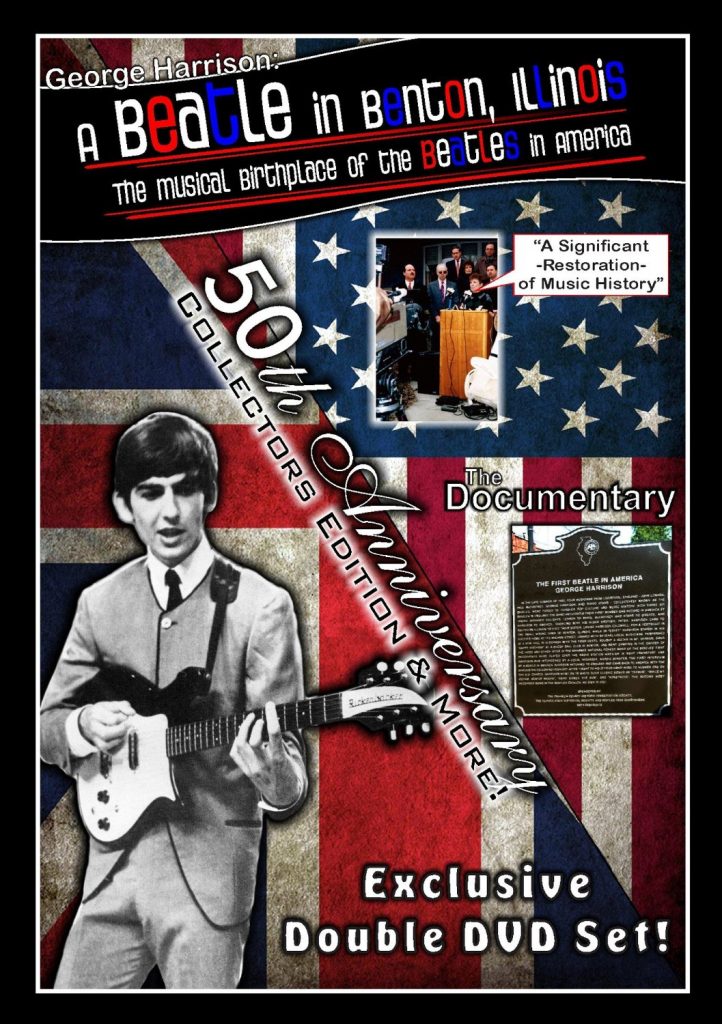 Every Beatles fan knows that that the group conquered America in February 1964 when they came over to play The Ed Sullivan Show and their first gigs in the country. But not many know that one Beatle, George Harrison, had already been in the States. The previous September, while his mates were vacationing in more exotic locales like Paris and Greece, Harrison and his brother Peter took advantage of a break in the Beatles' schedule to fly to Illinois to visit their sister Louise.
Harrison's 1963 trip to America, which also included stops in nearby St. Louis and in New York, was the subject of a documentary film, A Beatle in Benton, Illinois, originally released in 2005. It will be available in an expanded two-disc special edition on September 13.
According to reviews of the film at the time of its original release, Harrison was treated with bemusement by the Illinois locals, who had never before seen a young man sporting the kind of hairstyle or clothing he preferred. He was introduced as the "Elvis Presley of England" and used the occasion of his visit to give the first on-air interview by a Beatle in America, having hitchhiked to radio station WFRX with Louise, a fresh copy of the group's new single "She Loves You" in hand (a DJ at the station had played "From Me to You" that June, the first in America to spin a Beatles disc). George also went on a shopping spree, buying records and a Rickenbacker guitar, and even met with the guitarist of a popular local band to learn some new riffs.
Harrison later recalled about the trip, "Being the experienced Beatle that I was. I went to New York and St. Louis in 1963, to look around, and to the countryside in Illinois, where my sister was living at the time. I went to record stores. I bought Booker T. and the MGs' first album, Green Onions, and I bought some Bobby Bland, all kind of things."

Latest posts by Best Classic Bands Staff
(see all)