Procol Harum's Gary Brooker Talks 'Whiter Shade'
by Jeff Tamarkin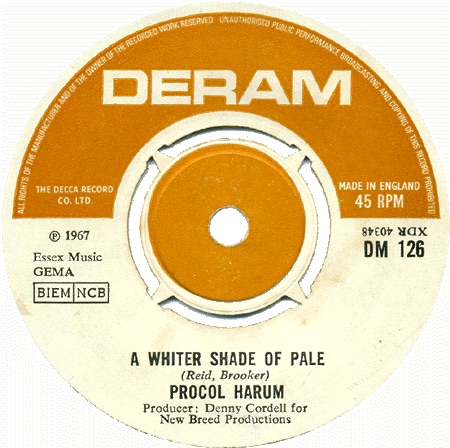 There are few debut singles in rock history as memorable as "A Whiter Shade of Pale," with its Bach-meets-soul melody and mysterious lyrics. The song, which has been inducted into the Grammy Hall of Fame, topped the U.K. singles chart and peaked at #5 in America—it was nearly as ubiquitous in 1967 as Sgt. Pepper's Lonely Hearts Club Band, whose creators were among those who raved about the band that recorded it, Procol Harum.
For the next 10 years, with an ever-changing lineup, Procol—as they were often called—remained prolific, turning out an unbroken string of classic albums including their self-titled debut, Shine on Brightly, A Salty Dog, Home, Broken Barricades and 1972's Procol Harum Live: In Concert with the Edmonton Symphony Orchestra, which, at #5, became their highest-charting LP in the U.S. Following a handful of underrated releases through 1977, Procol split up, then reunited in 1991.
This interview with Brooker, born May 29, 1945, was conducted in 2010, and most of it has never before been published.
Best Classic Bands: Most of the music for Procol Harum was written by you, with Keith Reid supplying the lyrics. When you and Keith work on a song, do you present a melody to him first or does he come up with words first?
Gary Brooker: It's usually neither of those two. It's usually that he writes words and I write music [separately]. I'll very often have a musical idea or a half-written song with doo-be-doo words, and something eventually will come up from his output that will fit the mood and will fit the meter. You look at it and you go, "Yeah, that's the right lyrics for this." Or sometimes you look at something and go, "Well, what can I do with that?"
When you talk to young fans, what do they usually tell you that they're getting out of Procol Harum that they're not getting out of current music?
I wish somebody might ask me that! But I did get a good letter the other day from somebody who was obviously in her late twenties or thirties. She wasn't around when we started but she heard something and she delved a bit deeper and she's suddenly found a whole world of stuff she likes. That's the effect I like the band to have on people. To be fair, we're not a dance band. I think if you're going to be interested in the words there's going to be an intellectual capability. You can have a lot of fun wondering what the words are.
Who buys Procol Harum reissues? Is it only those who grew up with the music?
It's by no means old fans that buy all that stuff. It's a lot of new fans. The old fans are as old as us. They've got everything, although they might buy it out of loyalty, or if there's a couple of extra bonus tracks that we've found.
When Keith first presented the words to "A Whiter Shade of Pale," did you say, "What are you talking about?" or did you get it right away?
I went, "OK, I get that." People do get the feeling and the meaning of it. If you ask them, they sometimes go, "I don't know what it's about," but something like that doesn't stay around so long without the words getting through to somebody. If it was only the music it wouldn't have been so powerfully accepted. It creates a picture and a mood in people and it is basically a love story, isn't it?
Watch a promo video for "A Whiter Shade of Pale" with footage from from 1967
Related: The story behind "A Whiter Shade of Pale"
You've said in the past that Procol is at heart a soul band or a blues band, but most historians have described them as art rock or progressive rock. Do you think the band has been misunderstood?
Probably we've been misunderstood, but that's been our own fault because we have always varied what we do. And we've always tried to move on from one album to the next, to attempt something different. That of course is confusing to some people. Some people do prefer it if the next album is like the one before it. We do have a character, and our character is that we do things differently.
Before Procol, you were in a band with future Procol members [guitarist] Robin Trower and [drummer] BJ Wilson called the Paramounts, and when those recordings were re-released they were shocking to some of us because they were straight-ahead rock and roll and R&B, not like Procol at all, really. How did that evolution from the Paramounts to Procol happen?
I think it gets misinterpreted. People think that the next stage of the Paramounts was Procol Harum. That wasn't how it happened at all. The Paramounts stopped and, yes, Trower and Wilson, etc., were in the band, but we all went our separate ways and we all did things differently. My different thing was to try to write some songs. I teamed up with Keith and went along that way. If I'd have still been with Trower and Wilson, as an extension of the Paramounts, I don't think I would even have attempted to write those songs like "Conquistador" and "Kaleidoscope" or "She Wandered Through the Garden Fence." But left to my own devices, and using all the influences I'd had up to then, it came out very differently. It just so happened that the first guitarist and drummer we had didn't work out and everybody around, the producers and everyone, suggested some names and we auditioned people and the only people I could think of were Trower and Wilson (laughs). I put them into the pot and they were ready to contribute something a bit different. I think they found a home there—they found something different to do. As have all those early members and the people since.
Listen to "Blue Ribbons," a track by the pre-Procol band the Paramounts
"Whiter Shade" has been covered thousands of times. Do you have a favorite?
The one I've always enjoyed was the instrumental version by King Curtis. I don't know if he did it in the studio but he did it on the live Fillmore West album.
Listen to King Curtis' cover of "A Whiter Shade of Pale"
Do you have a favorite Procol Harum album?
I usually say our last one, but I really actually like the Edmonton album and the Grand Hotel album.
Listen to "Conquistador" from the Edmonton live album
Grand Hotel was reissued along with Exotic Birds & Fruit, Procol's Ninth and Something Magic. Do those '70s albums all hold up well for you?
Oh, yeah. I've always been proud of everything we've done. No regrets, really.
Related: Our Album Rewind of Broken Barricades
What was it like working with Jerry Leiber and Mike Stoller producing [1975's] Procol's Ninth?
I don't think it was as easy as we thought it was gonna be. They're very different, very set in their ways, as they would be. They were probably in their fifties and had been doing it [songwriting and producing] for 30 or 40 years. But it was enjoyable and they got some great recordings. The single of "Pandora's Box" that they got off that was, I still think, one of Procol's best recordings.
What did BJ Wilson bring to the band? Some people consider him one of rock's top four or five drummers.
Yes, people who are aware and think about it, including other drummers. Of course he's unsung. I would say to any young drummer coming up, listen to how BJ Wilson plays. I've still never met anybody who could play a good rock song and also could be like a military master with a symphony orchestra. He had no trouble to jump from playing hard drums to gently accompanying a soft orchestral piece.
Watch Procol perform "Power Failure" in 1976, with a BJ Wilson drum solo
You could also say that about Robin—he could play hard rock licks and then really beautifully in the softer songs.
Oh, yeah, he had everything. I mean, he invented a lot of things as well. Those big bass notes came out particularly on "Shine on Brightly" and the first two or three albums. Nobody had really played like that before. Now it's a standard thing.
Do you have anything you want to say about the litigation with Matthew? [Author's note: Original PH organist Matthew Fisher filed a copyright suit claiming that because he created the signature keyboard riff on "A Whiter Shade of Pale," he was entitled to a share of the royalties for the song. Britain's Law Lords ruled in Fisher's favor.]
No thank you. Life goes on.
You've also done a lot of outside work, including your own solo albums and playing with Bill Wyman, Eric Clapton and Ringo Starr. Does playing outside of Procol Harum keep things fresh for you?
I think it must, yeah. Of course I didn't do that for the first 10 years with Procol. That's all we did was Procol, 11 months a year. Every effort I've had on my own, either solo albums or playing with Bill and Ringo and Clapton and whoever else, it's always been a joy. I like to try my hand at anything blues or soul. I'd like to have a go at folk one day.
What do you remember about the Concert for George [the 2002 tribute concert to George Harrison at London's Royal Albert Hall]?
Well, everything. We had magnificent rehearsals where we really got into the songs, and the night itself was absolute magic.
What would you still like to do that you haven't done yet?

I think I'd probably like to do some dates on my own, playing some of my solo stuff. Sometimes I listen to the solo albums and I think, yeah, that's a good song, I'd like to perform that.
Listen to the title track from A Salty Dog
Related: Our obituary for Brooker, who died in 2022

Latest posts by Jeff Tamarkin
(see all)