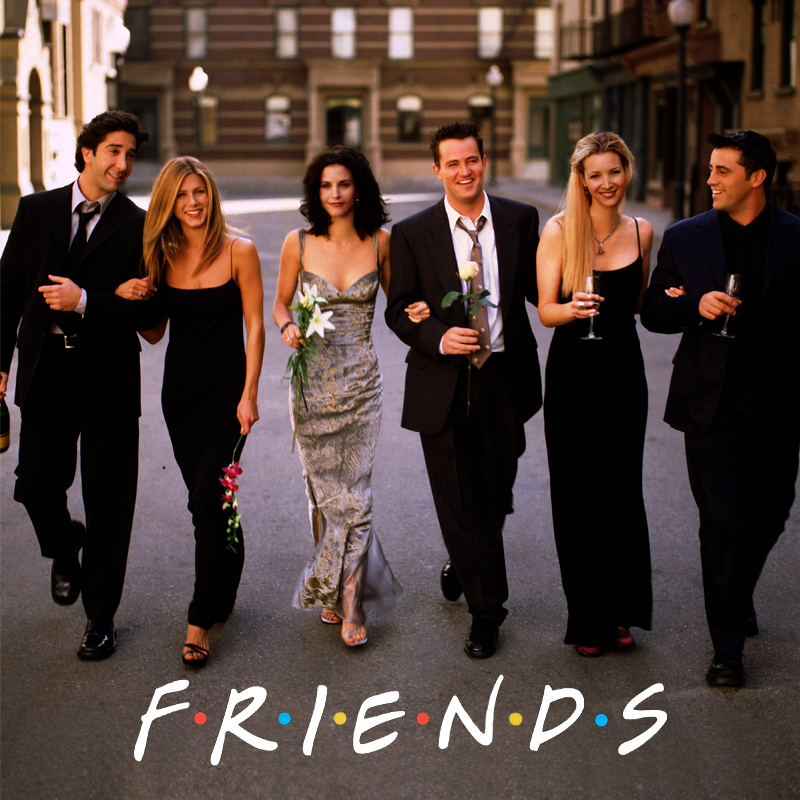 A sitcom featuring six attractive singles in their 20s and 30s, living in impossibly giant apartments in New York City. It was certainly a series of the times, when Friends premiered on September 22, 1994 as part of NBC's primetime lineup. It still holds up and continues to rake in money for its participants.
Starring Jennifer Aniston, Courtney Cox, Lisa Kudrow, Matt LeBlanc, Matthew Perry, and David Schwimmer, the program lasted 10 seasons in first-run, anchoring the network's Must-See TV Thursday night lineup.
It was an instant hit… a water cooler show that finished that first season as the eighth most-watched primetime series, its worst ranking. In subsequent years, it ranked 3-4-4-2-5-5-1-2-4, a remarkable feat.
On Nov. 12, The Hollywood Reporter wrote that the series' six stars and creators, David Crane and Marta Kauffman, are in talks to reunite for an unscripted reunion special. However, as the publication reports, the talks could all fall apart:
"Sources caution that a deal is far from done and agreements with cast and creatives still need to be hammered out. When and if deals are completed, the challenge then becomes sorting out everyone's schedules. Of course, the talks could fizzle and the whole concept could fall apart."
If it happens, it's being earmarked for Warner Bros.' new streaming service, HBO Max.
The ensemble cast were paid a reported $22,500 per episode in the series' 1994-95 season. By season three, that number was up to $75K. In seasons seven and eight, each actor earned $750,000 per episode. In the last two years, that number increased to a cool $1 million per episode.
When the series debut, Aniston and Perry were just 25, LeBlanc and Schwimmer were 27, Cox was 30, and Kudrow was 31.
The program's Facebook page has more than 20 million, er, friends.
Aniston joined Instagram on October 15, 2019 and almost instantly had over 19 million followers. Her first post: a reunion pic of the Friends cast.
Friends was nominated for 62 Emmys, winning just six. The series still makes a boatload of money for its producer, Warner Bros. Television, through syndication and streaming deals. In 2015, USA Today wrote that the studio was still earning a whopping $1 billion (that's billion with a "b") per year. Its six stars earn 2% of that, giving Rachel, Monica, Phoebe, Ross, Joey and Chandler $20 million each "for doing nothing," is how the newspaper put it.
Friends' 25th anniversary is being celebrated this year in a variety of ways. CNN will air a special, Friends Forever, on Sunday, September 22, at 9 p.m. ET.
Fathom Events is celebrating the milestone by bringing 12 fan-favorite episodes to movie theaters across the U.S. over three nights: September 23, September 28 and October 2. Each night will feature four unique episodes that have been newly remastered in 4K from the original 35mm camera negative. Each screening will also include exclusive interviews and never-before-seen content.
Tickets are available here or at participating theater box offices.
There's also a month-long pop-up store in New York City. The ticketed experience will include set re-creations like Joey and Chandler's apartment, Central Perk, and photo ops, runs from September 7 – October 6. The official website indicates that the whole experience should last around one hour. Tickets must be booked on line. They're priced at $29.50 (plus tax and service fees).
A new book, Generation Friends: An Inside Look at the Show That Defined a Television Era, arrived September 17.

Latest posts by Best Classic Bands Staff
(see all)