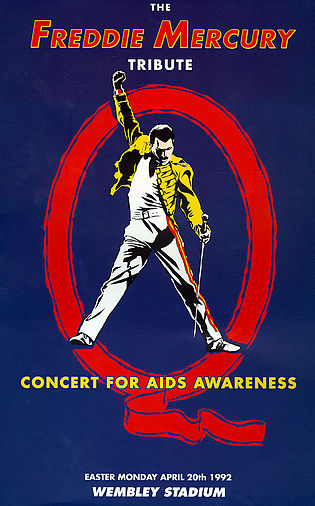 The death of Freddie Mercury, in 1991, at age 45, brought much attention to the scourge of AIDS. Although the Queen vocalist did not openly admit to being homosexual until several years into his career—he came up during a time when such an admission could damage a career, so few gay artists did—by the late '80s, it was no longer a secret. Admitting to having contracted HIV/AIDS in the early '90s was another issue, though, and Mercury denied testing positive for the disease even as it became obvious to fans, keenly aware of his increasingly scrawny appearance, that something was seriously wrong.
By February 1990, with Queen largely having been off of the touring circuit for some time, some fans were shocked to see the change in Mercury's appearance when the band gathered to accept the Brit Award for Outstanding Contribution to Music. The official word, even into early 1991, was than Mercury was not ill, but in late November, Queen's management released the following statement from Mercury: "Following the enormous conjecture in the press over the last two weeks, I wish to confirm that I have been tested HIV positive and have AIDS. I felt it correct to keep this information private to date to protect the privacy of those around me. However, the time has come now for my friends and fans around the world to know the truth and I hope that everyone will join with me, my doctors and all those worldwide in the fight against this terrible disease. My privacy has always been very special to me and I am famous for my lack of interviews. Please understand this policy will continue."
Mercury died the next day, November 24.
Tributes were many, but the most high-profile public event was The Freddie Mercury Tribute Concert for AIDS Awareness, which took place on April 20, 1992, at London's Wembley Stadium. Organized by surviving Queen members Brian May, John Deacon and Roger Taylor, and the band's manager, Jim Beach, the concert's dual purpose was to celebrate Mercury's life and spread awareness of the disease that killed him. Its 72,000 tickets were sold within hours.
It was an all-star extravaganza by any measure: The first half of the show featured short sets by Metallica, Extreme (playing a Queen medley), Def Leppard (who brought Brian May onstage for a version of "Now I'm Here") and Guns N' Roses.
Acts appearing in the second half included Elton John, Roger Daltrey, Tony Iommi (of Black Sabbath), David Bowie, Mick Ronson, Metallica's James Hetfield, George Michael, Seal, Paul Young, Annie Lennox, Lisa Stansfield, Robert Plant, Def Leppard's Joe Elliott and Phil Collen, and GNR's Axl Rose and Slash. Even Liza Minnelli. U2 appeared via satellite, dedicating "Until the End of the World" to Mercury. And, of course, there were the three remaining members of Queen.
Watch Queen & George Michael perform "Somebody to Love"
The concert has since been released, in various video and audio configurations, providing a lasting homage to one of rock's most astounding talents and unique personalities—and a reminder that the fight against HIV/AIDS is an ongoing one, even today.
Watch all-star performances of "Heroes" and "Bohemian Rhapsody"
Watch Robert Plant and the members of Queen perform "Crazy Little Thing Called Love" at the 1992 tribute concert
Related: A fresh look at Queen's A Night at the Opera

Latest posts by Best Classic Bands Staff
(see all)