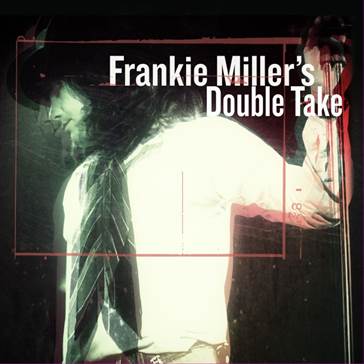 High-profile musical friends of Scottish rocker Frankie Miller have banded together to help finish a trove of songs written by the artist, who suffered a brain hemorrhage in 1994 and is still recovering. Joe Walsh, Willie Nelson, Kid Rock, Rod Stewart and Elton John are among the classic rock contributors to Double Take, a new CD that will be released by UMe on October 28.
Miller's career was still on the upswing when he suffered the hemorrhage. According to a press release announcing the new collection, artists such as Rod Stewart, the Traveling Wilburys and Ray Charles have recorded his songs, while Miller has collaborated with "an array of rock legends, co-writing Thin Lizzy's 'Still In Love' with the late Phil Lynott, performing with Procol Harum, and attracting the attention of soul legend Allen Toussaint, who took Miller to New Orleans to record his 1974 album, High Life."
According to the press release, Miller, who is now 66, "is making a remarkable recovery, learning to walk and talk again, and even making tentative forays back into songwriting." Double Take consists of 19 "unreleased recordings that are only now finally being released, with a little help from some of his friends." A solo Frankie Miller track, "I Do," rounds the collection off. Pre-order is available here.
The stars also assemble on the DVD documentary Frankie Miller: Sending Me Angels, which "tells the remarkable tale of Miller's career, and gives his biggest fans the chance to reveal exactly why Miller's talent deserves to be better known," says the press release.
Watch Frankie Miller performing in 1978
Full Track Listing:
Frankie Miller And Joe Walsh – 'Blackmail'
Frankie Miller, Elton John And Steve Cropper – 'Where Do The Guilty Go'
Frankie Miller And Huey Lewis – 'Way Past Midnight'
Frankie Miller And Bonnie Tyler – 'True Love'
Frankie Miller, Rod Stewart And Joe Walsh – 'Kiss Her For Me'
Frankie Miller And Francis Rossi – 'Gold Shoes'
Frankie Miller, Kiki Dee And Jose Antonio Rodriguez – 'Sending Me Angels'
Frankie Miller, Kid Rock And Full House – 'Jezebel Jones'
Frankie Miller, Steve Dickson And Full House – 'When It's Rockin''
Frankie Miller, Delbert McClinton And Full House – 'Beginner At The Blues'
Frankie Miller And Kim Carnes – 'To Be With You Again'
Frankie Miller And Willie Nelson – 'I Want To Spend My Life With You'
Frankie Miller And Tomoyasu Hotei – 'The Ghost'
Frankie Miller And Paul Carrack – 'It Gets Me Blue'
Frankie Miller And Stuart Emerson – 'Out On The Water'
Frankie Miller And Brian Cadd – 'It's A Long Way Home'
Frankie Miller And John Parr – 'I'm Missing You'
Frankie Miller And Lenny Zakatek – 'I Never Want To Lose You'
Frankie Miller – 'I Do'

Latest posts by Best Classic Bands Staff
(see all)