Two new collections of classic Frank Sinatra music and video are due for release this fall. The first, The Frank Sinatra Collection, coming from Eagle Rock Entertainment on September 23, features three DVDs that each pair two classic TV appearances: Ol' Blue Eyes Is Back/The Main Event, At the Royal Festival Hall/Sinatra In Japan and Happy Holidays With Frank & Bing/Vintage Sinatra, the latter combining a Christmas special from 1957 with a compilation from Sinatra's 1950s TV shows. Each set retails for $9.98.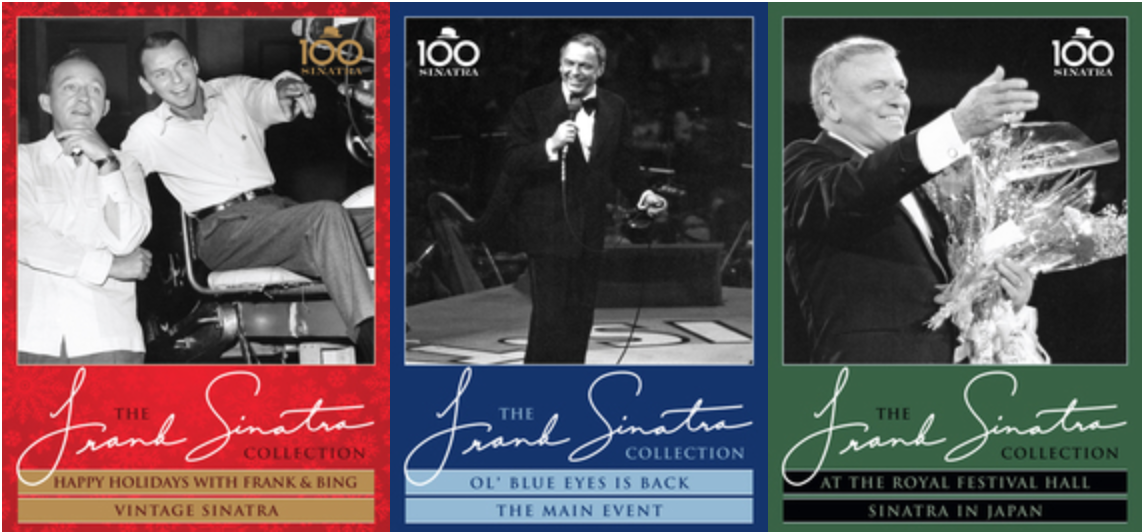 Ol' Blue Eyes Is Back was first broadcast by NBC on November 18, 1973, and marked Sinatra's return to performing following his short-lived "retirement" in 1971. The show features special guest Gene Kelly. The Main Event concert, staged at New York's Madison Square Garden, was broadcast by ABC as a television special on October 13, 1974. At The Royal Festival Hall was filmed at the London venue on November 16, 1970, and later broadcast as a television special by CBS. Sinatra In Japan was filmed at Tokyo's Budokan on April 18, 1985. Happy Holidays With Frank & Bing, starring Sinatra and singer Bing Crosby, first aired on December 20, 1957, and the Vintage Sinatra compilation DVD brings together black-and-white footage from the singer's television shows in the 1950s with color commentary and reminiscences from his three children: Nancy, Tina and Frank Sinatra Jr.
Pre-order links:
At The Royal Albert Hall + Sinatra In Japan
Ol' Blue Eyes Is Back + The Main Event
Happy Holidays with Frank & Bing + Vintage Sinatra
Related: Our Classic Video of Sinatra and the Rat Pack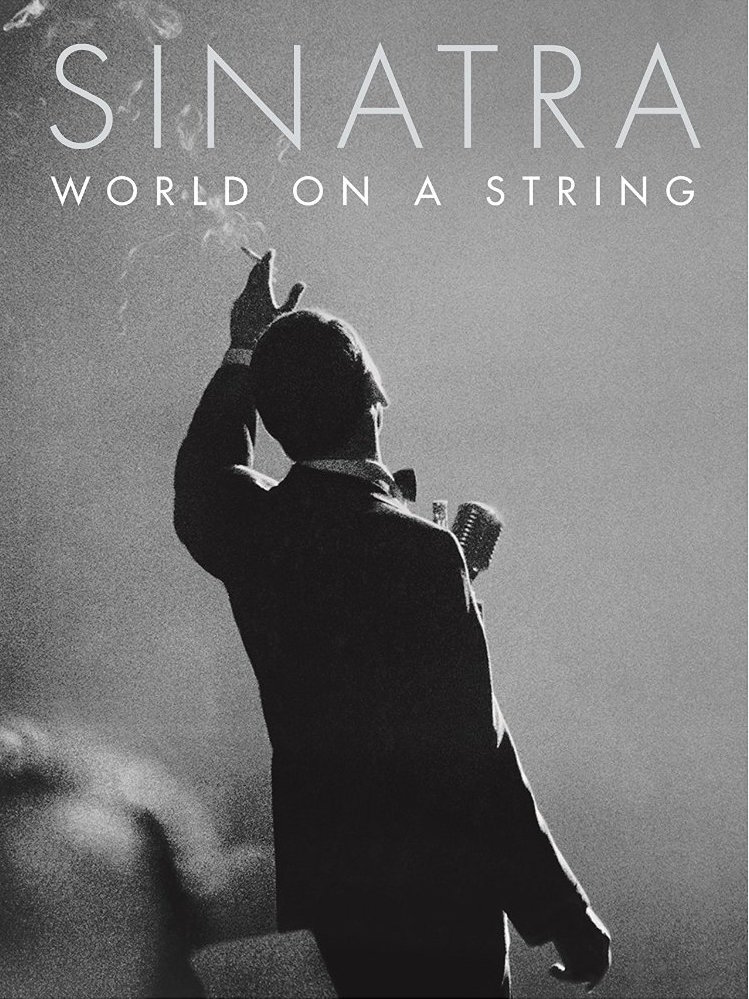 The other upcoming Sinatra package, World on a String, is a 4-CD/DVD boxed set due for release October 21 by UMe and Frank Sinatra Enterprises. The set (also available in digital formats) collects more than four hours of previously unreleased audio and video footage, spanning 1953-82. Many of the performances, according to an announcement from the record company, were benefits for local children in each country, "highlighting a lesser-known fact that throughout his life Sinatra raised more than one billion dollars for charity."
More than 90 live performances are collected on the four CDs, most of them officially available for the first time. A DVD of entirely unreleased footage features Sinatra on a whirlwind 1962 goodwill tour to raise money for underprivileged children.
The performances showcase Sinatra in eight different countries: Monaco, Australia, Egypt, Dominican Republic, Japan, Israel, Greece, and Italy.
Preorder World On A String
Frank Sinatra: World On A String Track list:
CD 1
SPORTING CLUB, MONTE CARLO – June 14, 1958
1. Introduction by Noel Coward
2. Clarke Street (Play On)
3. Come Fly With Me
4. I Get A Kick Out Of You
5. I've Got You Under My Skin
6. Where Or When
7. Moonlight In Vermont
8. On The Road To Mandalay
9. When Your Lover Has Gone
10. April In Paris
11. All The Way
12. Monique
13. Bewitched
14. The Lady Is A Tramp
15. (Love Is) The Tender Trap (Play Off)
16. You Make Me Feel So Young
17. (Love Is) The Tender Trap (Bows)
Bonus Tracks (RAI Radio Club, May 20, 1953)
18. Radio Club Introduction
19. Welcome and Greetings
20. September Song – Frank Sinatra
21. Presentation and Announcements
22. Laura – Frank Sinatra
23. Baseball segment
24. Ninna Nanna – Domenico Modugno
25. Night And Day – Frank Sinatra
26. Closing Remarks
CD 2
SYDNEY STADIUM, AUSTRALIA – December 2, 1961
1. Introduction By Tommy Hanlon Jr.
2. I've Got The World On A String
3. I Concentrate On You
4. Night And Day
5. Moonlight In Vermont
6. In The Still Of The Night
7. I'll Be Seeing You
8. Day In, Day Out
9. The Moon Was Yellow (And The Night Was Young)
10. You're Nobody 'Til Somebody Loves You
11. Monologue
12. Come Fly With Me
13. April In Paris
14. A Foggy Day
15. Without A Song
16. Imagination
17. The Second Time Around
18. Young At Heart
19. Witchcraft
20. Embraceable You
21. The One I Love (Belongs To Somebody Else)
22. My Funny Valentine
23. My Blue Heaven
24. Angel Eyes
25. One For My Baby (And One More For The Road)
26. The Lady Is A Tramp
CD 3
THE PYRAMIDS, EGYPT – September 27, 1979
1. Mrs. Sadat's Comments
2. The Song Is You
3. Where Or When
4. The Lady Is A Tramp
5. Someone To Watch Over Me
6. Something
7. My Kind Of Town
8. All The Way
9. Bewitched
10. I've Got You Under My Skin
11. The Gal That Got Away /It Never Entered My Mind (Medley)
12. Monologue
13. Try A Little Tenderness
14. Strangers In The Night
15. Street of Dreams
16. April In Paris
17. Theme From New York, New York
18. My Way
19. Bows (My Way)
20. Closing Comments by Frank Sinatra
CD 4
ALTOS DE CHEVON, LA ROMANA, DOMINICAN REPUBLIC – August 20, 1982
1. I've Got The World On A String
2. I Get A Kick Out Of You
3. Come Rain Or Come Shine
4. When Your Lover Has Gone
5. The Lady Is A Tramp (with Reprise)
6. The House I Live In
7. Searching
8. My Kind Of Town
9. Something
10. The Best Is Yet To Come
11. Strangers In The Night
12. All Or Nothing At All
13. Introduction of Musicians
14. The Gal That Got Away/It Never Entered My Mind (Medley)
15. I've Got You Under My Skin
16. Send In The Clowns
17. Quiet Nights Of Quiet Stars (Corcovado)
18. I Won't Dance
19. Buddy Rich Band Introduction
20. Theme From New York, New York
21. Bows (Theme From New York, New York)
DVD
HIBYA PARK, JAPAN – April 21, 1962
1. Introduction
2. Too Marvelous For Words
3. Imagination
4. Moonlight In Vermont
5. Day In, Day Out
6. Without A Song
7. The Moon Was Yellow (And The Night Was Young)
8. I've Got You Under My Skin
9. I Get A Kick Out Of You
10. At Long Last Love
11. My Funny Valentine
12. In The Still Of The Night
13. Embraceable You
14. Night And Day
15. April In Paris
16. The Lady Is A Tramp
17. Bows
18. Monologue and Band Introductions
19. All The Way
20. Chicago
21. I Could Have Danced All Night
22. Bows (Closing)
FRANK SINATRA WITH ALL GOD'S CHILDREN, 1962
SINATRA IN ISRAEL, 1962
PERUGINA COMMERCIALS, 1962
1. Night And Day
2. My Funny Valentine
3. I've Got You Under My Skin
4. Moonlight In Vermont
5. I Love Paris
6. Come Fly With Me
7. My Blue Heaven
8. Chicago
9. Imagination
10. Witchcraft
11. A Foggy Day
12. The Lady Is A Tramp

Latest posts by Best Classic Bands Staff
(see all)