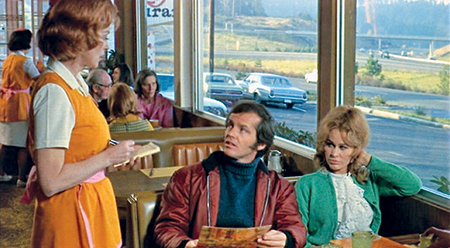 If you're having a bad day, just remember: the odds are strongly in your favor that someone else is having an even worse day than you.
Take this memorable diner scene from Five Easy Pieces, for instance. Jack Nicholson's character just wants a side order of wheat toast to go with his omelette.
"I'd like a plain omelette. No potatoes. Tomatoes instead. A cup of coffee and wheat toast."
When the no-nonsense waitress turns down his simple request – "No substitutions" – Jack calmly tries to persuade her to accommodate him. In almost no time, things get a little out of hand.
"Yeah, I know what it comes with but it's not what I want." And later: "What do you mean you don't make side orders of toast? You make sandwiches, don't you? You've got bread… and a toaster of some kind?" And things just keep getting better… We love Jack! Our Classic Video…
Five Easy Pieces, released on September 12, 1970, received four Academy Award nominations including one for Best Picture. Nicholson, born April 22, 1937, earned the second of his 12 Oscar nominations for his performance, and his first as Best Actor. Though he didn't win this time – losing to George C. Scott for Patton – five years later, he would receive the statuette for his remarkable performance in One Flew Over The Cuckoo's Nest.
Watch the Five Easy Pieces trailer. Among the film's co-stars were Karen Black (in the above scene) and Susan Anspach, who died April 2, 2018.

Latest posts by Best Classic Bands Staff
(see all)