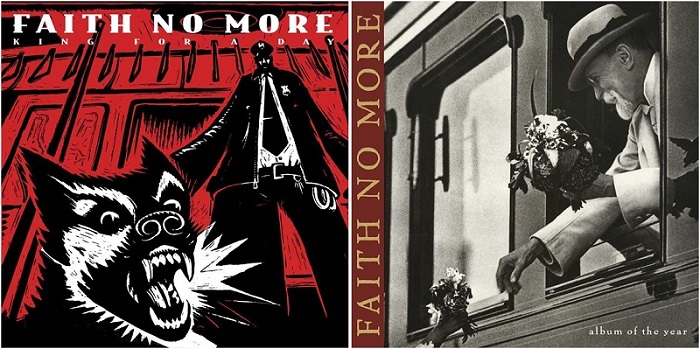 Last summer, Faith No More released Sol Invictus, treating fans to their first new studio album in almost 20 years. The 90s band is now reissuing two classic Deluxe Editions of King for a Day…Fool for a Lifetime and Album of the Year on September 9, 2016 via Rhino.
Each album will be available as a two-disc set that includes the original release while also accompanied by a second disc filled with rarities related to the album. (See full track listing and pre-order info below.) Additionally, there will also be a double LP, a 180-gram heavyweight black vinyl format of each album, featuring the re-mastered original, along with rare bonus tracks, many of which are making their vinyl debut. The two albums are among the most notable for the group as they were ultimately followed by the band's demise.
Faith No More's King for a Day…Fool for a Lifetime album was recorded at Bearsville Studios outside of Woodstock, NY in 1995 and was the first without longtime guitarist Jim Martin, whose departure influenced the direction of the album.
In the new liner notes, keyboardist Roddy Bottum writes: "As a result, we wrote and recorded some of our most radical, out there songs, like 'Cuckoo For Caca' and 'Ugly In The Morning,' some of our mellowest like 'Take This Bottle,' 'Caralho Voador' and then some or our most high-drama, like 'Just A Man.'" Also included are B-sides "Spanish Eyes" and "Absolute Zero," as well as a cover of the Bee Gee's "I Started A Joke," originally released as a B-side in 1995, and then as a single in 1998.
The band returned in 1997 with Album of the Year, which became Faith No More's first and only #1 LP. This album featured members of today's current lineup: Mike Bordin (drums), Roddy Bottum (keyboards) Billy Gould (bass) Jon Hudson (guitar), and Mike Patton (vocals). Recorded mostly in Gould's home studio, the album produced three singles: "Ashes to "Ashes," "Last Cup of Sorrow" and "Stripsearch." Album of the Year also includes live versions of the album track "Collision" and the Burt Bacharach-Hal David classic, "This Guy's In Love With You," plus rare mixes of "Last Cup of Sorrow," "Pristina" and more.
Bottum writes in the liner notes: "We were definitely referencing our musical roots as well, going back to darker tones visited in Angel Dust… in retrospect it feels really strong and an undeniably prolific chapter in what we ultimately set out to do."
Faith No More has long been cited as an influence for nu metal bands, such as Limp Bizkit, Korn and Sevendust primarily due to the popularity of "Epic" and other early styles that featured rap and rock crossovers. Voted #52 on VH1's "100 Greatest Artists of Hard Rock," the group has been credited with popularizing the alternative metal genre in the 1980s, by fusing metal with other genres, including alternative rock.
King For a Day… Fool For a Lifetime CD Track Listing:
CD1:
"Get Out"
"Ricochet"
"Evidence"
"The Gentle Art Of Making Enemies"
"Star AD"
"Cuckoo For Caca"
"Caralho Voador"
"Ugly In The Morning"
"Digging The Grave"
"Take This Bottle"
"King For A Day"
"What A Day"
"The Last To Know"
"Just A Man"
CD2 (Bonus Tracks):
"Evidence [Version en Español]"
"Absolute Zero"
"Greenfields"
"I Started A Joke"
"Spanish Eyes"
"I Won't Forget You"
"Hippie Jam"
"Instrumental"
"I Wanna F**k Myself"
"Evidence [Versão em Português]"
"Digging The Grave [Live]"
"The Gentle Art Of Making Enemies [Live]"
"Interview [B-Side]"
Album of the Year Track Listing:
CD1:
"Collision"
"Stripsearch"
"Last Cup Of Sorrow"
"Nakes In Front Of The Computer"
"Helpless"
"Mouth To Mouth"
"Ashes To Ashes"
"She Loves Me Not"
"Got That Feeling"
"Paths Of Glory"
"Home Sick Home"
"Pristina"
CD2 (Bonus Tracks):
"Pristina [Billy Gould Mix]"
"Last Cup Of Sorrow [Roli Mosimann Mix]"
"She Loves Me Not [Spinna Main Mix]"
"Ashes To Ashes [Hard Knox Alt. Mix]"
"Light Up And Let Go"
"The Big Kahuna"
"This Guy's In Love With You"
"Collision [Live]"

Latest posts by Best Classic Bands Staff
(see all)