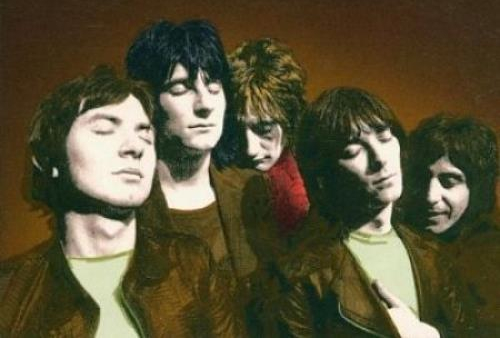 1970s rock legends Faces will be the subject of a new book, Tell Everyone – A People's History of the Faces, that tells their story in the words of over 500 fans. The title, written and compiled by music author Richard Houghton, arrived June 2, 2023, via Spenwood Books. It's available for order in the U.S. here and the U.K. here.
Formed in 1969 from the ashes of the Jeff Beck Group and the Small Faces, Rod Stewart and Ronnie Wood along with bassist Ronnie Lane, keyboardist Ian McLagan and drummer Kenney Jones went on to play over 500 concerts worldwide as Faces before their break up in 1975. There has been talk from Jones that the surviving members—Stewart, Wood and Jones—were working on new recordings and a possible tour. In a 2021 interview, the drummer said the trio had recorded 14 songs, describing them as "a mixture of stuff we never released which is worthy of releasing and… some new stuff which is really wonderful." In 2022, Jones said, Ronnie and I have been working on lots of the old stuff together and we've re-recorded a couple of those songs with a more modern feel. . . The new songs are coming along, too. We're definitely going in the right direction." At the time, there was even talk about booking arena dates at London's O2 and New York's Madison Square Garden. But things have quieted down on that front.
"The Faces are one of those bands whose reputation as a live act has only grown as the years have passed," says Houghton. "The words 'best gig I ever saw' pop up time and again in the accounts in this book, because for rock fans of a certain age there simply was no one better than the Faces."
From the publisher's announcement: Their legendary performances, often shambolic and almost always involving the band being drunk, saw them attracting a devoted following and led to them being acclaimed as one of the era's top live attractions, rivaling Led Zeppelin and the Rolling Stones as a box office draw. BBC DJ John Peel was an early champion of the band and nominated a 1973 Faces gig at Sunderland Locarno as his favourite live concert ever.
Faces biggest hit was a Top Ten single, "Stay With Me," but Rod Stewart's parallel career as a Mercury Records solo artist–where he was frequently joined by his Faces bandmates—eclipsed their group studio efforts. His 1971 single "Maggie May" and album, Every Picture Tells a Story, simultaneously topped the U.K. and U.S. charts, sending his solo career into an orbit. However, with Lane feeling his songwriting was being overlooked and Wood "on loan" to the Rolling Stones, band tensions ultimately broke Faces up. The band was inducted into the Rock & Roll Hall of fame in 2012.
Watch Stewart, Wood and Jones perform "Stay With Me" at the 2020 BRIT Awards
Tell Everyone – A People's History of the Faces brings together over 500 previously unpublished accounts of live Faces concerts from around the world. Packed with fan images, this is the story of one of rock's most loved and much-mourned bands as it has never been told before.
Houghton is the author of more than 20 music books, including authorized titles on The Stranglers, Simple Minds, OMD, Jethro Tull and Fairport Convention.
Related: Our review of Faces' 2015 mini-concert

Latest posts by Best Classic Bands Staff
(see all)