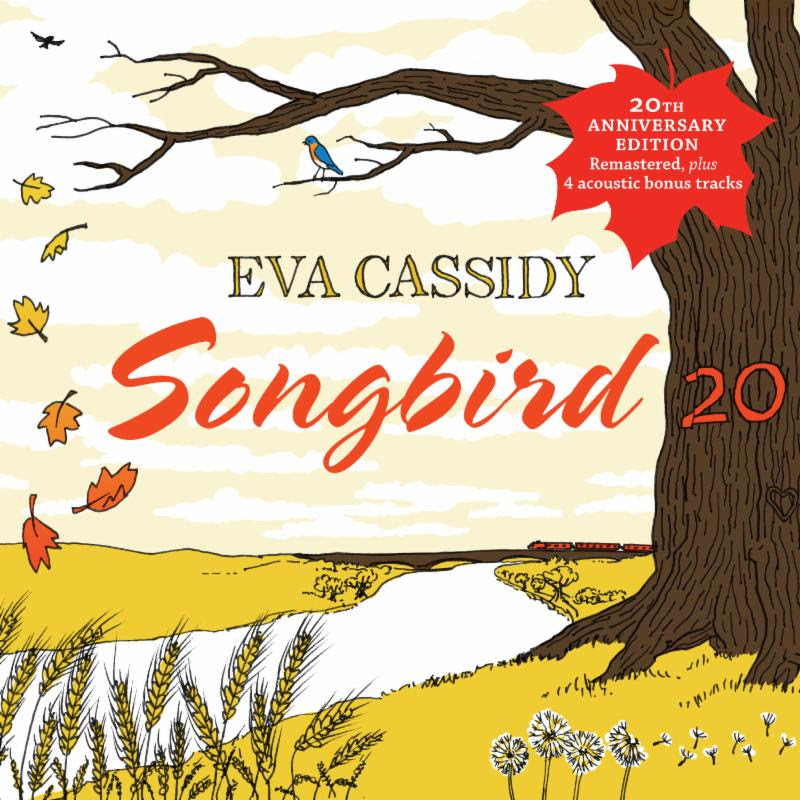 The platinum-selling, posthumously released Songbird album by Eva Cassidy is being reissued with four bonus tracks to mark its 20th anniversary. Initially released by the independent label Blix Street Records in April 1998, the collection, an anthology of recordings by the Washington, D.C.-based singer who died of cancer in November 1996, is composed of four tracks from her first solo album, Live At Blues Alley (taken from her January 3, 1996, performance with her band at the Georgetown jazz club and locally released a few months before she died); five tracks from Eva By Heart, the studio album she was recording at the time of her passing, posthumously released locally a year after she died; and one track ("Over the Rainbow") from The Other Side, a 1992 collection of jazz and blues duets with Washington's Chuck Brown.
The title, Songbird, was taken from Cassidy's included cover of the Christine McVie-penned Fleetwood Mac classic. Live At Blues Alley and Eva By Heart were both later released by Blix Street in the summer of 1998, the first national and international exposure for both works.
Related: We review Christine McVie and Lindsey Buckingham's album of duets
Songbird20, set for release by Blix Street in the U.K. and Australia on March 2, the U.S. on March 9 and Canada on March 30, celebrates the 20th anniversary of the original album, which has since sold more than five million copies and reached #1 on Billboard's Catalog Albums chart. Songbird20 contains the remastered original 10 tracks (featuring Cassidy's interpretations of "Fields of Gold," "Autumn Leaves," "Songbird" and "Over the Rainbow") plus four acoustic bonus tracks ("Songbird," "Wade in the Water," "People Get Ready" and "Autumn Leaves") that surfaced long after the release of Songbird. They were first heard on the 2011 Simply Eva album. Pre-order here.
The small catalog of material Cassidy left behind has been released via 11 different albums. Subsequent Eva Cassidy releases include Time After Time (2000), Imagine (2002) and American Tune (2003)–the former climbed to #1 on Billboard's Independent Album Chart, the latter to No. 5), the 2004 compilation Wonderful World, followed by Somewhere in 2008 and 2011's Simply Eva, an album of alternative acoustic guitar and vocal performances. The Best Of Eva Cassidy was released in 2012.
In 2015, Blix Street released Nightbird, the complete 31-song recording of Cassidy's Blues Alley concert. The two-CD set, containing 12 previously unreleased tracks, was remixed and remastered from the original tapes and also released in a double vinyl album version.
Listen to the title track from Eva Cassidy's Songbird
Songbird20—Special Anniversary Edition Track List
1. Fields of Gold
2. Wade In The Water
3. Autumn Leaves
4. Wayfaring Stranger
5. Songbird
6. Time Is A Healer
7. I Know You By Heart
8. People Get Ready
9. Oh, Had I A Golden Thread
10. Over The Rainbow
Bonus Tracks:
11. Songbird (acoustic)
12. Wade In the Water (acoustic)
13. People Get Ready (acoustic)
14. Autumn Leaves (acoustic)
Listen to the acoustic version of "Songbird"

Latest posts by Best Classic Bands Staff
(see all)