Elvis Presley's Inspiring 'If I Can Dream': Behind the Song
by Greg Brodsky
There are many goosebump-inducing moments in Elvis, the sensational 2022 Presley biopic from director Baz Luhrmann. The success of the film has rejuvenated the late King's legacy, broadening his audience from his solid, but aging (aren't we all?) fan base by giving Presley's image a more contemporary makeover. Elvis doesn't ignore the legend's bloated, pill-popping final years. Instead it offers the broad spectrum of his spectacular rise and subsequent fall, when he died at just 42. But in between, there are plenty of scenes that tell his story. One such chapter is his thrilling 1968 comeback TV special, and its culminating moment. (Warning: For those who have not seen the film, there are spoilers below. Elvis is available on the streaming service, Max.)
Presley filmed the NBC special over four days in June 1968, in Burbank, Calif. His longtime manager, Colonel Tom Parker, was insisting that his client perform "I'll Be Home For Christmas" as the final number for the TV program since it would be airing in early December. The film takes pains to show Parker doing his best (or worst) to placate the executives from the show's sponsor, Singer Corporation. Luhrmann deftly intercuts those scenes with ones showing Presley discussing his grief, with TV director Steve Binder, from the recent assassination of Dr. Martin Luther King Jr., made all the more painful as it happened in Memphis, Elvis' longtime home. "Dr. King was shot eight miles from Graceland," says Elvis portrayer Austin Butler to Parker's Tom Hanks in the film.
"Now you can sing whatever songs you and Mr. Bindle choose for 55 minutes," says Hanks, intentionally mispronouncing the director's name. "But at the end of the show, there will be a Christmas song. Or else we will be sued. No. You will be sued for breach of contract."
"If I Can Dream" was written by the special's music director, Earl Brown (with Billy Goldenberg). For its inspiring lyrics, Brown echoed Dr. King's 1963 "I Have a Dream" speech.
There must be lights burning brighter somewhere
Got to be birds flying higher in a sky more blue
If I can dream of a better land
Where all my brothers walk hand in hand
Tell me why, oh why, oh why can't my dream come true
Watch the dramatic, pivotal scene in 2022's Elvis, with Butler and Hanks
It's a star-turning performance for Butler, who turned 32 on Aug. 17, 2023.
An official clip on Presley's YouTube channel tells some of the story behind the song, recorded on June 23, 1968.
Watch Presley's complete performance of the song from the '68 comeback special featuring his magnificent vocal
Related: More on Presley's '68 comeback special
The single was released on Nov. 22, a few weeks before the TV show aired. By overall Presley standards, it wasn't a hit, peaking at "just" #12 on the Hot 100. Despite its appeal, he never sang "If I Can Dream" in concert.
Elvis has earned a hefty $288 million at the worldwide box-office, good enough to make it the second-biggest music biopic of all time, though well behind 2018's Bohemian Rhapsody's $910 million.
[An Elvis On Tour box set was released, on the heels of the biopic's success.]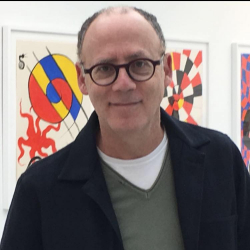 Latest posts by Greg Brodsky
(see all)