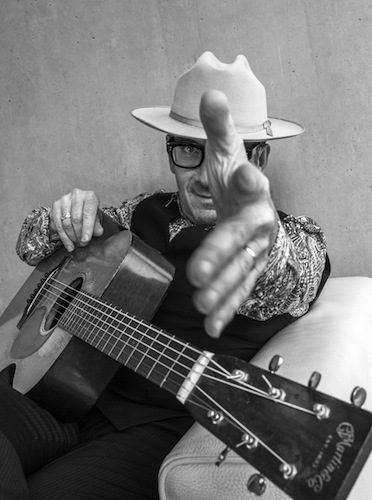 Elvis Costello fans should get their calendars out. The singer-songwriter has announced West Coast U.S. solo "Detour" dates for spring 2016. Confirmed dates are below with more to be announced.
These dates are Costello's first since the release of his best-selling memoir, Unfaithful Music & Disappearing Ink (Blue Rider Press/Penguin Random House).
EC's fans will also soon be able to enjoy DVD and Blu-ray editions of Detour Live at Liverpool Philharmonic Hall, a concert film captured during the English musician's acclaimed 2015 solo tour. The release arrives February 12th via Eagle Rock Entertainment.
Set in a 1960s style living room, a giant television screen broadcasts family photographs and portraits of Costello's heroes for a solo show like no other – not only a journey through his vast repertoire of songs, set to both guitar and piano, but an intimate portrait of his songwriting process, family life and career. The set mixes solo renditions of classics like "Shipbuilding," "Accidents Will Happen," "Alison," and "(What's So Funny 'Bout) Peace, Love and Understanding" with more recent numbers like "Church Underground" and "Jimmie Standing in the Rain." Twentysomethings Rebecca and Megan Lovell of Atlanta roots rock band Larkin Poe join Costello for several tunes.
"Detour" U.S. Tour Dates (more dates to be announced); tickets are available here:
Special Guests Larkin Poe
3/29 – Santa Rosa, CA – Wells Fargo Center For The Arts
3/30 – San Francisco, CA – The Masonic
4/1 – Santa Barbara, CA – Arlington Theater
4/2 – Los Angeles, CA – Ace Theatre
4/3 – Los Angeles, CA – Ace Theatre
4/5 – Riverside, CA – Fox PAC
4/7 – San Diego, CA – Balboa Theatre
4/8 – Mesa, AZ – Ikeda Theater
4/9 – Tucson, AZ – Rialto Theatre – SOLD OUT
4/11- Denver, CO – Paramount Theatre
4/12 – Salt Lake City, UT – Kingsbury Hall
4/13 – Jackson Hole, WY – Center for the Arts
4/15 – Boise, ID – Egyptian Theatre – SOLD OUT
4/16 – Eugene, OR – McDonald Theatre
4/17 – Bellingham, WA – Mount Baker Theater
4/28 – New Orleans, LA – New Orleans Jazz Festival
The tour continues in the U.K. and Europe from May 9 – June 6. Click here for details.
Detour Live at Liverpool Philharmonic Hall track listing:
1) Intro
2) Red Shoes
3) Watch Your Step
4) Accidents Will Happen
5) Church Underground
6) '45
7) Shipbuilding
8) I Can't Stand Up For Falling Down
9) Walkin' My Baby Back Home
10) Ghost Train
11) When I Was Cruel No.2
12) Watching The Detectives
13) If I Had A Hammer
14) Pads, Paws And Claws
15) That's Not The Part Of Him Your Leaving
16) Down On The Bottom
17) Blame It On Cain
18) Alison
19) A Good Year For The Roses
20) Side By Side
21) Jimmie Standing In The Rain
22) Peace, Love And Understanding
23) Golden Tom – Silver Judas (credits)

Latest posts by Best Classic Bands Staff
(see all)