Mike Bloomfield & the Electric Flag: Long Time Comin'
by Jeff Tamarkin
Virtually all of the 50th anniversary retrospectives commemorating the Monterey Pop Festival of June 16-18, 1967, focused on the weekend's breakout artists and big-name stars—Janis Joplin, Jimi Hendrix, Otis Redding, the Who, Ravi Shankar. But one of the most anticipated performances among attendees of the festival has been largely obliterated with time: that of the Electric Flag.
If the name draws a blank, perhaps it's because they weren't very flashy or because they didn't last long enough to make much of an impact. They only cut two albums with the original lineup, the first a soundtrack to a cheesy psychedelic exploitation film titled The Trip that barely made a dent, getting only a handful of reviews (mostly indifferent) in the nascent rock press and avoiding even the bottom rungs of the Billboard album chart.
But the Electric Flag's other album is a stone gem. A Long Time Comin' remains a favorite of many and holds up better than so much music of its era, even if it's become something of a footnote over the long haul.
A bit of background. The Electric Flag was the brainchild of Mike Bloomfield, who, as one of the two guitarists in the exalted Paul Butterfield Blues Band, had become the very definition of American rock guitar god before such a designation really existed. Born in Chicago on July 28, 1943, Bloomfield had, in the mid-'60s, seen his reputation explode precipitously. Discovering and falling in love with his city's blues music in his teens, he took up the guitar and began to find work as his skills increased exponentially. Even before he met Butterfield, he was often invited to sit in with the great black Chicago blues masters at a time when such a thing just wasn't done—particularly by a white Jewish kid.
He'd joined the Butterfield outfit—Butterfield on vocals and harmonica, Elvin Bishop on second guitar, keyboardist Mark Naftalin, drummer Sam Lay and bassist Jerome Arnold—in 1965 and played on the group's self-titled debut album for Elektra Records, recorded that September and released the following month. But even before that, in the summer of '65, the buzz around Bloomfield had already grown—enough so that Bob Dylan tapped him to play lead guitar on his new Highway 61 Revisited album and on "Like a Rolling Stone," the single that would establish Dylan as a rock god and send him on his way toward becoming one of the most significant cultural icons of the century.
Bloomfield stayed with the Butterfield organization long enough to record one more album the following year, the masterful East-West, which (with Billy Davenport replacing Lay) took the group beyond the confines of blues into music that owed as much to modal jazz and raga as it did to Muddy Waters and Howlin' Wolf. The extended jam that formed the basis of the title track remains even today an astounding listen, far ahead of its time. The other tracks, including its instrumental cover of Nat Adderley's "Work Song," Robert Johnson's "Walking Blues," Allen Toussaint's "Get Out of My Life Woman" and even Michael Nesmith's "Mary, Mary," all added up to one of the most impressive albums of the '60s, a groundbreaker on par with the sounds coming from England via bands like Cream, who also used the blues as a takeoff point but didn't stay there very long.
By early 1967 Bloomfield was getting restless. He knew it was time to move on from the Butterfield Band into his own thing and set out to put together a band that would stay rooted in black music, with an emphasis on funky soul as well as Chicago-style blues. That would mean a horn section—Bloomfield, like so many of his contemporaries, was enamored of the acts signed to Memphis' Stax Records and the musicians who played in the label's house band. He wanted something similar, but also wanted to keep his new creation open-ended enough to incorporate elements of other genres such as jazz and gospel, as well as the psychedelicizing that was so prevalent in the studios and rock stages of the day.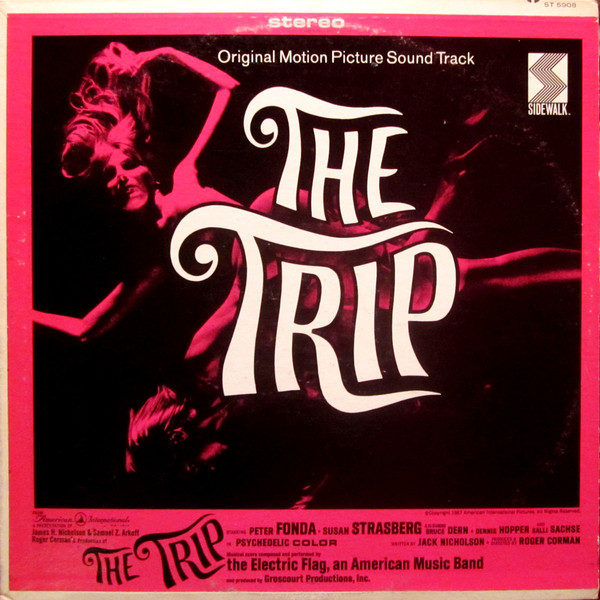 One by one, Bloomfield found his band. Setting up camp in Marin County, north of San Francisco, he recruited keyboardist Barry Goldberg, who'd played with Dylan at the game-changing 1965 Newport Folk Festival, and bassist Harvey Brooks, who'd been on Highway 61. While in New York, Bloomfield saw a 19-year-old drummer named Buddy Miles backing up soul giant Wilson Pickett, decided the kid was the best drummer he'd ever witnessed, and made him an offer he couldn't refuse. He hired Nick Gravenites, a fellow Chicagoan who'd already settled in San Francisco, where he worked with locals like Big Brother and the Holding Company and Quicksilver Messenger Service. (Trivia note: Mitch Ryder, who'd been a regular visitor to the top of the charts fronting the Detroit Wheels for the past couple of years, was reportedly asked to join but declined.)
The horn players—Peter Strazza and trumpeter Marcus Doubleday—arrived via recommendations. The new band, dubbed the Electric Flag and appended with a descriptive subtitle—"An American Music Band"—had barely had any time to discover its direction when they were hired to provide the soundtrack for The Trip, a film starring Peter Fonda that, as its title makes clear, existed solely to exploit the popularity of LSD among a growing segment of the youth market. The band (augmented by Paul Beaver on Moog synthesizer) rehearsed and recorded in Hollywood during April and May 1967, turning out a set of hastily composed Bloomfield tunes with titles like "Flash, Bam, Pow," "Psyche Soap" and "The Other Ed Norton." The soundtrack album was eventually released on the low-budget Sidewalk label but Bloomfield and the others had largely forgotten about the project once they finished their part.
Related: What were some of the other highlights of 1967's music scene?
Anyway, they had bigger things to think about: They'd been invited to make a high-profile public debut at the Monterey Pop Festival in June. Their set at the fest was short—only four songs—and although Bloomfield would say that it did not display what the Electric Flag was fully capable of, they were well received. Documentarian D.A. Pennebaker filmed the band's entire set but elected not to include any of their music in his film, Monterey Pop.
This outtake, the band's opening number, a savage workup of the traditional "Wine" featuring a killer Bloomfield guitar solo, is proof that perhaps Pennebaker made the wrong call at least once while assembling his film.
With Monterey behind them, the Flag set about recording in earnest their proper debut album, which they'd begun days before the festival. Now signed to Columbia Records, they took several months to make the record. By the time it was completed in early 1968, they'd already begun to splinter, with Goldberg the first to leave.
But what a stunner they finally released that March. The appropriately titled A Long Time Comin', which included contributions not only from the official band members but also multi-instrumentalist Herb Rich, Stemsy Hunter on alto saxophone, Michael Fonfara (Goldberg's replacement) on keys and a host of guests, never rose higher than #31 on the Billboard chart, but for many it was—and remains—a virtually perfect album.
Naturally, Bloomfield's guitar is showcased often. Right off the bat he solos ferociously on top of whatever else is happening throughout the opening number, a sizzling cover of Howlin' Wolf's "Killing Floor" (prefaced by a snippet of a speech by then-President Lyndon Johnson, followed by laughter).
Gravenites' vocals are alternately smooth and tough, cool and self-assured on tracks like "Groovin' Is Easy" and the breakneck-paced "Wine," and Miles, in addition to emerging as one of the hottest new drummers on the scene, also proved a formidable soul vocalist.
A Long Time Comin' lives up to Bloomfield's desire to create an American music pastiche, from the soul-stomper "Over-Lovin' You" to "Texas," a more traditional slow blues. Goldberg's "Sittin' in Circles" is a multi-textured ballad that he'd also record with his own group, the Barry Goldberg Reunion.
A Long Time Comin' was a fine, modern production (by John Court) that earned raves from progressive-minded listeners seeking a new direction and, especially, from fellow musicians. Alongside other new bands like Blood, Sweat and Tears and Chicago, the Electric Flag ushered in a new branch of jazz- and soul-informed rock that valued tight horn charts as well as guitar pyrotechnics.
That it didn't last is both a shame and, in retrospect, inevitable. Although they played a number of highly touted gigs (including a run at San Francisco's Fillmore Auditorium opening for Cream), Bloomfield would grow weary of the idea quickly—his next move, in May 1968, was to team with Al Kooper, another Dylan alumnus, who'd vacated his role as the keyboardist/vocalist of Blood, Sweat and Tears, for an album they called Super Session (also featuring Flag members Brooks and Goldberg, as well as Stephen Stills). It out-performed the Flag's debut, reaching #12 nationally in the U.S.
The Electric Flag attempted to stay afloat in the wake of Bloomfield's departure, with Miles the nominal frontman now, but it was a losing proposition. Miles would form his own Buddy Miles Express and then entertain an invitation to join Jimi Hendrix in the short-lived Band of Gypsys (Miles died in 2008). Bloomfield's solo career found him staying close to the blues of his roots, some projects more artistically viable than others. Although he continued to record and perform live regularly, he never recaptured the glory he achieved as a bona fide rock guitar hero. The Electric Flag—with Bloomfield, Miles, Gravenites and Goldberg aboard—reunited for a while in 1974 but by that point the spark they'd captured briefly seven years earlier had left.
Mike Bloomfield died on Feb. 15, 1981, victim of a drug overdose, found slumped in his car. He has since been the subject of books and a documentary film and was inducted into the Rock and Roll Hall of Fame in 2015 as a member of the Butterfield crew. Most aficionados agree he reached the pinnacle of his creativity during the stretch that took him from Dylan sideman through Butterfield and into the Electric Flag. But even at his most uninspired, later in his life, there were few guitar players that could do what he could with six strings.
Watch Buddy Miles take the lead vocal on "Over-Lovin You" at Monterey

Latest posts by Jeff Tamarkin
(see all)