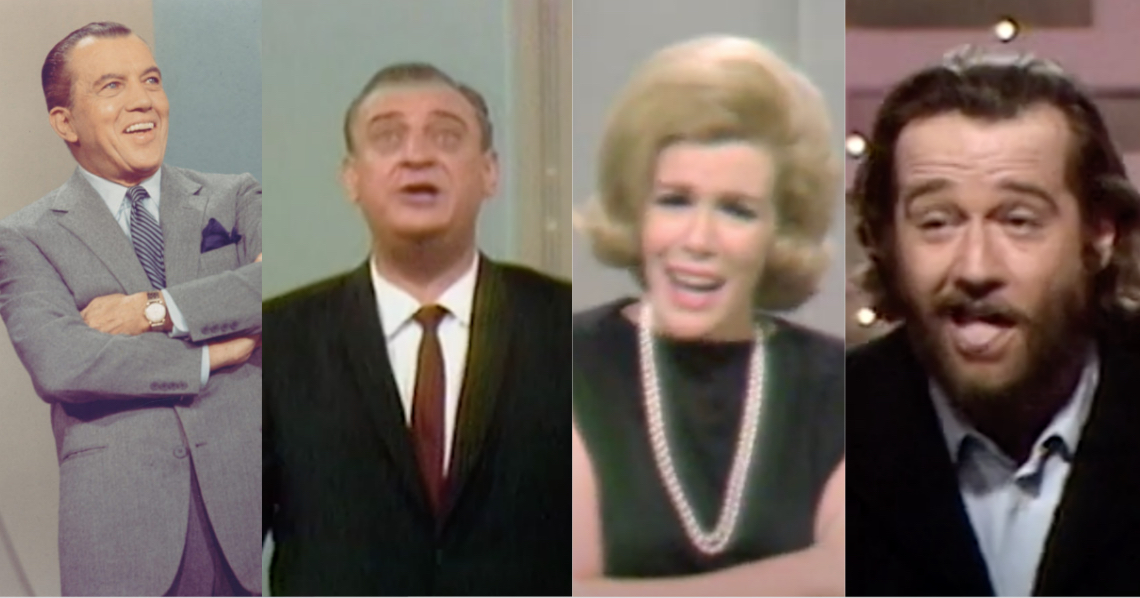 Throughout its historic 23-year primetime run (1948-1971), The Ed Sullivan Show brought the hottest performances from around the world and introduced emerging talent to America's living room every Sunday night. And while the show featured some of the earliest or first televised performances of future music superstars including The Beatles, the Jackson 5, the Supremes, and the Rolling Stones, the program was also known for showcasing top comedy talent.
Here are some classic stand-up comedy routines from some true legends, with their original airdate noted.
George Carlin – "Eyes, Hair, Ali, Vietnam, The Weather" – February 28, 1971
The poetic stand-up was just 33 years old when he made this appearance. The six-minute clip includes a classic Carlin rhyme.
Rodney Dangerfield – 1969
Here's the "No Respect" legend at around 47 years old. "I remember as a kid, I had no friends. On the seesaw, I had to keep running from one end to the other."
Robert Klein – "Dentists" – February 7, 1971
The comedian, one day shy of his 29th birthday, describes a procedure we can all relate to. "I get my good grip on the chair, that's my take-off / landing procedure, white knuckles, and the bib which makes me feel mature."
Carl Reiner and Mel Brooks – "2000 Year Old Man" – February 12, 1961
The pair of legends weren't always in their Nineties. Here's an early performance of their classic routine. "2000 years ago, what was the main means of transportation," Reiner asks. "Fear. An animal would growl and you'd run a mile in a minute."
Joan Rivers – "Beautiful Women" – May 22, 1966
The self-deprecating comedienne was a mere 32 years old when she did this great routine. "Stewardesses pay no attention to women. I was trying to be pleasant. 'Excuse me, I think my window's open.'"
Henny Youngman – "Marriage & People" – May 8, 1966
Another guy who looked like he was at least 60 and, in this case, he was, with that ever-present violin! "That's the way my wife looks in the morning. She ran after the garbage men. 'Am I too late for the garbage?' They said, 'No, jump in.'"
Senor Wences – "Puppets" – March 20, 1966
The Spanish ventriloquist was a month shy of his 70th birthday here. (He would live to 103!) On this appearance, he's joined by several of his legendary puppets, switching seamlessly to a falsetto for Johnny. A true genius.
Ed Sullivan was born September 28, 1901. The Ed Sullivan Show library of 1,000 hours includes over 10,000 performances.
Iconic clips from the vast catalog have primarily only been available in excerpted versions on EdSullivan.com or as low-resolution digital "bootlegs." Beginning in June 2020, scores of rarities are being made available digitally for the first time, thanks to a new agreement between Universal Music and SOFA Entertainment which owns the series. Many segments have been upgraded to high-resolution clips as part of UMe's curation efforts.
Related: Some legendary music performances on Sullivan

Latest posts by Best Classic Bands Staff
(see all)