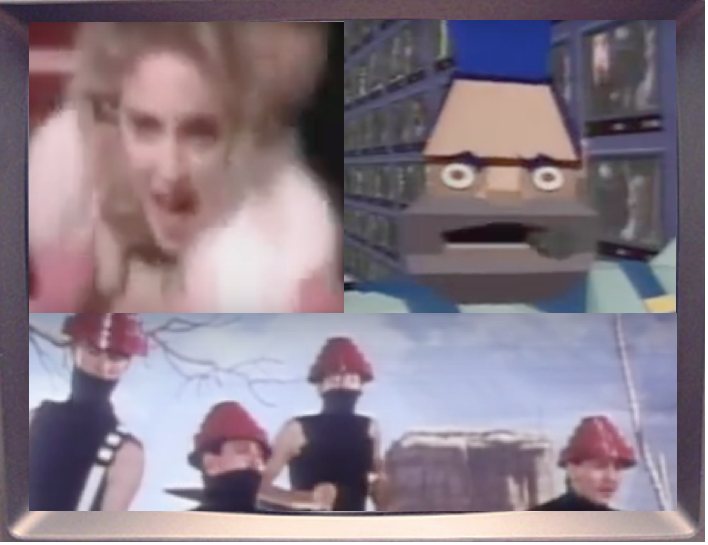 I started covering video at the music trade magazine Billboard in July 1981, the month before MTV's launch, and had to get up to speed quickly on what was being touted (by MTV) as a new art form. In its early years, MTV couldn't get onto Manhattan Cable, so record companies and the channel would messenger over 3/4-inch U-Matic video cassettes with the latest offerings.
I'd sit in the windowless room with the magazine's only U-Matic machine and watch each video. I became increasingly drained by their lip-synced lifelessness, lowbrow sameness and cliché-ridden, self-indulgent concepts. While the tape was rewinding I'd jot a few notes, try to find something positive to say. Billboard was a trade magazine, after all.
When I left the music video trenches and the writing life to make some real dough, I never watched music videos after that, at least on purpose.
Only when asked by Best Classic Bands to come up with this list did I head to YouTube for a refresher course – and it all came rushing back: The pretentious storyboard-fueled visuals designed more to feed egos than to "enhance" the music, as they were allegedly doing.
As a rule, music videos attempted to raise a mediocre song to operatic heights, using overwrought metaphors and not-so-special effects like slow motion and a tilted camera. In the cutthroat competitions at the labels for the right to oversee the five-figure budgets, it helped to stroke the artist's ego and maybe propose including one of his favorite motorcycles or classic car models.
Below, I spotlight mainstream videos that made an impact, in chronological order.
"Bohemian Rhapsody" by Queen (1975) – Sure, I could have started with "Jailhouse Rock" or some esoteric early 20th century combination of music and imagery. But we're talking the MTV generation, and Queen's "Bohemian Rhapsody" foreshadowed that era. Its (poorly) lip-synched faux-live performance set the stage for thousands to follow. Yet it's witty and not overblown in the context of later attempts – notwithstanding a few cheesy special effects, such as showing Freddie Mercury in silhouette to the line "I see a little silhouetto of a man."
"Paradise by the Dashboard Light" by Meat Loaf (1977) – This 1977 performance video – with Karla DeVito famously standing and lip-synching in for Ellen Foley – is the perfect example of putting the song first. Meat Loaf, just a few years after his appearance in The Rocky Horror Picture Show, is so charismatic he convinced Rocky Horror producer Lou Adler to play the video before the movie as a short subject (and to promote his album Bat Out of Hell). Even the vintage baseball footage works. It's better than almost every tarted-up concept video that followed.
"Whip It" by Devo (1980) – Go ahead, try to watch it without laughing, dancing or craving a whip. Director, lyricist and band member Gerald Casale got a lot of grief – and attention – for this clip, which not only features violence against women but a cross-eyed Asian girl and plenty of other politically incorrect imagery. Some people have no sense of humor, and we thank those people for bringing Devo to the masses.
"New Frontier" by Donald Fagen (1982) – Brilliant all around, from the post-Steely Dan musical magic to the animation straight out of a 1950s Formica countertop and a Cold War scare video. Director and Max Headroom co-creator Annabel Jankel of Cucumber Studios wasn't encumbered by the need to show an awkwardly preening band, and her concept and execution do a great song justice. Heck, if she was good enough for David Byrne, she was good enough for anyone.
"Rockit" by Herbie Hancock (1983) – Back in 1983, the only way for a black artist to get on MTV was by not appearing in his own video. You see the occasional flash of Herbie on a monitor, but it's mostly weirdness from video geniuses (and former 10cc members) Kevin Godley and Lol Creme. Having a top director was also the only way to sneak what was essentially a jazz instrumental track onto the channel.
"I Love L.A." by Randy Newman (1983) – Its opening on New York's World Trade Center brings a nostalgic gasp now when we watch "I Love L.A.," as do the '80s-era sights in an LA that seems bent on using Blade Runner for city planning. Randy's cousin Tim (yes, he of ZZ Top video fame) goes all out making what plays superficially as a Chamber of Commerce wet dream while slyly acknowledging urban blight.
"Sweet Dreams (Are Made of This)" by Eurythmics (1983) – This won "Best use of Symbolism" at the Billboard Video Music Awards I helmed in 1983 – one of the few awards not to go to "Beat It." I still want to know what that cow symbolized. Directed by Chris Ashbrook.
Related: Eurythmics' 'Dreams' Well-Timed For MTV Success
"Adventures in Success" by Will Powers, aka Lynn Goldsmith (1983) – Photographer/artist Lynn Goldsmith had just released her album Dancing for Mental Health as alter ego Will Powers when I asked her to host the 1983 Billboard Video Music Conference. She didn't just show up, she went all in as multiple characters, in one case freaking out attendees as she pushed a shopping cart down the aisle, muttering and lashing out at the industry crowd. This video, one of the first to use 3D animation, works on every level and features several cameos… hey, there's Meat Loaf again! Repeat after Will: "You are an important person, a rare individual."
"Material Girl" by Madonna (1984) – Madonna was made for the music video revolution and this song is the perfect melding of artist and concept. In fact, in this case the artist was the concept. Inspired by Marilyn Monroe's performance of "Diamonds Are a Girl's Best Friend," the video was directed by Mary Lambert.
Related: Looking back at MTV's debut
"Rock Me Tonight" by Billy Squier (1984) –By 1984 MTV was such a cultural behemoth that self-parody was inevitable. Choreographer Kenny Ortega's video for Billy Squier's "Rock Me Tonight" is the gruesome proof that in "art," one size does NOT fit all. I actually prefer watching this version without sound, since the song is dead to me and everyone else. Kenny killed it and Squier's career.
"Just a Gigolo/I Ain't Got Nobody" by David Lee Roth (1985) – All you need to know about early '80s music video you can learn from this stupendous clip. After breaking out of Van Halen in a high-concept, bikini-laden video for "California Girls," DLR reworked two long-forgotten Bing Crosby/Louis Prima tunes and launched DaveTV. This video truly does enhance the song. Directed by Pete Angelus, who also helmed Van Halen's "Jump" video and shaped the band's visual style.
"Money for Nothing" by Dire Straits (1985) – Mark Knopfler hated music video almost as much as I did, and had to be convinced to make a promotional clip. MTV would have been the poorer without this self-referential, self-conscious look at the music industry. The cool animation techniques still work, as does the song, with its "I Want My MTV" theme. Credit director Steve Barron, who also made the seminal "Billie Jean" for Michael Jackson and "Take On Me" for a-ha and, a video so good it has to be at least partially responsible for landing the band a James Bond theme song. The song also earned significant Top 40 airplay, which led to it reaching #1 on the Hot 100 on Sept. 21, 1985.

Latest posts by Laura Huntt Foti
(see all)