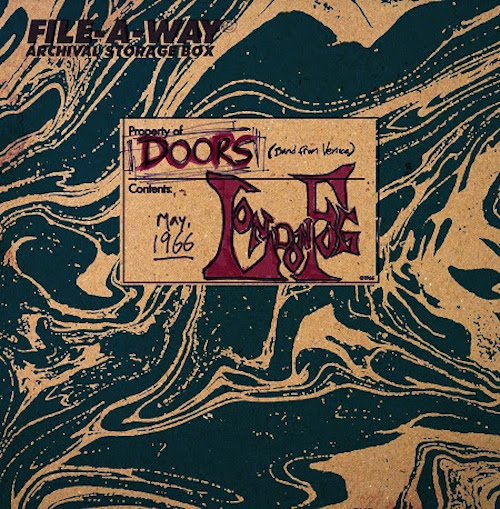 The earliest known live recordings of The Doors, made at a Los Angeles club called the London Fog in May 1966, will be released by Rhino/Bright Midnight Archives on December 9. Simply titled London Fog 1966, the seven-track set is the first of what Rhino promises will be "many special activities and releases coming to celebrate The Doors' 50th Anniversary in 2017."
The Doors served as the house band at the Sunset Strip bar, located near the Whisky a Go Go, one of the most famous West Coast rock venues. London Fog 1966 will be released in a "Collector's Edition boxed set." Previously unreleased and not even known to exist until recently, the recording, says Rhino in a press release, "marks the earliest recordings of the band and finds the quartet mixing blues covers with early versions of Doors originals."
The recording will be available as an individually numbered limited edition of 18,000 copies, with a retail price of $49.98. Presented in a lift-top package designed to look like a vintage storage box, the set features seven songs on both CD and a 10-inch record that's made to resemble a test pressing. Doors engineer Bruce Botnick recently mastered the audio for this collection. Pre-order is available here.
Along with the unreleased music, the set is packed with memorabilia, including a poster, the set list handwritten by John Densmore, a program for the Royce Hall UCLA student film screening, plus a London Fog coaster. There are also liner notes included from Ronnie Haran-Mellen, who was the talent booker at the Whisky a Go Go. Haran-Mellen saw The Doors live for the first time at the London Fog and then booked them as the permanent house band at the Whisky, leading to the band's signing to Elektra and meteoric rise to superstardom.
Also contributing liner notes is Nettie Peña, described as "a pivotal force in this release coming together as she captured the audio on a ¼-inch reel-to-reel recorder, which was the property of the Los Angeles Unified School District." Her father, according to the press release, "was a teacher for LAUSD and let her borrow the recorder to take to the show." Peña also photographed the band that evening and five black-and-white 8×10 reprints of these unpublished photos are included in the Collector's Edition, featuring Morrison on a cramped stage with John Densmore, Robby Krieger and Ray Manzarek.
Like many of the band's early concerts, the show captured featured covers such as Muddy Waters' "Rock Me" and "I'm Your Hoochie Coochie Man." The set also includes raw performances of "Baby, Please Don't Go" (Big Joe Williams), "Don't Fight It" (Wilson Pickett) and "Lucille" (Little Richard).
Related: The Doors perform on American Bandstand in 1967
The band played two originals this night. The first, "Strange Days," would become the title track for the Doors' second studio album, which also came out in 1967. This is one of the only known live recordings of this track. The other Doors original, "You Make Me Real," wasn't officially released on a studio album until Morrison Hotel in 1970.
Track listing
Rock Me
Baby, Please Don't Go
You Make Me Real
Don't Fight It
I'm Your Hoochie Coochie Man
Strange Days
Lucille
Watch a promo video for the Doors from the following year, 1967
Don't miss a post! Sign up for Best Classic Bands' Newsletter; form is on every page.

Latest posts by Best Classic Bands Staff
(see all)