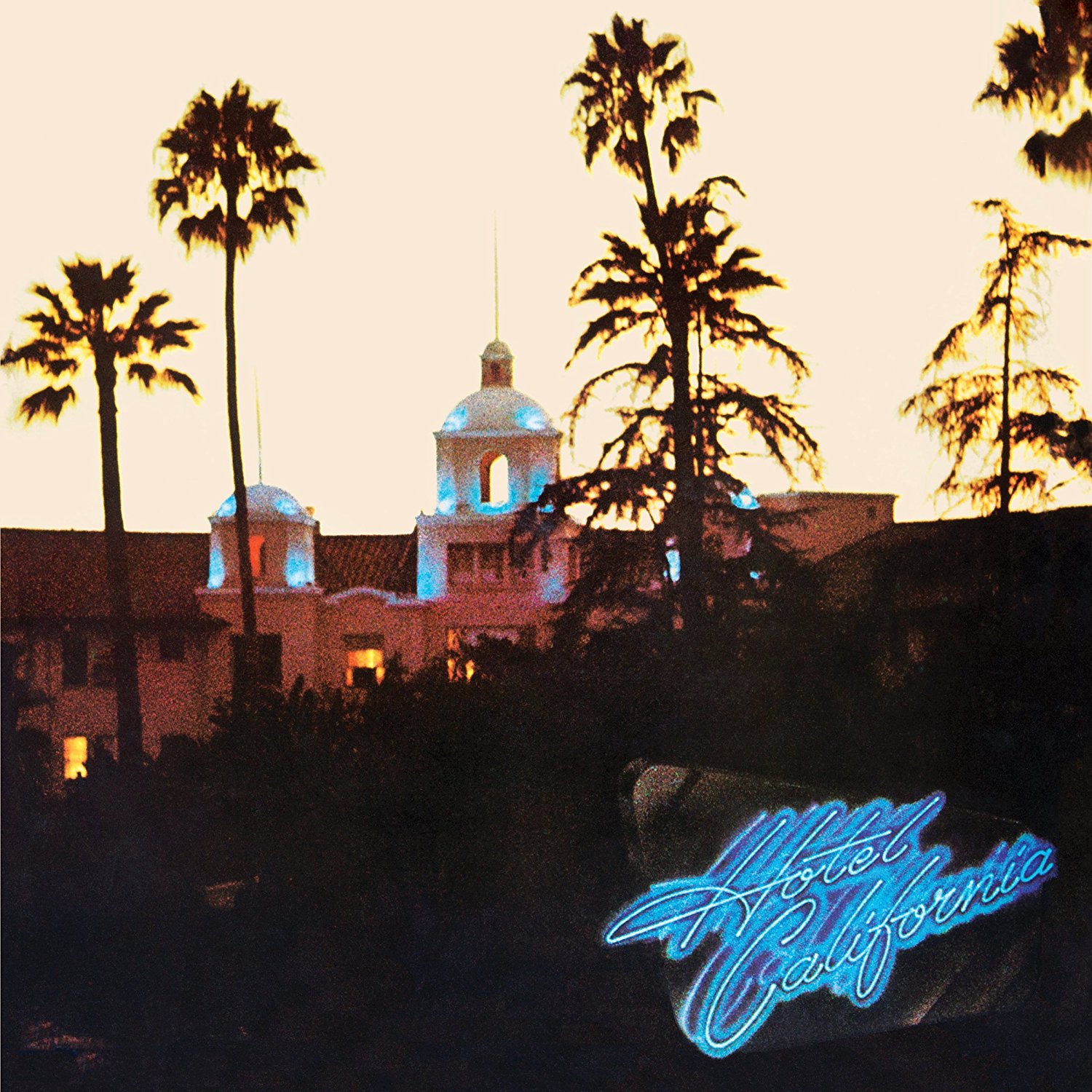 On Oct. 10, the Eagles posted a 15-second clip of the familiar instrumental opening of their 1977 gargantuan hit, "Hotel California." And on Oct. 11 came word that a 40th Anniversary Deluxe Edition of the album is being released on Nov. 24. The Hotel California album was a commercial juggernaut when it was released in December 1976. The album topped the Billboard charts for eight weeks in the U.S., won two Grammy® Awards, sold more than 32 million copies worldwide, and featured two #1 singles. Nearly 41 years later, it still ranks as one of the best-selling albums of all-time.
The new 2-CD/1-Blu-ray Audio includes remastered sound, 10 previously unreleased live recordings, plus hi-res stereo and 5.1 mixes. Presented in an 11 x 11 hardbound book, the set also features rare and unseen photos from the era, a replica tour book, and an 11 x 22 poster. A 2-CD Expanded Edition and single CD will also be available.
Listen to "Hotel California" from the L.A. Forum from 1976
The Deluxe Edition opens with a remastered version of the original album, featuring those two #1 hits – "New Kid In Town" and the title track – plus "Life In the Fast Lane," a #11 single. The album was nominated for five GRAMMY® Awards, winning a Record of the Year and Best Arrangement for Voices.
Related: Eagles have announced the initial dates of their 2018 tour
On Nov. 10, the live version of "New Kid in Town" from the L.A. Forum was released.
Watch the Eagles teaser clip
Posted by Eagles on Tuesday, October 10, 2017
[The iconic album cover was designed by John Kosh. Read our interview with the legendary designer here.]
The 10 live tracks were recorded during the band's three-night stand at the Los Angeles Forum in October 1976. The concert recordings feature one of the first-ever live performances of "Hotel California" and "New Kid In Town" along with other classic rock favorites including "Already Gone," "Take It To the Limit," "Funk #49" and "Take it Easy." (See full listing below.)
The Blu-ray Audio disc that accompanies the deluxe edition features the 5.1 Surround Sound mix originally released on DVD-A in 2001 along with a hi-resolution, 192 KHz/24-Bit stereo mix.
Related: Our exclusive conversation with the album's producer, Bill Szymczyk, about the making-of Hotel California
Hotel California: 40th Anniversary Deluxe Edtion Track Listing
Disc One: Original Album
1. "Hotel California"
2. "New Kid In Town"
3. "Life In The Fast Lane"
4. "Wasted Time"
5. "Wasted Time (Reprise)"
6. "Victim Of Love"
7. "Pretty Maids All In A Row"
8. "Try And Love Again"
9. "The Last Resort"
Disc Two: Live at the Los Angeles Forum (October 1976)
1. "Take It Easy"
2. "Take It To The Limit"
3. "New Kid In Town"
4. "James Dean"
5. "Good Day In Hell"
6. "Witchy Woman"
7. "Funk #49"
8. "One Of These Nights"
9. "Hotel California"
10. "Already Gone"
Blu-ray Audio
Dolby Digital 5.1 Surround Sound
Advanced Resolution Multi-Channel Surround Sound (96 KHz/24-Bit)
Advanced Resolution Stereo (192 KHz/24-Bit)
Tickets to the Eagles 2018 tour are available through Ticketmaster.com and StubHub.
The Eagles returned to the stage this summer at the Classic East and West festivals and several "Evening With" concerts earlier this fall with country star Vince Gill and Deacon Frey, son of Eagles founder, Glenn Frey.
Related: The Eagles at Classic West

Latest posts by Best Classic Bands Staff
(see all)