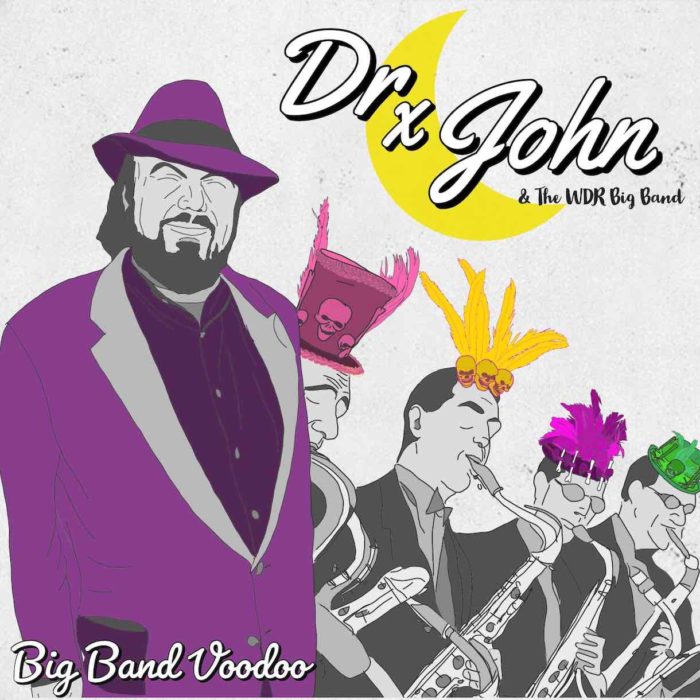 The late New Orleans great Dr. John will be featured on a new, posthumously released album, Big Band Voodoo, out Nov. 1 on Orange Music. Recorded in 1995 with Germany's WDR Big Band, the upcoming album features 16 tracks.
Stanley Chaisson, who managed the artist, comments in a press release, "I appreciate the way Mac translated his voodoo syncopation and vocal phrasing and merged them with the WDR Big Band. To me, it's one of the best pairings of jazz, blues and swing on a recording that was ever done. It shows his ability to adapt, perform and interpret music and deliver his part, with one of the best big bands in the world. I am just so grateful to be a part of such an excellent piece of music."
Big Band Voodoo is described in the release as "a unique take on the music of Dr. John, as he'd never released a big band record quite like this one during his lifetime/career. What we have now is the chance to hear an important piece of music history."
Highlights include "I'm Just a Lucky So and So," "Blue Skies," "New York City Blues," "Tell Me You'll Wait For Me" and more.
Chaisson recalls a chat with Dr. John that set things in motion: "Big Band Voodoo comes from an evening of discussing new projects with Mac [Rebennack] at his brownstone in New York. He and I were discussing the possibility of making a jazz record. He says, 'Ya know, dis would be dat thing I was always using my head for…a big band thing with my New Orleans riffs.'"
Mike Donohue of Amplified Distribution adds, "Dr. John and the WDR Big Band's Big Band Voodoo album comes from his 1995 visit to Germany, during an international tour thru the U.K., Germany, Japan, etc. During this tour, numerous important musicians approached Dr. John for a session. Many of these professionals had never seen Mac perform live but were huge fans.  While in Germany, Dr. John was offered the opportunity to play and record at the WDR Band's Cologne studio. What transpired in that studio is one of the most interesting yet unreleased sessions from Dr. John's repertoire.
Dr. John passed away on June 6, 2019, at the age of 77.
Watch Dr. John perform at the Band's Last Waltz concert
Related: Our Album Rewind review of Dr. John's Gumbo

Latest posts by Best Classic Bands Staff
(see all)