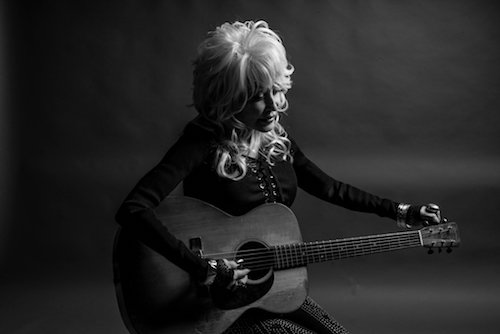 Country music giant Dolly Parton proudly proclaimed "I'm a rock star now" last night (Nov. 5, 2022) at her induction into the Rock and Roll Hall of Fame. The beloved singer, songwriter and philanthropist was the Class of 2022's final inductee of a huge 14-member group that also included Pat Benatar, Carly Simon, Duran Duran, Eurythmics and Lionel Richie. Parton was inducted by Pink who said in her speech, "there are few finer songwriters, male or female, that ever lived," according to Ultimate Classic Rock.
"This is a very, very, very special night," Parton said in her acceptance speech. While introducing a new song identified as "Rockin" that name checks Elvis Presley, Jerry Lee Lewis, Chuck Berry, Little Richard and Carl Perkins, Parton said, "If I'm gonna be in the Rock & Roll Hall of Fame, I'm gonna have to earn it. She sang, "I've been rockin' rockin' rockin' since the day I was born. And I'll be rockin' to the day I'm gone."
She later led an all-star lineup including Dave Stewart and Annie Lennox of Eurythmics, Brandi Carlile, members of Judas Priest and Duran Duran, Pat Benatar and Neil Giraldo, to perform a favorite, "Jolene."
Here's the finale from a different perspective…
When her name was announced on May 4, Parton said she was "honored and humbled" by her selection into the Rock Hall's Class of 2022. When she was originally nominated two months earlier, Parton had posted on her social media pages on March 14 that she did not feel that she had "earned that right" to be considered for induction, and stated that she would "respectfully bow out."
Six weeks after her stunning open letter, in which she asked that her nomination be withdrawn, Parton told an interviewer that she had changed her mind about her candidacy and that if she were chosen, she would "accept gracefully."
On May 4, the day her selection was announced, Parton wrote, "I am honored and humbled by the fact that I have been inducted into the Rock & Roll Hall of Fame. Of course I will accept it gracefully. Thanks to everyone that voted for me and to everyone at the Rock & Roll Hall of Fame. I will continue to work hard and try to live up to the honor.
Love, Dolly"
In an April 29 interview with NPR to promote her novel, Run, Rose, Run, with co-author James Patterson, about a country singer, Parton was asked if she'd accept despite her stated withdrawal. "Well, I'll accept gracefully," she said. "I would just say thanks and I'll accept it because the fans vote. But when I said that, it was always my belief that the Rock & Roll Hall of Fame was for the people in rock music, and I have found out lately that it's not necessarily that. But if they can't go there to be recognized, where do they go? So I just felt like I would be taking away from someone that maybe deserved it, certainly more than me, because I never considered myself a rock artist. But obviously, there's more to it than that."
In all likelihood, she was informed by the Rock Hall that she was going to be inducted. And when the announcement was made on May 4, her name was, indeed, on the list.
The Rock Hall hadn't responded publicly to Parton's March 14 request. It was considered to be unlikely that the institution would grant her stated desire to withdraw, as ballots had already been sent out to voters, and many recipients had already returned their completed ballots.
Parton said, in her March 14 statement, "I do hope that the Rock & Roll Hall of Fame will understand and be willing to consider me again—if I'm ever worthy." She added that she hopes to make a rock album "at some point in the future, which I have always wanted to do!"
Parton's latest album, also named Run Rose Run, was released on March 4, 2022. The 12 songs were inspired by the book's storyline and feature Country and Bluegrass artists such as Joe Nichols, Rhonda Vincent, The Isaacs, and Dailey & Vincent.
Related: Our Album Rewind of Trio, featuring Dolly with Emmylou Harris and Linda Ronstadt
While it is not unprecedented for country artists to be nominated by the Rock Hall, it remains somewhat unusual. Pioneering country artists who influenced rock artists—including Jimmie Rodgers, Hank Williams, Johnny Cash and Chet Atkins—have been inducted into the Hall, and several rock artists that dabbled in country and even recorded full country-oriented albums—among them Elvis Presley, the Everly Brothers, Jerry Lee Lewis, Ray Charles, Brenda Lee and the Byrds—have also made the grade.
Some observers of Rock Hall history have noted that Parton's request for full withdrawal from consideration may be a first. While other artists, including Van Morrison, the Sex Pistols and David Bowie, have expressed a lack of interest in the honor, none have actually asked the Hall to take them out of the running.
At the time, Parton said that she "did not want votes to be split because of me," and wished the other nominees good luck.
Parton's March 14 statement appears below, in full.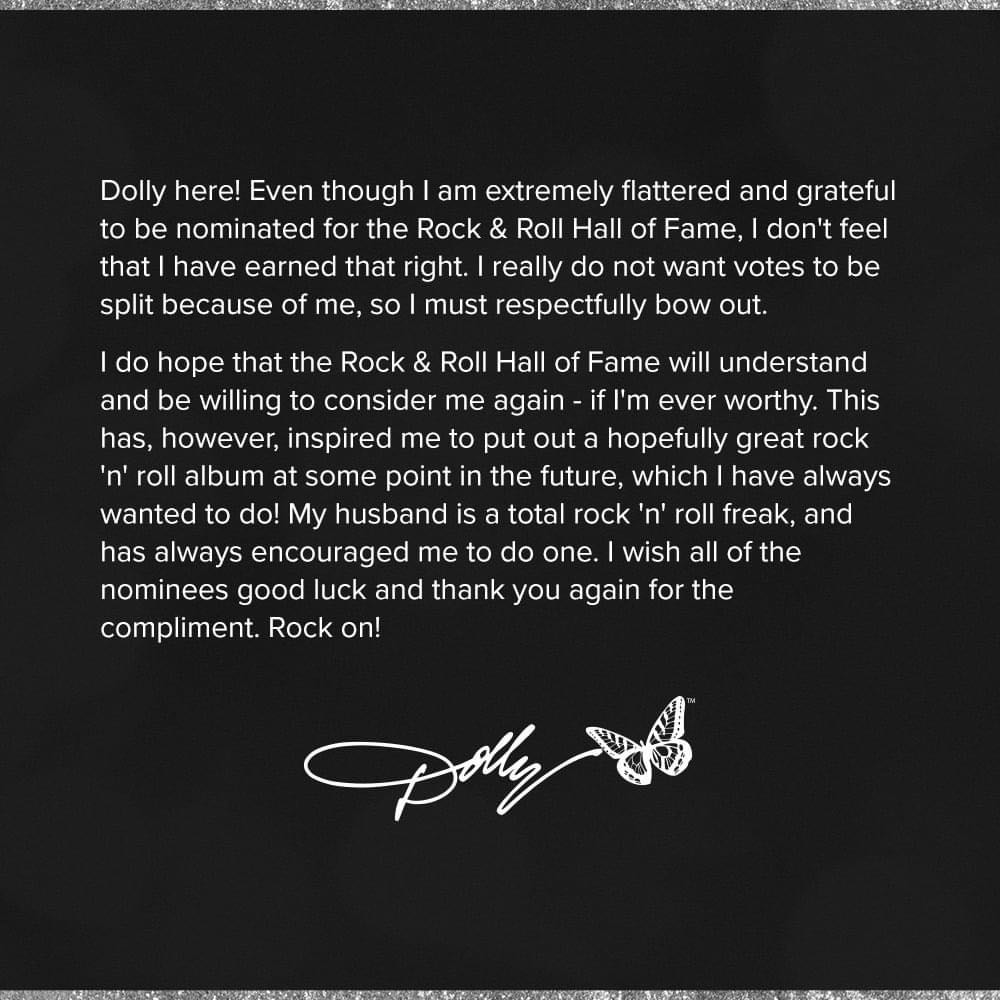 Latest posts by Best Classic Bands Staff
(see all)