Sex&Drugs&Rock&Roll Rocks the Laughs
OK, let's get the easy part out of the way. While sex and sex acts are constantly referred to and drug use isn't explicitly shown – at least in the first three episodes screened for reviewers – there's still plenty of rock'n'roll on display in Denis Leary's new TV series, Sex&Drugs&Rock&Roll, which debuts this Thursday, July 16 at 10PM ET on FX.
Leary plays Johnny Rock, the lead singer of a '90s band named The Heathens that broke up on the same day as their first album came out. Johnny has fallen on hard times and his current band is now relegated to playing bars. After his set he approaches a pretty brunette that he notices staring at him. When he mistakes her glance as a come-on, she knees him in the groin. Hey, can't blame a guy for trying! And that's how he meets the grown-up daughter he didn't know he had.
Turns out Johnny's progeny is a talented young singer named Gigi (Elizabeth Gillies of Nickelodeon's Victorious… kids sure grow up so fast). Gigi's got lots of cash – don't ask how because I missed it – and wants to hire The Heathens to back her… with dad relegated to songwriter. Johnny rounds up his former bandmates, who are all suddenly available when they smell a payday. And their old jocular relationship returns when, after checking out Gigi, they torture dad with rapid references to his daughter's you-know-what.
Despite some clichés, SDRR succeeds thanks to Leary's trademark sarcasm, an appealing cast featuring a bunch of faces you'll recognize including John Corbett (TV's Sex and the City) as the band's guitarist, comedian Robert Kelly (Louie) and John Pais (Ray Donovan), and Leary's fast-paced script that happily skewers plenty of real rock stars: "Bowie's been drug free since 1978. Talent free, too. 'Let's Dance'? Let's not!" and "Did you see [the Keith Richards] ad campaign for Louis Vuitton? You put a handle on his head and he looks like one of the bags."
There are several cameos from legit rockers including the ubiquitous Dave Grohl – when does the guy ever sleep? –and Joan Jett, who shows up in the third episode to hear the newly reformed Heathens debut. When Jett refutes Johnny's claim to the band that they slept together years ago ("He fell asleep"), the embarrassed Johnny whispers behind her back "Joan has Alzheimers."
OK, back to the part about the frequent references to sex and drugs. The script is filled with lots of naughty though relatively benign stuff like "I did not sleep with his wife. She blew me." And "My daughter doesn't have a pussy. She has a vagina which doesn't belong to you." And "I haven't done blow in ages." "Because you quit or can't afford it?" Ouch!
Sex&Drugs&Rock&Roll is a summer TV debut that just might rock its way into the rest of the year and beyond.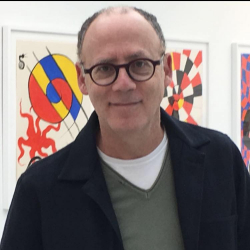 Latest posts by Greg Brodsky
(see all)