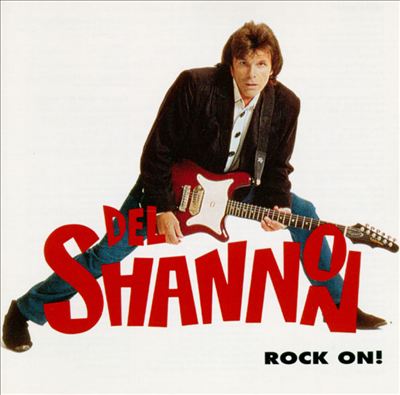 By all rights it should not have happened. The career of Del Shannon had been enjoying a resurgence in recent years. In 1981, Tom Petty had produced an album for the veteran rocker, Drop Down and Get Me, on which Shannon was backed by the Heartbreakers. Included among its tracks was a cover of the 1959 #1 song "Sea of Love" that reached #33 on the pop charts.
Rockers Dave Edmunds and Jeff Lynne had also done recordings with Shannon, and a full album was being produced by Lynne and Heartbreakers guitarist Mike Campbell (later released posthumously as Rock On! in 1991). After Roy Orbison died in 1988, Shannon – also known for his falsetto vocals – was widely rumored to become his replacement in the Traveling Wilburys. Petty had name checked Shannon in his song "Running Down a Dream."
Shannon was a pivotal figure in the era in between the original rise of rock 'n' roll in the 1950s and the British Invasion – a rocker who sang, wrote his own songs and led a band during the teen idol era. Born Charles Weedon Westover on December 30, 1934, in Grand Rapids, MI, Shannon was working as a carpet salesman and fronting a band at night when he was first discovered.
His debut single "Runaway" was a #1 hit in 1961. He also enjoyed such other Top 10 hits as "Hats Off to Larry" (#5) and "Keep Searchin'" (#9).
In the U.K. he scored a number of other hits and was regarded as a major rock star. The British duo Peter and Gordon had a U.S. Top 10 hit in 1965 with a song written by Shannon, "I Go to Pieces" (which for reasons almost beyond comprehension was later one of 150 songs banned for airplay by Clear Channel Communications following the September 11 terrorist attacks).
The 1999 Rock and Roll Hall of Fame inductee took his own life by shooting himself on February 8, 1990. Shannon was 55. He had been taking Prozac for depression, and his widow sued the drug maker, claiming as others did that the medication caused suicidal ideation. She later dropped the suit.

Latest posts by Best Classic Bands Staff
(see all)