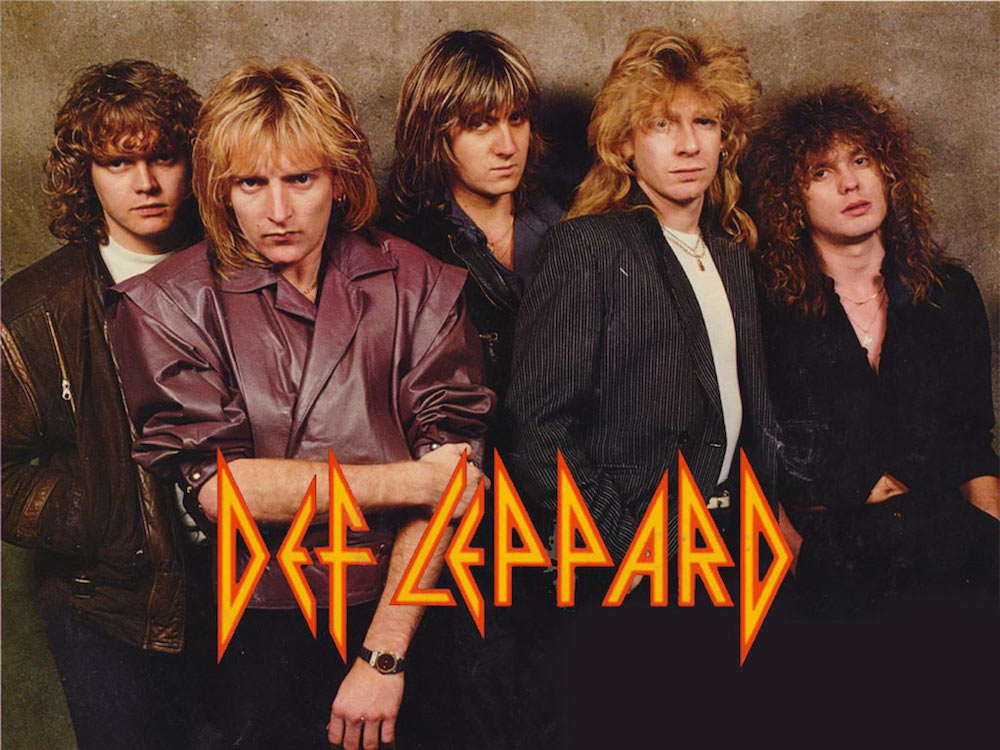 No rock band epitomized the spirit of the '80s more than Def Leppard did. Fusing the hard edge of heavy metal to a melodic pop sensibility, the British rockers dominated that decade with two classic albums—1983's Pyromania and 1987's Hysteria—whose massive sales were fueled by the band's near-constant presence on MTV. Although success of such magnitude proved impossible to sustain, the group has remained an important force on the scene, forging a stellar career highlighted by the 2018 announcement of their induction into the Rock and Roll Hall of Fame.
Most fans are familiar with the general outline of Def Leppard's story. Formed in 1977, the band rose to fame even as its members confronted more than its share of adversity. On New Year's Eve, 1984, drummer Rick Allen lost his left arm in a car crash, and yet he adjusted to maintain his role with the band. Seven years later, founding guitarist Steve Clark succumbed to a longstanding battle with substance abuse. Def Leppard's perseverance in the face of such setbacks has been a hallmark of the group, and bespeaks a special kind of determination.
Such facts surrounding the band have been documented thoroughly in countless articles, interviews and video profiles. Nonetheless, we went on a deep dive to unearth some interesting tidbits that perhaps have eluded all but the most devoted followers. Guitarist Phil Collen's 2015 memoir, Adrenalized, proved to be an especially valuable source for uncovering details that have flown under the radar. Below, in no particular order, we spotlight 10 lesser-known aspects of the Def Leppard story.
They were once Taylor Swift's favorite band.
Taylor Swift was just 18 years old when she teamed with Def Leppard for a 2008 episode of the popular CMT series, Crossroads. The band initiated the collaboration after Swift revealed, in an interview, that Def Leppard was the only group she would partner with for a Crossroads performance. "I've always thought, if I ever get to do one of those [shows], it has to be with Def Leppard," said the young singer, speaking with People magazine, following the taping. "This is really a dream come true for me. I've been screaming the words to Def Leppard songs for years."
A young Phil Collen is visible in the crowd photo featured on Deep Purple's 1973 live album, Made in Japan.
Collen was a mere lad of 14 when he attended his first live rock concert, catching Deep Purple in London during the band's 1972 Machine Head tour. Years later, examining the back cover of Deep Purple's Made in Japan album, he noticed that the fans in the crowd photo were not Japanese. Inspecting the photo further, he saw himself in the front row, "propping up the stage at [his] very first rock concert." More importantly, the concert solidified Collen's desire to become a musician. "It was the most spectacular thing I had ever seen," he told this writer, in 2011. "It was as if I had no choice—I knew I had to do that."
The force behind the band's early videos was film director David Mallet, famous for his innovative work with David Bowie.
The role that MTV played in Def Leppard's early success cannot be overstated. In 1982, when the fledgling network was hungry for material, Def Leppard made two videos—for the songs "Photograph" and "Rock of Ages," respectively—that were promptly put into heavy rotation. Key to the success of the videos was director David Mallet, whose previous work included groundbreaking videos for David Bowie's "Boys Keep Swinging," "Ashes to Ashes" and "Fashion." "MTV had us on all the time," Collen later recalled. "Instead of shying away from being filmed, as most rock bands did, we embraced it, thus making ourselves MTV video darlings."
The person doing the introductory "count off" for "Rock of Ages" was Def Leppard producer Mutt Lange, uttering nonsense "words" in a mock German/Swedish accent.
In some quarters, there's been conjecture that the nonsense "words" that introduced the 1982 hit, "Rock of Ages," contain some sort of hidden satanic message. Totally untrue. Fact is, the count-off—which translates phonetically to something like "gunter glieben glauchen globen"—is simply Def Lep producer Mutt Lange speaking gibberish in a phony accent. "The words mean absolutely nothing," Collen points out. "For all you devil worshippers out there, I'm sure I just destroyed a theory."
The tragic accident that robbed drummer Rick Allen of his arm had at least one positive outcome.
Longtime Def Leppard fans are all too familiar with the horrific 1984 car crash that severed drummer Rick Allen's left arm. What's less known is that a nurse happened upon the scene shortly after the accident, followed by a police officer. Both were instrumental in getting Allen prompt medical care, but what's even more remarkable is that the good Samaritans ended up becoming husband and wife. Allen's recovery and adjustment became a study in heroic determination. Weeks after the crash, he performed a piece of drum music for the band, in order to demonstrate he was still capable of manning the skins. The music he chose? The intro to Led Zeppelin's "When the Levee Breaks."
The original idea for the Hysteria album was that it would be a "rock" version of Michael Jackson's Thriller.
Producer Mutt Lange was adamant that the follow-up to Def Leppard's Pyromania album should not rehash the formula for that record's success. To that end, Lange persuaded the band to use Michael Jackson's Thriller as a template, with a goal of mixing genres and striving for crossover appeal. The group even considered bringing Quincy Jones on-board as producer, but it turned out Jones was busy with other projects. Ultimately, the band opted to work again with Lange, despite having to endure a lengthy delay while Lange completed production on the Cars' Heartbeat City album. As history shows, the decision proved to be the correct one.
The band's 1988 smash, "Pour Some Sugar on Me," became a hit only after it became a stripper anthem.
Def Leppard's Hysteria album was slow to take hold in America, but with the release of the record's fourth single, "Pour Some Sugar on Me," the album soared to #1. The reason? According to Collen, exotic dancers in Florida adopted "Sugar" as their anthem, which in turn ignited a surge of radio airplay. As reported by Palm Springs' The Desert Sun, the adult-entertainment publication Adult Video News declared "Sugar" the all-time #1 song used by strippers during their set. Hysteria went on to spend 96 weeks in the U.S. Top 40.
No genre of music impacted the band more than glam rock did.
Without the '70s glam movement, there might never have been a Def Leppard. Collen's pre-Leppard band, Girl, was a self-described "hybrid of hard rock and extreme glam." Singer Joe Elliott's embrace of the genre goes even deeper, extending from the usual British stars (David Bowie, Marc Bolan, etc.) to the American glam cult figure, Jobriath. Elliott's affection for Mott the Hoople is especially fervent, as evidenced in his 2016 Best Classic Bands interview (see below). Moreover, in the late '90s, he and Collen teamed with Bowie's Ziggy-era rhythm section, Woody Woodmansey and Trevor Bolder, to form a Bowie/Mick Ronson tribute band called Cybernauts. It's also worth noting that Def Leppard's 2006 covers album, Yeah!, featured no less than four glam-rock classics, including a scorching rendition of T. Rex's "20th Century Boy."
Related:  Our interview with Joe Elliott on Mott the Hoople
If Def Leppard guitarist Vivian Campbell had gotten his way, a cover of ABBA's "Knowing Me, Knowing You" would likely have been included on the band's 2018 "Best Of" collection.
Def Lepard's 2018 compilation—The Story So Far: The Best of Def Leppard—features three new songs, including a hard-rock cover of Depeche Mode's "Personal Jesus." But Vivian Campbell's first choice for a cover tune was not Depeche Mode, but rather the Swedish popsters, ABBA. As reported by Blabbermouth, the idea originated with a request that the band come up with a cover song for Spotify's "Spotify Singles" series. "I thought we could rock the hell out of ABBA, because of our vocals," explained Campbell. He added, "There's a little harmony line in ["Knowing Me, Knowing You"], an instrumental line, that would have been a great rock guitar line. I know it's a bit of a happy song, but I think we could have darkened it up a bit. Anyway, that [idea] got shot down in flames."
The group earned a spot in the Guinness Book of World Records via a bizarre achievement.
OK, OK … so lots of Def Leppard fans know about this one. Still, we would be remiss not to mention it. On October 23, 1995, the group gained entry into the Guinness Book of World Records. Their accomplishment? In the course of that single day, the band played three 45-minute shows on three different continents. The locales were  Tangier, Morocco; London, England; and Vancouver, Canada. "It was surreal," recalled Collen, in his memoir. "It felt like a week because we were in such drastically different environments in such a short space of time."

Latest posts by Russell Hall
(see all)