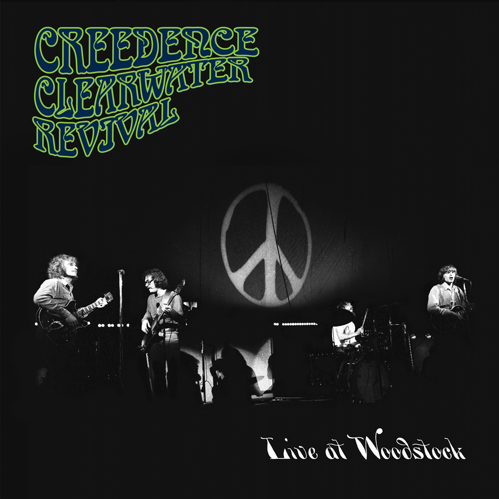 The audio recording of the August 1969 Woodstock festival performance by Creedence Clearwater Revival has finally been released. Live at Woodstock arrived from Craft Recordings on Aug. 2 as a 2-LP vinyl set, housed in a gatefold jacket, as well as on CD and digital platforms (including hi-res 96/24).
Listen to many of the tracks below.
From the June 11 announcement, "In August of 1969, as they took the stage at Woodstock, Creedence Clearwater Revival were at the peak of an incomparably prolific year, and on the verge of becoming one of the biggest bands in the world. Their Southern-steeped sound (which brazenly stood out from the reigning psychedelia of the day) was a mainstay on the airwaves, thanks to hit singles 'Proud Mary,' 'Bad Moon Rising' and 'Green River,' while the band was playing shows to packed crowds across North America.
Listen to their performance of "Proud Mary"
[The Director's Cut of the 1970 Woodstock film will be presented in theaters for one showing on August 15. Tickets are available here.]
Just eight months before CCR played Woodstock, John Fogerty, Tom Fogerty, Doug Clifford and Stu Cook released their second LP, Bayou Country, following the modest success of their 1968 self-titled debut. By late spring, the album had broken into the Billboard Top Ten.
Astonishingly, the band would release two more Top Ten albums before the end of 1969: Green River, which hit stores just a few weeks before Woodstock (and became their first Number One record), followed by Willy and the Poor Boys, in November.
Related: Creedence Clearwater Revisited announced their retirement earlier this spring
"Creedence were slotted for a prime Saturday night spot at Woodstock, following the Grateful Dead. Highly in demand, the band had headlined many of the larger festivals that summer, including the Atlantic City Pop Festival, the Newport Pop Festival in Northridge, CA, as well as main stages in Atlanta and Denver. To many artists, the three-day concert in Upstate New York was seemingly just another stop on the tour; little did they know that Woodstock would become a defining moment in pop-culture history. Creedence took the stage later than planned, in the wake of an extra-long set by the Dead. It was after midnight on Sunday, August 17th, and many of the attendees had retired to their tents. CCR declined to be included in the 1970 documentary Woodstock and the film's soundtrack album, despite a searing performance on stage. Unfortunately, because of their absence from the film and soundtrack, it is easy to forget that CCR was a top-billed act at Woodstock—let alone even at the festival."
Kicking off with "Born on the Bayou," the Live at Woodstock album features the band's biggest singles of the day, plus selections off their first three LPs, including "Commotion," "Ninety-Nine and a Half (Won't Do)" and "Bootleg."
"Ladies and gentlemen, to continue, please warmly welcome with us… Creedence Clearwater Revival…"
They also played extended improvisations of "I Put a Spell on You," "Keep on Chooglin'" and a near-11-minute "Suzie Q."
Live at Woodstock Track Listing
CD and Digital
1. Born on the Bayou
2. Green River
3. Ninety-Nine and a Half (Won't Do)
4. Bootleg
5. Commotion
6. Bad Moon Rising
7. Proud Mary
8. I Put a Spell on You
9. The Night Time is the Right Time
10. Keep on Chooglin'
11. Suzie Q
Related: Review of the Creedence Clearwater Revival 1969 box set

Latest posts by Best Classic Bands Staff
(see all)