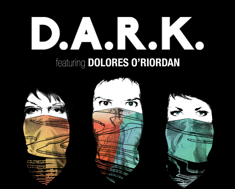 We've got good news for Cranberries fans who have missed the distinctive dulcet tones of singer Dolores O'Riordan lately. There's a new supergroup in town, D.A.R.K., and O'Riordan's at the helm, collaborating with Smiths bassist Andy Rourke and New York DJ Olé Koretsky.
Rourke and Koretsky formed an electronica and new wave production team in the Big Apple called Jetlag, and a chance meeting with O'Riordan led to them swapping tracks and eventually forming a trio. The new project features creative takes on punk, disco and hip-hop, taking cues from bands like The Cure, REM, Depeche Mode, and New Order, with a hint of David Bowie thrown in for good measure. The newly formed band will release their debut album this summer, a collection of 10 tunes entitled Science Agrees now expected August 19. Pre-orders on PledgeMusic or iTunes come with a bonus instant download of "Curvy," which you can check out below. The new group will also be embarking a brief tour this fall including a performance in O'Riordan's hometown of Limerick, Ireland.
Don't miss a post! Sign up for Best Classic Bands' Newsletter; form is on every page.
The forthcoming live gigs will be O'Riordan's first after a series of criminal convictions as a result of what family have described as a nervous breakdown following a split from her husband of 21 years, Duran Duran tour manager Don Burton. Aside from publicity related to those charges, which involved a disturbance on a plane flight, O'Riordan has kept very much out of the spotlight for the past few years. All signs point to an exciting 2016 for the beloved singer, who told BBC recently that she feels "very positive about this coming year" and is eager to get back to work with her new band and new album.
2016 D.A.R.K. Tour Dates (Buy tickets here):
September 16 – Limerick, Ireland – Dolans Warehouse
September 17 – Cork, Ireland – Cypress Avenue
September 19 – Dublin, Ireland – Whelans
September 21 – London, England – Bush Hall
September 22 – Paris, France – Divan Du Monde
September 23 – Milan, Italy – Tunnel
September 25 – Berlin, Germany – Lido
September 27 – Madrid, Spain – Caracol

Latest posts by Best Classic Bands Staff
(see all)