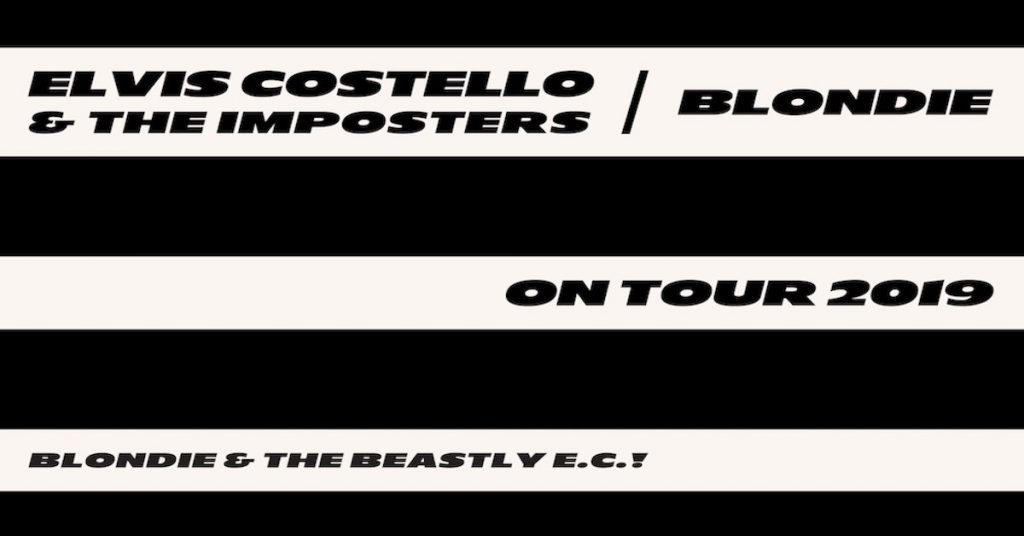 Across the land, venues are blanketed in deep drifts of nostalgia, trotting out farewell-this and reunion-that as long-ago hits erupt in arenas packed with the greying. Some acts fly solo and some bring friends, packaged together in barnstorming assortments that range anywhere from the cynical to the sublime. Closer to the latter is the current combination of Elvis Costello and the Imposters and Blondie, which would have been a cutting-edge sensation if assembled in 1979, and somehow remains a remarkable enticement 40 years on. The double feature made its second of 13 scheduled stops July 21 before a full house at the Mohegan Sun Arena in Uncasville, Conn., and delivered satisfying variety with performances that had little in common, yet shared appeals to lovers of off-center music.
As they did the night before when the tour kicked off in Bethel, N.Y., Blondie opened the program. Half of the band's current six-piece lineup is holdovers from its seminal 1970s and '80s run, not least singer Debbie Harry, who at 74 is five years older than co-founder Chris Stein and 10 older than drummer Clem Burke. Harry remains the band's defining face, but Burke's contributions are equally important to group identity, which was clear in the insistent rattle he generated as the band took the stage under a wash of red light for its 1980 hit "Call Me."
Harry remains a wellspring of quirky glamour, ambling onstage in a busily decorated cape that read DEJAR DE FOLLAR EL PLANETA on the back (with STOP FUCKING THE PLANET stitched vertically onto a front edge in case anyone needed a handy translation) atop a silver-and-black striped frock—it wouldn't be fair to call the dress shapeless, because it had one, even if it didn't remotely resemble Harry's own—underneath it, and a pair of slightly oversized sunglasses. Her singing jabbed at high tones on occasion, but also floated quite a bit, plainly at ease with the material and her ability to shape it. Her handling of "One Way or Another" had none of the sneering urgency of the original recording, but her cooler approach didn't lack for personality.
Even after so many years, Blondie still oozes the artsy punk grit in its DNA, augmented by a presentation that included plenty of junk footage—static, test patterns and geometric noise—that smartly established a clubby vibe as it cycled through a trio of onstage video screens both acts shared. More elaborate material backed "Doom or Destiny," drawn from the group's 2017 album Pollinator, but even that bit was on-brand with its rapid succession of oddball visuals, a testament to the band's recognition of its iconography's power.
Related: Our Album Rewind review of Blondie's Parallel Lines
Harry was a touch loose with lyrics here and there and had a hard time finding an on-ramp at the start of "Maria," but inevitably wound up where she needed to be. She finessed "Rapture" carefully, showing some of its more challenging vocal demands to be beyond her reach, but was effective in coloring its out-there passages. With Leigh Foxx's bass plumping its low end, the tune chugged pleasantly, right through its delightfully archaic rap, until its "And now he only eats guitars" line cued a sharp Stein solo trip.
Watch Blondie perform "Rapture" at Mohegan Sun
A brief and rather puffy rock rendition of current "it" song "Old Town Road" intended to highlight how music always offers something new, but its by-the-numbers importation landed just this side of pandering. Even the well-worn 1980 hit "The Tide is High" felt more organic, with Harry's comfortable caress and a detour interpolating Dee-Lite's "Groove Is in the Heart" along the way.
Sweating through an old-school CBGB shirt behind his drum kit, Burke added deliberate drama to the ever-oddball "Fade Away and Radiate," and delivered an anchoring presence alongside the throbbing Matt Katz-Bohen synthesizer on the still-grabby crossbreed of rock and disco "Heart of Glass." Blondie closed their 90 minutes (slightly longer than Costello's set would prove to be) with "Dreaming," placing Harry's relaxed vocal saunter alongside Burke's propulsive force, a pleasant coalescing of their complementary elements.
Watch "Fade Away and Radiate" performed by Blondie at the Mohegan Sun show
It took less than half an hour to turn the stage around for Costello, whose hard-charging rock baseline marked a striking change of gears from Blondie's more pop-friendly textures. Fronting a six-piece of his own—the Imposers quartet that he led plus two backing singers—Costello lunged into the throwback rock of his 1978 tune "Pump it Up," contributing his own sharp bark and sinewy electric guitar line. With the versatile Steve Nieve prodding on piano, another trip to the archives followed, with Costello reaching back to 1981 to holler "Clubland."
Watch Elvis Costello and the Imposters perform "This Year's Girl" at the 2019 tour's opening show
Last October saw Costello's first album in five years, Look Now, from which was drawn the crooning-friendly Burt Bacharach collaboration "Photographs Can Lie." Costello floated into the tune with an appropriate taste of his co-writer's "The Look of Love," which inspired images of Costello working out the song's particulars at home with wife Diana Krall, who has a bit of history with the number. He returned to the disc twice more, with Pete Thomas' drums pushing the sturdy "Burnt Sugar Is So Bitter" and making a last-second detour from his planned setlist for the R&B-draped rock of "Mr. and Mrs. Hush."
Related: The inside story behind Costello's U.S. launch
Just over a year ago, Costello canceled a string of dates in the wake of successful cancer treatments—now 64 and back on the road, he seemed in good health and at ease, stripping off the jacket from his navy blue suit and vest combination to add arch urgency to the snaky, reggae-laced and acidic 1977 hoot "Watching the Detectives."
Costello's vocals were augmented by the crisp backup of Kitten Kuroi and Briana Lee, who joined him at the front of the stage to help power the feisty "I Can't Stand Up for Falling Down" and the organ-trimmed "High Fidelity." They added clout to the stout sway of "Everyday I Write the Book," a 1983 track Costello once described as "a bad Smokey Robinson song," but which perfectly captures Costello's atypically cerebral appeal in the rock milieu.
Watch Elvis Costello and the Imposters perform "Everyday I Write the Book" on their 2019 tour
The mellow slow burn of "Alison" closed the set on a relaxing note, as Costello briefly surveyed "The Tracks of My Tears" (which sounded like a good Smokey Robinson song), "The Wind Cries Mary" and "Over the Rainbow" along the way. He soon returned in a sparkly jacket for a one-song encore, traveling back to 1979 for the Nick Lowe-penned "(What's So Funny 'Bout) Peace, Love and Understanding," a high-octane offering that encapsulated what was to like about the night's double bill, displaying charms still considerable even after those 40 years.
Latest posts by Thomas Kintner
(see all)